2018-19 School Year Theme
Anchor in the Storm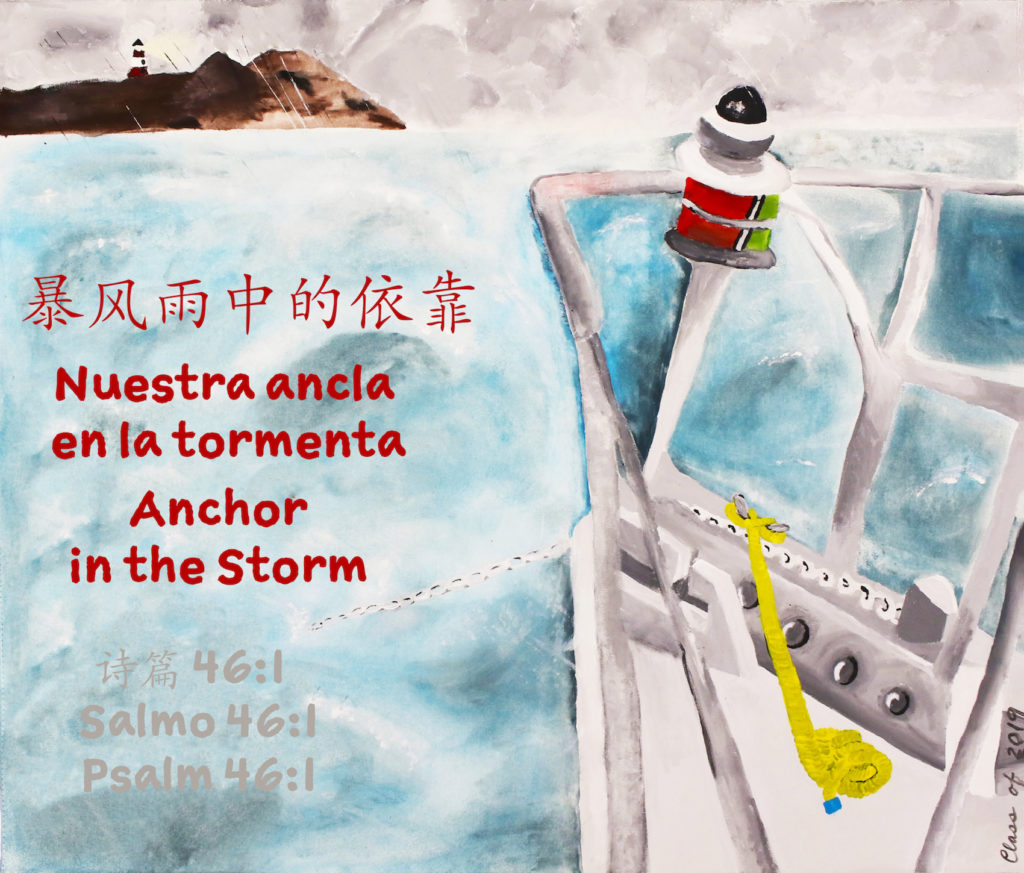 "God is our refuge and strength, a very present help in trouble."
Psalm 46:1
*New families can find further information HERE.*
All-School
Absentee Reporting:  Whenever your student is going to absent or late to school please notify the school office. To notify the office you may email attendance@zcs.org or leave a message on the attendance line 616-741-0051. When reporting your absence please list your student's name, grade, and teacher.
Activity Fees are one set fee for each middle school student and one set fee for each elementary student. These fees cover all field trips and classroom activity costs throughout the school year.
     Middle School Activity Fee Per Student: $85
     K-5 Activity Fee Per Student - $30
     Y5 Activity Fee Per Student - $15
     Please pay by September 7.
     You MAY write one check* for all of your children or pay online.
     *Please include each child's name and grade in the memo line.
     *Please hand in or send to the OFFICE.
Athletics
Here are the start dates for those of you who have kids participating in these sports.
Most importantly, before they can participate in these sports, they must have a sports physical on file in our ZCS office.
At Holland Christian (Co-op Sport)
7th-8th Boys Football (equipment pick-up Aug.13, first practice Aug. 16)
6th-8th Girls Tennis (Aug. 21)
6th-8th Boys and Girls Cross-Country (Aug. 21)
At ZCS:
7th-8th Boys Soccer (Aug. 28)
7th-8th Girls Volleyball (Aug. 28)
Please use the ZCS athletic webpage for schedule information.
Middle School Sailing through Holland Christian. NO PRIOR EXPERIENCE OR BOAT OWNERSHIP ARE NECESSARY. Practices are 3:30 - 6:00 on Tuesday, Wednesday, and Thursday at Macatawa Bay Yacht Club. For more information, you can contact Carrie Traver, cktraver@gmail.com.
Busing
Building Security: Door Codes will no longer be used. We are implementing some new security protocols here at the school that we would like to make parents aware of. To better secure our school during the day we will no longer be using any parent or staff codes here at the school.
     All parents and visitors will need to sign in at the main office if they wish to enter the building during the day. All of our doors will still be open for arrival like normal in the mornings and locked for the rest of the day until dismissal. The only doors that will be open for dismissal will be the front doors (C, C1) and the preschool door (A) for preschool pickup and extended care.
     For preschool and kindergarten parents picking children up around noon, there will be more information coming in the next weeks from your child's teacher.
Drop Off/Pick Up:
View School Parking Map
Preschool: Park in the small lot on the west side of the building and walk your child in and out of school.
K-5: Drop-off on the south side of Central Ave for entrance "C" or in the new East parking lot by entrance "D". Parking/Standing in the drop off area is not allowed. Use of the bus drive fro drop off/pick up is not allowed.
6-8th: Drop-off in front of the ZCMS entrance labeled "E"
***Please be aware of our neighbors and be conscious not to block their driveways.***
Hot Lunch
Click here to access menus, pay hot lunch balances and access forms to apply for
Free/Reduced lunches.
Infinite Campus:
The Infinite Campus Parent Portal allows parents to view their own child's school records, anywhere, anytime through a secure web browser.
New families:  Fill out of the acceptable use policy and return to zcsinfo@zcs.org. Once this form is filled out the school office will be able to provide login information
Existing families: If you have misplaced/lost your username/password please email
bvanginh@zps.org to have your password reset.
Open House
Come and go anytime between 4 pm - 6 pm on Aug. 22 for Y5-8th. Meet your child's teacher and bring in their school supplies. The school will not be open until 4 pm on this date. If you and your child/children are not able to participate in the open house between 4-6pm, please feel free to come to school a little early on Monday the 27th!
Opening Convocation
There will an all-school chapel at 9:00 am on Aug. 27, the first day of school. All parents, grandparents, and friends of ZCS are encouraged to attend.
Picture Days are scheduled for October 1, 2, and 3 for Preschool - 8th grade.
A specific date for your child will be determined based on grade level and will be published as we get closer.
Envelopes for ordering will go home with your child.
You will also have online ordering abilities.
More details will be announced in future Blue Notes.
Moms in Prayer
What if you could change the world – not just for today but for generations to come? At Moms in Prayer International, we believe that a mom can be the single greatest force for good in the lives of her children and the children around her. Each week at Moms in Prayer we focus on one attribute of God, silent confession. We conclude by focusing on, and specific prayer for children, teachers, and staff. At Zeeland Christian, there are three opportunities for you to join us.
Thursday  2:15-3: 15 pm      Wednesday 6-7am      Wednesday 8:45-9: 45 am
ZCS Prayer Room              Haven CRC                   Haven CRC
Childcare provided            No childcare                 No childcare
Please contact Ann Hemmeke (annhemmeke@gmail.com) for more information.
Information by Grade Level
Note: For all field trip drivers, we need to make a copy of your drivers license and proof of insurance. Please bring it to the front office at least 24 hours before you are to drive(needs to redone every year).
PRESCHOOL
Meet the Teacher Open House (CORRECTION) - Aug. 28, 29 at 4-5:30 pm (reference summer email)
Parent Meeting(s) - Aug. 28, 29 at 7pm (reference summer email)
Preschool Classroom Supplies
Each child needs to bring in 3 individual 4x6 pictures plus 1 family 4x6 pictures.  These will be used by the teacher and not returned to you.  Please have these ready at the parent meeting.
Families are encouraged to sign up for 1 or 2 classroom supplies at the parent meeting to provide for the preschool class (ex. pipe cleaners, Kleenex, hand soap, etc.) These items can be brought to school during the first week of class.
YOUNG FIVES
Young Fives Bus Night - Aug. 27, 7 pm
Parent Meeting - Aug. 21, 6 pm
KINDERGARTEN
Bus Night - Aug. 27, 7 pm
Parent Meeting - Aug. 21, 6 pm
Extended Care is again offered for students in threeschool-5th grade. Childcare hours are available between 7:15 am-6:00 pm. Please register with or direct questions to Heather Mulder at extendedcare@zcs.org. She will also be available during the open house and preschool and kindergarten parent meetings to answer questions.
1ST - 5TH GRADE
Parent Meeting(s) - Sept. 6 at 6pm or 6:45pm
Summer Reading Challenge bookmarks - return to classroom teacher first week of school.
MIDDLE SCHOOL
Parent Meetings - Sept. 11 at 6:00pm or 6:45pm
Band - We are excited to share with you some changes in Zeeland Christian's fine arts programs. This coming year, for the first time, middle school students will be able to choose which music class they would like to attend. This is the first phase of what we hope will be an ongoing expansion of the music program at ZCS.
If you have any questions, please email Mr. McAboy at tmcaboy@zcs.org or Mr. Schonewill at kschonewill@zcs.org.
Interested in hosting a Guatemalan student this fall?
Zeeland Christian School will welcome Guatemalan students to campus through the Faces and Our Cultures Exchange Program. We are in need of several host families for 7.5 weeks that would be willing to host these students while they attend classes at ZCS. The program has led to wonderful friendships and provided valuable cultural experiences for both the students and host families.
The Guatemalan students will arrive in mid-October and will return to Guatemala on December 10. Host families are responsible for providing lodging, meals and welcoming the students into their homes and family life. If this sounds like an opportunity that your family would consider, please email Assistant Principal John Buteyn at jbuteyn@zcs.org
Technology
Please take a few minutes to complete the following FORMS. It would be a good idea to have your child do this with you.
All forms must be completed before students may take their laptop home.
HOLLAND CHRISTIAN FRESHMAN (via the Maroon Messenger)
FRESHMAN ORIENTATION DAY – AUGUST 20
All freshmen will be part of our Freshman Orientation Day. This day is to be a transition day that creates a sense of comfort for incoming students and an overall supportive and positive atmosphere on our campus. The first day for freshmen will be Monday, August 20, at 8:00 am. Senior leaders will lead incoming freshmen in games, mixers and on a scavenger hunt around the school. Students will be given a copy of their schedule and meet their teachers for a few minutes in each class. Students will be treated to a pizza lunch and will be dismissed at 11:30 am. After this, freshmen can stop on Main Street between 11:30 am – 12:30 pm for pictures.
August 20 Schedule – (8:00 – 11:30 am) – with pictures to follow
Orientation – 8:00 -11:00 am
Pizza – 11:00 – 11:30 am (in Cafeteria) Pictures – 11:30 am – 12:30 pm
New 10th – 12th Grade Students and New International Students: These students will begin school on Monday, August 20 from 9 am – 11:00 am in the lecture hall. Click here for additional details.
"Laptop Boot Camp" is mandatory for all students who are new to the laptop program. You should plan to stay from 11:30 am – 12:30 pm and attend "Laptop Boot Camp," an introduction on how we use the laptops at HCHS (understanding Moodle, exploring PowerSchool, etc.). Please bring your laptop and calculator.
All Students report on Tuesday, August 21, at 8:00 am. We will begin in our chapel seats for a brief welcome and time of devotions. Be sure to have your class schedule with you.
Important Dates
August 21
Kindergarten and Y5 Parents Meetings 6pm
August 22
Y5-8 Open House 4-6pm
August 27
First Day of School!
Opening Convocation - All Families Welcome 9am
August 28-29
Threeschool/Preschool Meet the Teacher Open House 4-5:30pm
Threeschool/Preschool Parent Meetings 7pm
August 31 - September 3
No School - Labor Day Vacation
September 5-6
Threeschool/Preschool Classes Begin
September 6
Elementary Parent Meetings 6pm or 6:45
September 8
ZCS Golf Outing at Winding Creek Golf Club All skill levels welcome!
September 11
Middle School Parent Meetings 6pm or 6:45pm
Printable Beginning of the School Year Calendar