2020-21 Theme
Lead with Love
Theme: 用爱领导
Verse: 神就是爱。住在爱里面的,就住在神里面,神也住在他里面。
(1 John 4:16b) 约翰一书 4 章 16节
Theme: Guía con amor
Verse: Dios es amor. El que permanece en amor, permanece en Dios, y Dios en él. (1 John 4:16b)
Theme: Lead with Love
Verse: God is Love. Whoever lives in love lives in God, and God in them. (1 John 4:16b)
Theme mural designed and painted by ZCS incoming 8th graders and MS Art Teacher, Mrs. Postma.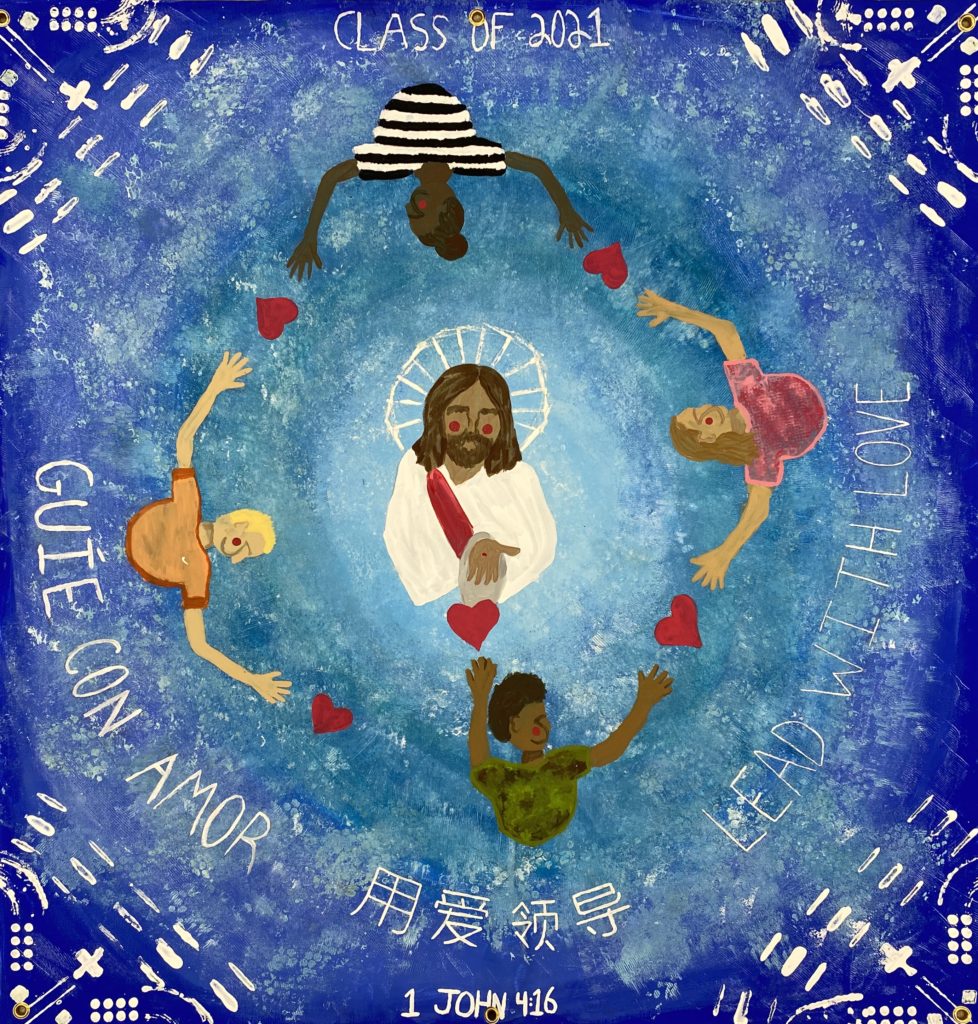 *Find further information about common terms on the ZCS 101 page HERE.*
Absentee Reporting  
Whenever your student is going to be absent or late to school, please notify the school office. To notify the office, you may email attendance@zcs.org or leave a message on the attendance line 616-741-0051. When reporting your absence, please list your student's name, grade, the reason for absence, and teacher.
_____________
Athletics
We are requiring a $50 "Pay to Play" for each sport your child participates in at Zeeland Christian.  If you are participating in a Co-op sport there is already a "Pay to Play" fee payable to Holland Christian, so they are not required to pay the $50 to ZCS.  Please send payments to the Zeeland Christian office along with your questionnaire or sports physical.
How to Sign Up for a Sport
In order to plan for the season, students should sign-up for what sports they are planning on participating in next year.  Choices can still be changed, but this just gives us a good idea of what to expect. 
2020 Fall Sports Sign-up due by August 18
If you are participating in a co-op sport at HC you will need to sign-up through FinalForms in addition to the ZCS sign-up.
Please see the ZCS athletic webpage for most recent schedule information: ZCS Athletics
These are the start dates for those participating in sports this fall at Holland Christian or Zeeland Christian. 
At Holland Christian:
7-8th Boys Football Parent Meeting / Equipment Handout Aug. 19, 6-8 pm.
6-8th Girls Tennis - Aug. 24 3:15-5pm
6-8th Boys and Girls Cross-Country - Aug. 24, 3-4:15 pm
At Zeeland Christian:
7-8th Boys Soccer Aug. 25
7-8th Girls Volleyball Aug. 25
Middle School Sailing through Holland Christian. NO PRIOR EXPERIENCE OR BOAT OWNERSHIP ARE NECESSARY. Practices are 3:30 - 6:00 on Tuesday, Wednesday, and Thursday at Macatawa Bay Yacht Club. For more information, you can contact Carrie Traver, cktraver@gmail.com.
_______
Busing
Busing is provided for students in the Zeeland Public School system (General Information). Every student needs to submit a new transportation form so if you didn't do that yet for this school year please access the form here and mail directly to the Transportation office.
ZPS no longer sends postcards with bus route information. Parents can access their child's bus number and stop time via the Transportation Tab in Infinite Campus.
"No Busing" Dates for the 2020-21 school year may be found HERE. Please note that there is NO busing available during the first week of school.
__________________
Building Security
PLEASE NOTE: In Phase 4 and 5, parents or guardians are not allowed in the school building except under extenuating circumstances as determined by school leadership. Parents of Y5 & K students will be able to walk their child(ren) to class during the first week of school.
Doors are open during drop-off times only (see below for updated Drop-off/Pick-up procedures for fall). During school hours all doors will be locked. To enter the school during the school day you will need to enter through the main doors (Door C by the canopy) and be buzzed into the office. 
Parents/Visitors will not be allowed past the office so please plan to drop off forgotten lunches, books, etc. and the office staff will make sure your student receives the item. If you are picking up a child for an appointment, the office staff will call down to the child's room to have them meet you in the office.
For preschool and kindergarten parents picking children up around noon, there will be more information coming soon from your child's teacher.
_________
Calendar
Elementary Day - 8:40am to 3:25pm
Middle School Day - 7:35am to 2:25pm
The ZCS calendar can be accessed here - this will provide the most up-to-date information about school activities. A printable version of the calendar can be found here. Time of school on these ½ days is 8:40 am - 11:45 am for all Y5 - 8th-grade students (morning preschool classes will stay on their normal class times).
New! Half Days added to the calendar
Friday, September 25 (NO PM Busing)
Thursday, January 28 (NO PM Busing)
Tuesday, February 23 (NO PM Busing)
Wednesday, April 28 (NO PM Busing)
We follow Zeeland Public Schools for most delays and cancellations. To find out if there is a closing or delay check your email, the ZCS Facebook page, our website, or the local news stations.
______________________________
Drop-Off and Pick-Up Protocols for 2020-21
For the 2020-21 school year, pick-up and drop-off will look different than it has in years past. We are looking forward to these changes as we think it will provide a safer and more organized experience for families. It will require us to work together as a community and show each other grace as we all learn a new system. Click here to access photos of this process. Thank you in advance!
DROP-OFF:
Preschool
Traffic flow will be reversed from years past and you will enter the preschool parking lot at the far west entrance (next to the white house) and exit on the east side of the parking lot (next to the school building). 

Parents/Guardians, you will park and walk your child to the outside door of your child's classroom. This is also where you will pick up your child at the end of their day.
Elementary (Y5-5)
We will have three drop-off locations every day for elementary students -

Each family will be assigned a location for the year.

Parents will receive information about their assigned door at the Meet the Teacher open house.

Door I located off of the playground on the west side of the building.

Door D on the east side of the building (near the kitchen & gym entrance).

Doors F, G, and H in the back of the building.

There will be no drop-off allowed on Central Ave. (the front of the building) this year except for access to handicapped parking spaces and busses.

For the first week of school only, parents may walk their Y5 and K students to their room.

We would prefer parents/guardians to drop-off their children from 8:25-8:35.

If you need to drop-off your child(ren) before 8:10, they need to be signed up for extended care.

The playground will be supervised from 8:20 - 8:35 each morning. Students will need to wear masks during this time.
Middle School (6-8)
Middle school drop-off will remain the same as years prior. If you are unfamiliar with that system:
Door D and Door E will still be the preferred drop-off doors for middle school students. Drop off on Central Ave. is only allowed for students arriving after the start of the school day who need to sign in at the office. 
PICK-UP:
Preschool
Guardians/Parents will park and pick up their child at the outside door of their child's classroom.
Elementary
Pick-up will begin after the busses have left each day (around 3:35).  

Every family will pick up their child(ren) at their assigned outside door, the same one as used for drop-off in the morning.

Parents may choose to park and walk to the door to wait for their child(ren) or join the pick-up line of cars by their assigned door.
Students may not leave the pick-up site to walk to the car alone.
Every family will receive two color-coded laminated pick-up-passes passes with a blank space to write your family's last name to increase safety and make your car more visible to your child(ren). Guardians/Parents will need to display their color-coded laminated pick-up-passes on their dashboard. If you need more than two passes, please email zcsinfo@zcs.org to request more.
If two or more families carpool together, they may use one pick up door. Make sure each driver has pick-up-passes for each family. Please wait to learn your child's pick up door on August 24 to see if all the children in the carpool are already assigned to the same door. If they are not assigned to the same door, please connect with our office staff to get the appropriate color pick-up-pass for the newly assigned door.
Students will also have a color-coded tag with their last name on it to help make the pick-up process as safe and efficient as possible. 

Students in Y5/K will either be escorted to the pick-up line where they will wait with a teacher for a parent/guardian to arrive OR they will be picked up in the classroom by an older sibling. Students in Y5/K will not be dismissed on their own.
Middle School
Pick-up lane procedure for Middle School will remain the same. Please line up or park in the east parking lot prior to dismissal and safely exit once you have picked-up your student(s).

For the 2020-2021 school year, middle school students will need to go home promptly at the end of the middle school day. Students should ride the bus or be picked-up by 2:35.

"

Power Hour

" after school care is available for students who have to stay after school, namely, students who have siblings in the elementary school or students waiting for a ZCS athletic practice to begin. (If your child is not in one of these categories but needs after-school care, please contact the middle school principal.) Students will need to stay until the Elementary "walker bell" unless they are playing a sport or are picked up early by a parent.

In order to cover extra-staffing costs, families will be charged $2/day (added through Smart Tuition accounts...like ZCS Extended Care). Students playing sports will not be required to pay the fee as it is covered in the cost of "pay to play".

Students who are not picked up by 2:40 will go to Power Hour.
Extra Notes:
There will now be a bike rack in the front of the school for bikers to keep them out of the drop-off and pick-up lanes as much as possible.  Elementary students should place their bikes in the rack in the front of the school. Middle school students may used the rack in the front of the school or behind the school.  
Students who walk home should leave out the front entrance, Door C.
Please be aware of our neighbors and be conscious not to block their driveways with your vehicle.
________________
Extended Care
Extended Care is offered for students in threeschool-5th grade. Childcare hours are available between 7:00 am-6:00 pm. Please register with or direct questions to Heather Mulder at extendedcare@zcs.org.
__________
Field Trips
The recommendation in the Safe Start to School plan is to not utilize off-site field trips for the beginning of the school year. However, teachers will pursue creative opportunities to engage with community speakers/organizations to enhance student learning on-site. 
__________
Hot Lunch
Click HERE to access menus, pay hot lunch balances, and access forms to apply for Free/Reduced lunches. If you do not have a hot lunch account email foodservice@zps.org and they will assist in setting up your account.  You will need your student's id# for the account set up. If you do not know your student's id# please contact the school office. 
________________
Infinite Campus
The Infinite Campus Parent Portal, in conjunction with Zeeland Public schools, allows Young 5s-8th grade parents to view their own child's school records for the current school year, anywhere, anytime through a secure web browser. 
New families: Fill out of the acceptable use policy and return to zcsinfo@zcs.org. Once this form is filled out the school office will be able to provide login information
Existing families: If you have misplaced/lost your username/password, please email
leisen@zps.org to have your password reset.
_________________________________
Meet-Your-Teacher for Y5 - 8th Grade
August 24: Y5-8 Meet Your Teacher event
You and your child are invited to come to school to see their classroom and meet their teacher. Please also bring the supplies off the supply list and drop them off in your child's classroom - make sure everything has your child's name on it.
Due to final inspections needed as part of the bathroom remodel project and the State of Michigan being behind on inspections, we have had to move Meet-Your-Teacher to August 24. We have also adjusted the times to be earlier in the day so students and teachers are not out late the day before school. We recognize this is an inconvenience for working parents and if there is a time slot that works better for you than assigned per your last name, please simply come when it works best for you.
The school will not be open until 2 pm on this date. Thank you for your understanding.
Last names starting with A-I  from 2:00 - 3:00 p.m. 
Last names starting with J-R from 3:00 - 4:00 p.m.
Last names starting with S-Z from 4:00 - 5:00 p.m.
__________
Picture Days
September 28 - October 2  for Preschool - 8th grade.
A specific date for your child will be determined based on grade level and will be published as we get closer. Personalized envelopes for orders will go home with your child and must be returned by their assigned picture day.
__________
Mask Policy
Students in Young-FIves to 8th grade are required to have a mask at school each day, as long as our area remains in Phase 4. Please begin practicing with your child the proper way to put on and take off their mask, as well as experiment with what style fits them most comfortably. Fabric masks will be sent home daily to be washed.
Each student will be given a buff style mask on the first day of school, but they may wear whichever style facemask they are most comfortable with (note face shields are not an acceptable face-covering option).
If your child needs a mask exemption, please have your primary care provider fill out this form. 
For more information please reference our Back to School Plan.
______________
Moms in Prayer
Contact Erica Boerman for more information on Moms in Prayer boerman.erica@gmail.com
________________
Parent Meetings
All parent meetings for Young Fives - 8th will be held via video this fall. Information will be communicated directly from your child's teacher.
________________
Preschool Information
Meet-Your-Teacher 
Our teachers and assistants are preparing to meet you on Wednesday and Thursday, August 26 and 27.  These visits will be scheduled in half-hour time blocks between 4:00-7:00 PM and take place in your child's classroom. Your child's teacher will contact you about a specific visit time.  Here are the teacher visit days so you can get it on your calendar:
Wednesday, August 26                   Thursday, August 27
Mrs. Kris DenBleyker                        Mrs. Kathie Dieleman
Mrs. Lisa Klamer                               Maestra Tatjcha Lambers
Mrs. Stephanie Klein                         Maestra Kristi Patrick (4s)
Mrs. Kendra Laarman                       Mrs. Kim Van Dyun
Maestra Kristi Patrick (3s)                 Mrs. Stephanie Williams
Mrs. Julie Sal
Xu Laoshi
This year staff will be sharing a video discussing our parent handbook with all preschool parents instead of having a meeting onsite.  Please make sure you watch it promptly then follow the link in the email to an online form where you must confirm that you have received the parent handbook and understand its contents.
Preschool Classroom Supplies
Each child needs to bring in three individual 4x6 pictures plus one family 4x6 pictures. These will be used by the teacher and not returned to you. Please have these ready by the Meet Your Teacher event.
Additionally, we ask each parent of a 4-year-old Preschool student to pay $10.00 for photo processing directly to their child's teacher to cover the cost of their photo memory book project. Teachers will connect with you regarding payment - by cash, check, Venmo, etc.
Families are encouraged to sign up for 1 or 2 classroom supplies for the preschool class (ex. pipe cleaners, Kleenex, hand soap, etc.). Sign up information is available from the classroom teacher through an online form. This helps supply each classroom with additional things they need but do not need from every student.
________________________________
Return to School COVID-19 Information
Access to the full ZCS Back to School Plan for the State of Michigan.
Additional information is posted on the ZCS website here - NEW INFO AS OF 8/18/20
__________
Supply Lists
Student Supply Lists are found online. Please bring your child's items to their classroom on August 24 when they come to meet their teacher. All items need to be labeled with the students' first and last name. 
________________________________
Technology for Middle School & School-Home Collaborative Students
Every year we need parents to fill out a new technology form.
Please take a few minutes to complete the following FORMS. It would be a good idea to have your child do this with you. All forms must be completed before students may take their laptop.
___________________________________________________________
Important Dates
August 24
Y5-8 Meet Your Teacher -  2:00 - 5:00 p.m.
Last names starting with A-I  from 2:00-3:00 p.m. 
Last names starting with J-R from 3:00 - 4:00 p.m.
Last names starting with S-Z from 4:00 - 5:00 p.m.
 August 24
Kindergarten/Young Fives practice bus night
August 25
First Day of School!
7:35 start time for Middle School
8:40 start time for Elementary
August 26-27
Threeschool/Preschool Meet the Teacher Open House
September 2-3
Threeschool/Preschool Classes Begin
September 4-7
No School - Labor Day Vacation
September 12
ZCS Golf Outing at Winding Creek Golf Club All skill levels welcome!
Register Today
New! Half Days added to the calendar
Friday, September 25 (NO PM Busing)
Thursday, January 28 (NO PM Busing)
Tuesday, February 23 (NO PM Busing)
Wednesday, April 28 (NO PM Busing)