ZCS COVID Dashboard: Updated 1/09/2023
Confirmed Positive Student Cases in Isolation 
Staff in Isolation/Quarantine
Cumulative Cases 2021-2022 School Year
Total Students and Staff: 1230
August 25, 2021
Preschool Parents,
We received clarity from the Ottawa County Department of Public Health this morning that the mandate issued Friday, Aug. 20 was intended for the five to eleven-year-olds and those four-year-olds who are in class with them. PreK is a term the state of Michigan uses to refer to students who are still in an elementary program, but not yet kindergarten (like our young fives classes). We are thankful to the OCDPH for clarifying this question before our preschool classes begin (and even for our open houses this week!)  so you as parents can make the best decision for your child(ren).
Simply stated, face-coverings are optional for ALL preschool classes at Zeeland Christian School across our three sites. Masks will also be optional for three and four-year-olds in Extended Care.
We know there will be a variety of reactions to this news, so please know our intention is to assist parents while providing a high-quality educational experience for their preschoolers. Masks are still strongly recommended by the health department for the preschool age group. If you choose to send your child in a mask, we will absolutely assist and support you and your child in that decision.
We are looking forward to seeing your preschoolers and their smiling faces this week at our open houses. The schedule for these open houses is listed below as a reminder.
Burn Bright!
Tim McAboy
Head of School
August 23, 2021
Parents and Guardians,
In 2nd Corinthians, Paul recounts his struggle with a physical affliction. Three times he pleads with God to take it away, and three times God responds, "My grace is sufficient for you, for my power is made perfect in weakness." Recently, I (Tim) read this and thought, "Only three times?!" I have pleaded with God over and over again to end this pandemic. I've grieved over not only the impact of Covid-19 but the division it has brought. I grieve the lives lost, but also other losses whose impact we don't fully know.
When I made the decision to devote my professional life to Christian Education, I never imagined leading a school through a pandemic, and I'm confident I can say the same for every member of our staff. However, God's grace is sufficient for us. His power is made perfect in our weakness. Our God is a God of beauty from ashes (Isaiah 61:3), and I am confident that He is working "for the good of those who love him, who have been called according to his purpose." (Romans 8:28)
In response to the temporary Pre-K to 6th-grade mandate enacted by the Ottawa County Department of Public Health (OCDPH), our Board met last night to review the document, discuss the legal counsel we've received, and determine how best to proceed.
Our Board, on the advice of legal counsel, affirmed we are legally required to follow the mandate issued last Friday. In order to comply, we are to "ensure that people in pre-kindergarten through grade six consistently and properly wear a facial covering while inside any enclosed building or structure of the institution." (Read the full mandate here.) As you know this was not the path we were planning to go down this school year - intending originally to allow parents to decide the best option for their family.
For 7th and 8th grade students the health department has stated face coverings are strongly recommended. We are committed to following requirements, but as this is a strong recommendation, parents of 7th and 8th graders should make the decision that is best for their children.
The order does allow for medical exemptions and states how to obtain one. This applies to "Persons who have a medical reason confirmed in writing from a Medical Doctor (MD) or Doctor of Osteopathic Medicine (DO) currently licensed to practice medicine in the State of Michigan." If your child needs a medical exemption, here is the medical exemption form we will need to have on file per the mandate. This is the only exemption listed in the mandate.
If you have any questions about this mandate, we encourage you to reach out to the OCDPH. We ask that you do so with kindness and respect as they are working diligently and doing their best to keep our community safe. Burn Bright in your interactions with them!
We are awaiting clarity from the OCDPH regarding whether or not four-year-old preschool classes are included in this mandate. Often when the State of Michigan refers to PreK they are referring to Young Fives, but the order does say four-year-olds and older need to be masked. Preschool parents, we will let you know as soon as we receive more information.
We are thankful we can still allow visitors into the building. We do ask that all visitors wear a mask upon entry because there could be a "pre-kindergarten through grade six" student present in the office or hallways. Adults do not need to be masked if they are in a room with only adults or students in 7th or 8th grade. Please remember that all visitors are to check in at the main office, and visits during the school day should be coordinated with your child's teacher or by appointment with the adult with whom you're trying to connect.
If you are concerned about your child's ability to wear a face covering or their mental health, please let your child's teacher know. We have a mental health team that includes a full-time social worker and a part-time school counselor. We also have a full-time nurse and highly trained teachers to care for your child. As with each year, every child will receive the love and relational care ZCS is known for!
We are thankful parents have a choice when it comes to face coverings outdoors. We will have students outside often. We have been purposefully equipping our staff through outdoor learning professional development even prior to the pandemic because learning outdoors is so good for students.
We will have our opening convocation outdoors and the current plan is for tomorrow morning at 9 am in the back of our Central Ave. campus. The weather is questionable at this point, so we will let families know via email by 7 am if we need to postpone.
We know this new mandate brought relief for some of our families and frustration for others. The beauty of the ZCS community is our ability to have different preferences and opinions but come together for the sake of providing families, "a high-quality Christian education based on the Reformed understanding of the Christian faith." This year will not be defined by a mandate, it will be defined by the faithful work of God in and through our students.
Please join us in praying over all of our students and teachers as they prepare to start the school year.
Burn Bright,
Tim McAboy                                   Geoff Bremer
Head of School                              President, Board of Trustees
August 6, 2021
Parents and Guardians,
We are so grateful for this community of families who are committed to Christian education at ZCS. It was a blast to reconnect with many of you in person at our Young Fives/Kindergarten and New Family Welcome events and made me even more excited to be back together in person this year! We have been praying for your families and are confident that God will continue to be faithful in the days ahead. You are all invited to our opening day convocation taking place on the ZCS Sledding Hill at 9 AM on Tuesday, Aug. 24. We can't wait to worship together!
We remain committed to being a family school and cannot wait to welcome parents back into our buildings and classrooms this year while modifying some of our health and safety protocols from last year. In order to meet the requirements from the Ottawa County Department of Public Health, here are the current protocols we are planning on as we start the year:
Much of the reason we were able to be in person all year last year was because parents did a great job identifying symptoms and keeping sick students home. We ask that you continue again this year with the health screening questions on page 3 of

these guidelines

each morning.  

Masks are optional at all three of our sites. We know there will be students and staff in masks and we support these decisions. We ask each family to talk with their children about how they can love and support their friends and classmates.

We will continue with our increased cleaning and sanitizing protocols at all sites. This includes having an additional custodian throughout the day at Central Ave. (main campus) again this year, hand sanitizing stations throughout the school, and sanitizing desks and commonly touched surfaces several times a day.  

Per requirements from the health department, we will still contact trace and notify parents if their child is a close contact of an identified Covid case. In the event of school exposure, quarantine will be recommended but not required. In an outbreak situation (two or more connected cases within the school), quarantine would be required (by health department order) for unvaccinated close contacts. Teachers will continue to support students who are quarantined.  

We will again use the pick-up and drop-off process we began last year. You will receive your door assignment in the weeks to come. With 1,061 students at ZCS (an increase of 62 from last year), we've found this to be a much safer way to get all students to and from class. Our teachers also noted a significant increase in instructional time with students arriving at school on time and parents not arriving at classrooms early for pick up. With only occasional exceptions, all students not riding the bus should be dropped off or picked up at their assigned door. If you need to occasionally help your child by walking them into school, please enter through the main office to sign in. 

We are excited to welcome parents and other guests into the building to volunteer or just to chat with us. We love having parents who are actively involved in our school! For the safety of our students, all visitors must sign in at the front office. It is important that we have a record of who is in the school at all times. If you're visiting during drop-off or pick-up, please do not park on Central Ave.

Staff and students are required to wear face coverings while on ZPS transportation (which is all of our bussing) due to a federal order that districts are required to follow.

There is not mandated testing for COVID-19 for any students, including athletes, at this time. Athletics may receive further mandates in the coming weeks. 

We are moving forward with plans to have field trips, camps, and family groups take place this year.

Vaccination is not required for school enrollment or attendance. 
Zeeland Christian School is a family school and a relational school. We will continue to come alongside families and students to support and develop their spiritual, emotional, and mental well-being in addition to their physical health and safety. The story of this pandemic at ZCS will be a story of God's faithfulness, and I am grateful to you, parents and guardians, for choosing ZCS for your family. I can't wait to SEE your smiling faces at our elementary grade level meet-ups next week and in the weeks to come as we start another incredible school year at Zeeland Christian!
Burn Bright,
Tim McAboy
Head of School
September 3, 2020
Guardians and Parents, 
Thank you for a great start to the 2020-2021 school year. The collective efforts of everyone working together to follow the requirements of our Return to School plan have been positively received. These continued efforts will assist us in keeping everyone as safe as possible.
We are planning for a reality where it will not be a matter of "if" we have any positive cases at ZCS, but "when" COVID-19 will impact our school. In our efforts to be transparent, while balancing the respect of privacy and safety, we will be posting a weekly update for our ZCS community. This report, generally provided on Friday at www.zcs.org/covid-19, will indicate the following information:
The number of confirmed positive cases in our school or our three preschool locations, Central Ave. Creation Ridge, and Drenthe in comparison to the total percentage of staff/students. (These individuals have tested positive for COVID-19 and are in isolation.)

The number of students who are in quarantine (These individuals have been in close contact and/or exposed to someone who has tested positive.)

The number of staff members who are in quarantine.
As of this writing, we currently have no known positive cases in our school. Four students are in quarantine due to exposure outside of school. There are no staff members in quarantine.  
If your child is impacted by a situation at school that requires a quarantine due to exposure from being in attendance at school or school related activities, you will be personally contacted by a school administrator. This contact will be a telephone call, followed up with a letter from the Health Department. If you are not contacted, you do not need to quarantine.
Students who are currently receiving in-person instruction, who need to be isolated or quarantined, will continue to receive instruction by their classroom teacher through SeeSaw or Google Classroom. To the degree possible, teachers who are quarantined (but not ill) will continue to provide instruction via SeeSaw or Google Classroom from home, with the assistance of a guest/substitute teacher in the classroom.
We continue to work closely with the Ottawa County Department of Public Health in implementing the best health/safety practices in alignment with the CDC. If you are contacted by the Health Department regarding a quarantine due to an exposure that you were not made aware of from school, we ask that you please contact our front office (616.772.2609) and inform them of this so that we can continue to monitor our data closely.
Transparency, while following privacy laws, is important as we manage this public health crisis. We will not release the names of students or staff members, nor will we give specific details about classroom or grade level. It is my hope that this transparency further honors your trust with us as a school.
Again, thank you for your continued support and collective efforts. Together, we will work toward and hope to stay in-person for as long as we possibly can!
Burn Bright,
Tim McAboy
Head of School
August 18, 2020
Further Return to School Detail 
Regarding Health/Safety/Instruction 
View our Return to School Plan submitted to the State of Michigan.
Physical Health/Safety
Families will monitor student health every morning before school. 

If a student is experiencing any respiratory or gastrointestinal symptoms, and/or has a temperature of 100.4 or greater, please keep him/her home. 

Temperatures will be taken for students who indicate they are not feeling well, using no-touch thermometers. 

Students who become ill will quarantine away from others until parents can pick students up. 

All staff will complete a health screener each morning. 

No drinking fountain use, students will be encouraged to bring water bottles from home and use them at refilling stations as needed. 

Classrooms will be set up to emphasize social-distancing, with desks spaced and students facing forward. 

All classrooms will be sanitized twice daily and specials classes will come to each classroom except P.E. and Band/Choir which will be sanitized after every session.

Y5-8th grade students will wear masks during specials with the exception of socially distant P.E. activities.

Students are contained to classroom cohort groups as much as possible. Lunch will be in classrooms for elementary and spread out to encourage social-distancing in middle school. 

Movement through the hallways will emphasize one-way travel and social-distancing as much as possible. 

No birthday snacks shared during Phases 4 and 5. 

Families will be notified if COVID has been confirmed in their child's classroom cohort and/or if their child has been in close contact to a student with potential COVID for testing/quarantine according to CDC guidelines. See the diagrams below.

Masks will be worn at recess.
Social/Emotional Health
Daily focus on relationship-building and supportive environment. Zeeland Christian is a school built on relationships and we will continue to build upon that foundation.

A new social-emotional curriculum called Second Step will be implemented in Young Fives and Kindergarten classrooms to support student social-emotional well being.

School staff will continue to promote positive behavior through our PBIS (Positive Behavior Intervention and Supports) plans.

We have hired a full-time Social Worker, Aaron Kaufman and he will serve with Julia Postmus, our School Counselor as our mental health liaisons.
Classroom/Instruction
Students will be supported as they reacclimate to the learning environment.

The first four weeks of instruction will include a focus on relationship-building and orienting our kids to our Blended Learning Model. All grade levels will make efforts to take the learning outdoors when the weather allows, seeking to have kids outdoors at least one time per hour.   

Daily instruction five days per week in classroom cohorts and specials will travel  (art, music, PE, etc.)

Students will be using iPads and laptops for activities and lessons more frequently in preparation for the potential for remote learning. This will help us have a smoother transition in case we go remote.

Students who are ill and/or must quarantine will continue to receive remote learning activities from classroom teachers via Google Classroom or SeeSaw.
Pick-Up/Drop-Off
Read our new Pick-Up/Drop-Off plan

here

.

A map and video with instructions coming soon!
COVID-19 Flowcharts from Ottawa County Health Department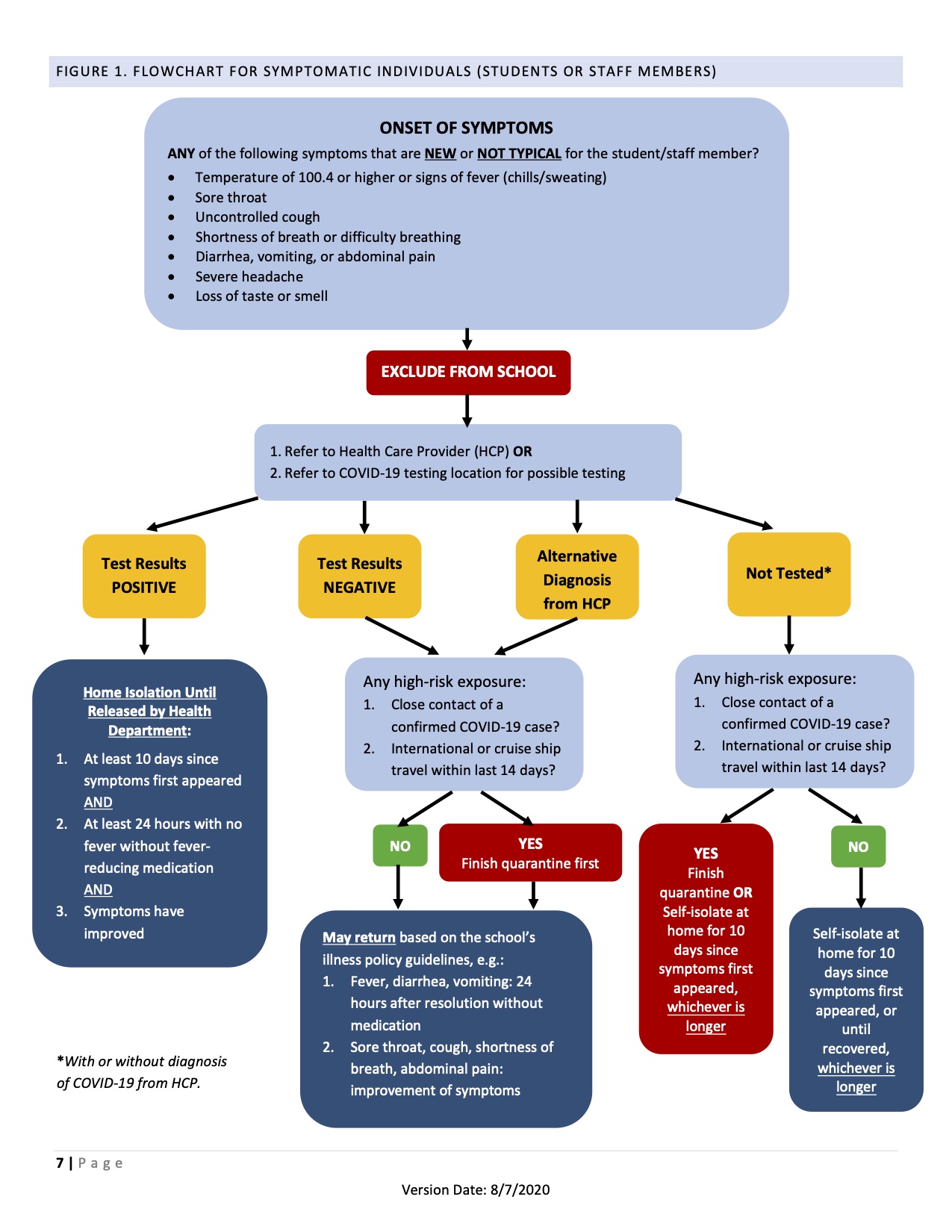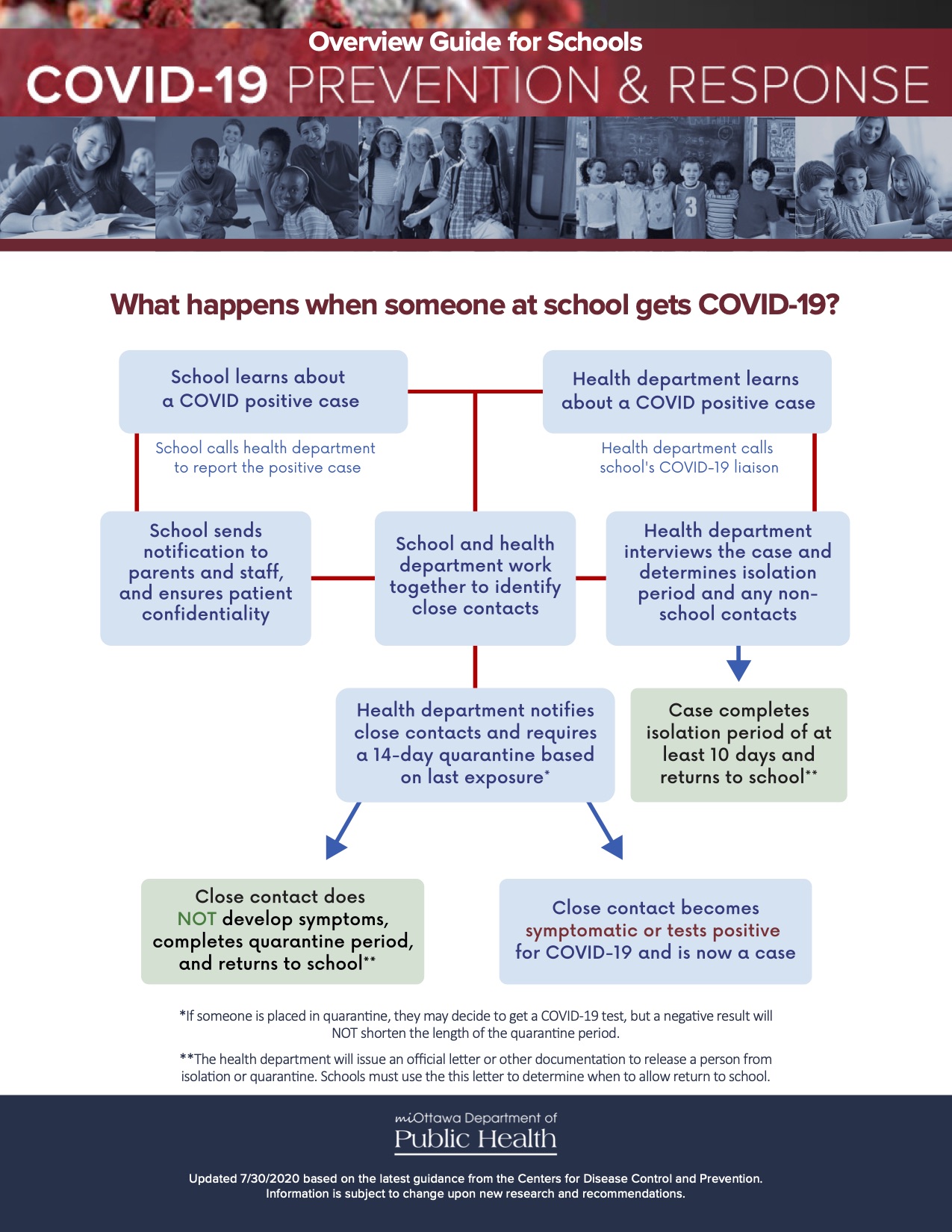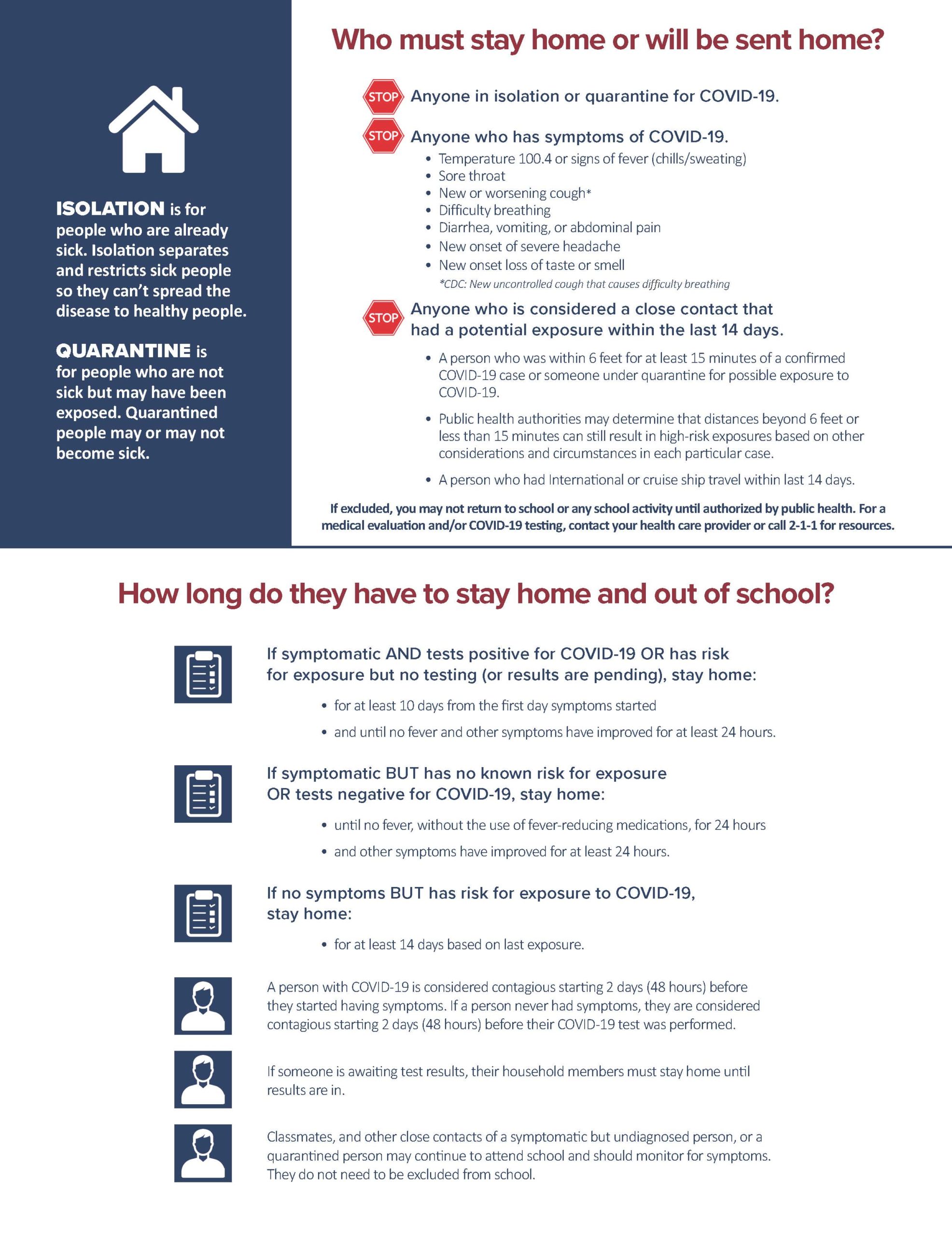 July 30, 2020
Parents,
As we return to school in less than four weeks, we are preparing for another incredible year at Zeeland Christian. Our teachers have been working over the summer to come up with creative and fun ways to make sure our students are loved, cared for, challenged, and inspired- no matter the uniqueness of their surroundings.
When visitors come to our school they often say the phrase, "It just feels different here." We attest this to the presence of the Holy Spirit in our building. This is why you as parents have chosen Christian education. Because even in the midst of a pandemic God's Spirit is wanted, welcomed, and with us! Your children will be reminded of this every day by their teachers, and my prayer is that God will move more than ever in the hearts and lives of ZCS students - as he often does in times of trial and unknown.
The ZCS philosophy of one-size-fits-one stands. Innovation is one of our core values and so we are confident we will excel in whichever phase we are in! Most of the information below was shared in our second Town Hall on July 8, but there have been a few updates, so please read our Return to School Plan below and accompanying FAQ.
ZCS Return to School Plan - Updated July 30
PHASE 5 - What to expect if Michigan advances to Phase 5 (For reference, here is a link to the MI Safe Schools Roadmap.):
We are able to offer FIVE days a week, in-person instruction, which will begin on August 25.

ZCS Global

will begin on September 8 and will follow the traditional ZCS calendar.

At-home learning for students who need to step away for a short period of time will be offered.

Most of the Safety Requirements in Phase 4 become Strongly Recommend, thus allowing ZCS flexibility to best meet the needs of our community.
PHASE 4 - Michigan is currently in Phase 4
We are able to offer FIVE days a week, in-person instruction, which will begin on August 25.

ZCS Global

will begin on September 8 and will follow the traditional ZCS calendar.

Face coverings are required for all staff and students grades Young Fives(Y5) - 8th grade when on a school bus, in hallways, at recess if with other classrooms, and indoor common areas.

All teachers, staff, and students in 6th-8th grade are required to wear face coverings in classrooms, hallways, and common spaces.

Students in Y5 - 5th grade will remain with their classmates throughout the day preventing close contact with students in other classes so that face-coverings are not required in those classrooms.

Face coverings may be waived for specific medical diagnoses. We will require a note from a medical professional as we do for other accommodations.

Indoor assemblies may only include one classroom, so we are exploring creative ways to worship together for Chapel outside or via Zoom to make sure this core experience still happens regularly.

Athletics will continue to be determined by the MHSAA - see the report from July 24.

ZCS will follow the Roadmap's required protocols for hygiene practices, cleaning, athletics, testing protocols, food service, and busing.

We are planning for frequent breaks from face coverings for our middle schoolers

We are keeping elementary classrooms together in cohorts so they do not need to wear masks at specials

We will have two custodians responsible for cleaning the building during each school day.

We have added water filling stations and hand sanitizers and will be making sure students are washing their hands often throughout the day.
PHASE 3 - If Michigan reverts to Phase 3:
The Blended Learning Design Team, made up of ZCS teachers and administrators, has been meeting over the summer to better provide a smooth transition to at-home learning if needed. This team's work will also help us better support our students who have to step away from the classroom for a short period of time.

There will be a greater emphasis on students connecting with their teachers and classmates during their time at home.

ZCS will be using an online platform called Seesaw for students in Young 5's - 2nd grade and Google Classroom in grades 3rd-8th to assist with instruction.

Extended Care might remain open.

ZCS Global will begin on September 8 and will follow the traditional ZCS calendar.
As I said in the video above, we are praying for you and your children. Please continue to pray for us and your children's teachers. I can't wait to be together, and I really can't wait to get the school year started!
Burn Bright!
Tim McAboy
Head of School
P.S. If you still have questions, please watch our second Town Hall from July 8, and/or check out our current Return to School FAQ.
Guardians and Parents,

We have streamlined Distance Learning. Our mission is to Love God, Love Kids, and Love Learning. Well, add Love Parents in there because we designed Phase 2 of Distance Learning with you at the top of our minds.
Seesaw (K-2) and Google Classroom (3-8) as our Learning Management Systems

(Nearly) all classroom communications will come through these systems - no more cluttering up your email inbox. You can adjust your communication preferences in both systems.
You may have already received communication from your child(ren)'s teacher(s) with instructions to get set up on Seesaw and/or Google Classroom. Go here for more help on this process.
Preschool/Y5 families will receive their regular emails.

Week-at-a-Glance (WAAG): Every Friday at 5 PM teachers will have their WAAG document updated to help you plan for the week ahead.

View a sample here.
ALL ZOOM LINKS ARE IN THE WAAG. No more searching through emails for the correct link. *All Zoom meetings will be password protected for additional security as well.

Introducing the Distance Learning Central Hub.

We have put EVERYTHING in one place. www.zcs.org/distance-learning
Can't remember where a link is? Unsure when a Zoom meeting is or the password for it? Head to the Central Hub.
Central Hub Overview

Family Support page

Read and/or watch a wealth of resources on internet safety, ZCS Tech help, Seesaw, Google Classroom, and ZOOM.

Organized by Grade Level

Quickly find your child's teacher/Learning Management System

Every Week-at-a-Glance (WAAG) easily accessible

Click your child's grade and scroll to quickly find their teacher's WAAG.

Nothing can replace the physical classroom experience of ZCS, but our prayers are that these changes help us stay connected to each other and TOGETHER we will advance student learning while we're apart.
As streamlined as this is, it is a lot of information. Monday and Tuesday of next week will be lighter instructional days to help you and your child(ren) begin to learn and adjust. As you have questions, please reach out directly to your child(ren)'s teacher. We will also have two Facebook and Instagram Live Sessions simultaneously on Monday at 10 AM and 1 PM to offer real-time help as you navigate through these systems.
It's a privilege to partner with you, parents and guardians, during these unique times. If we can help your family in any way, please reach out.
Burn Bright,
ZCS Leadership
Parents,
In these weeks, my morning habit has been to walk or run the two miles to school, place my hand on the bell out front, and pray for our students, parents, and staff. I often then sit on one of the benches out front and let the sadness wash over me. I sometimes cry then, just as I'm crying now as I type this. Our community is hurting - from the virus, from the economy, from lack of connection - and it grieves me not to be able to be physically together during this time. We love and miss you all so much.
This morning, Governor Whitmer extended the closure of K-12 schools through the end of the school year. So, as we extend our transition to a distance learning environment to the end of the school year, I want to express how proud I am of our students and parents for embracing this complex challenge during this unique season. The strength of the ZCS community is perhaps most evident in times such as these, and your response has been remarkable. I want you to know that our faculty and staff have been praying for you daily and remain committed to providing the best Christian school experience possible.
I also want you to know how hard your child(ren)'s teachers have been working on converting their physical classrooms into digital ones. They have been putting in long hours adapting their curriculum and instruction to a new platform to stay connected while we're apart and advance student learning. While we will never fully replace the in-person education our students usually receive, I pray that you are experiencing all of this hard work coming to fruition.
As we head into Phase 2 of Distance Learning after Spring Break here is an overview of the vision and design. On Wednesday of next week, you will receive more communication and instruction as we streamline and increase the ease of use for parents.
We understand the hardships many in our community are experiencing. We would love to come alongside your family in any way. For many, school is an anchor for the day, and the connection our students experience with their teachers and friends is vital to helping them through this time. However, we know there will be days when school isn't as important, as other needs will take greater priority. During this time, I assure you you'll find our school treating your child and family with the same "one size fits one" mentality you've come to love about ZCS. We will help make this work for you. 
Tuition collected during this time will ensure that your child's academic experience is uninterrupted. We are committed to supporting our teachers who are working many and irregular hours to serve all of our students. Our Finance Committee and Board are aware of the financial opportunities available to schools in the recently passed CARES Act and are determining the best path forward. Please expect communication around this topic in the coming months.
Additionally, in times like these, the body of Christ rises up to bear one another's burdens and come to the rescue of those in need. If you need assistance in paying tuition during this time, please reach out. You can email Mike Arendsen, Dir. of Finance. If you are in a position to give to the ZCS Tuition Assistance Fund for families in crisis, please pray about how generous you can be so more families can be helped through this time.
God will carry us through this season. He is not surprised by this, and He is ready and able to provide for us all through this time.
Burn Bright,
Tim McAboy
Head Of School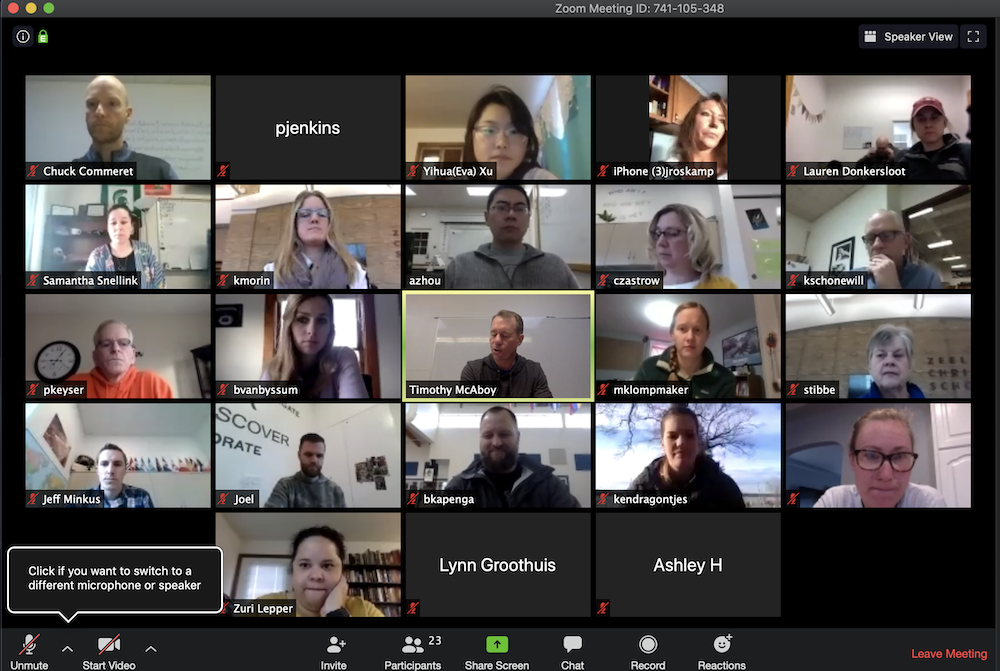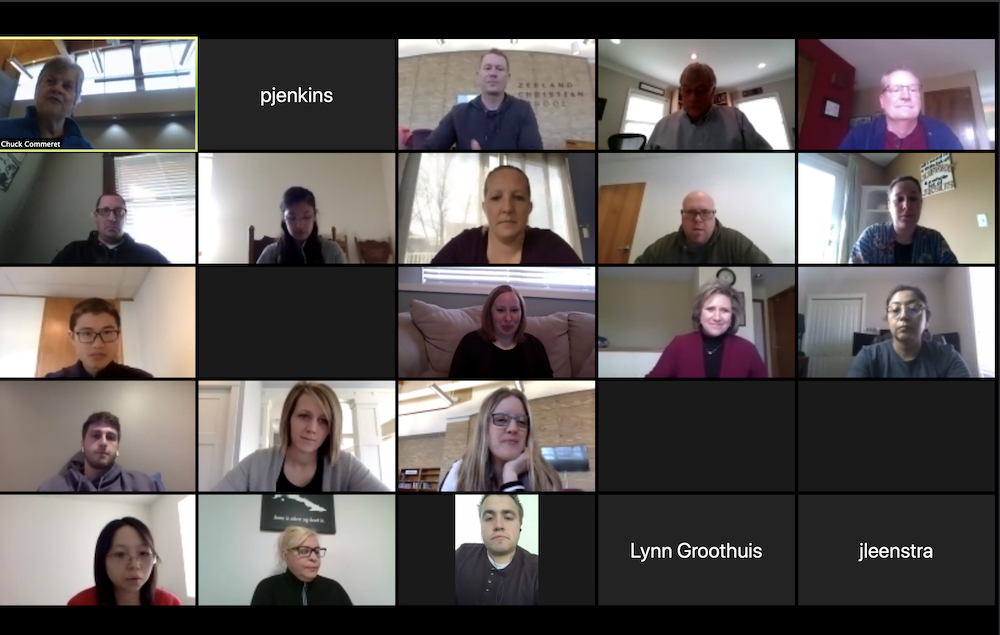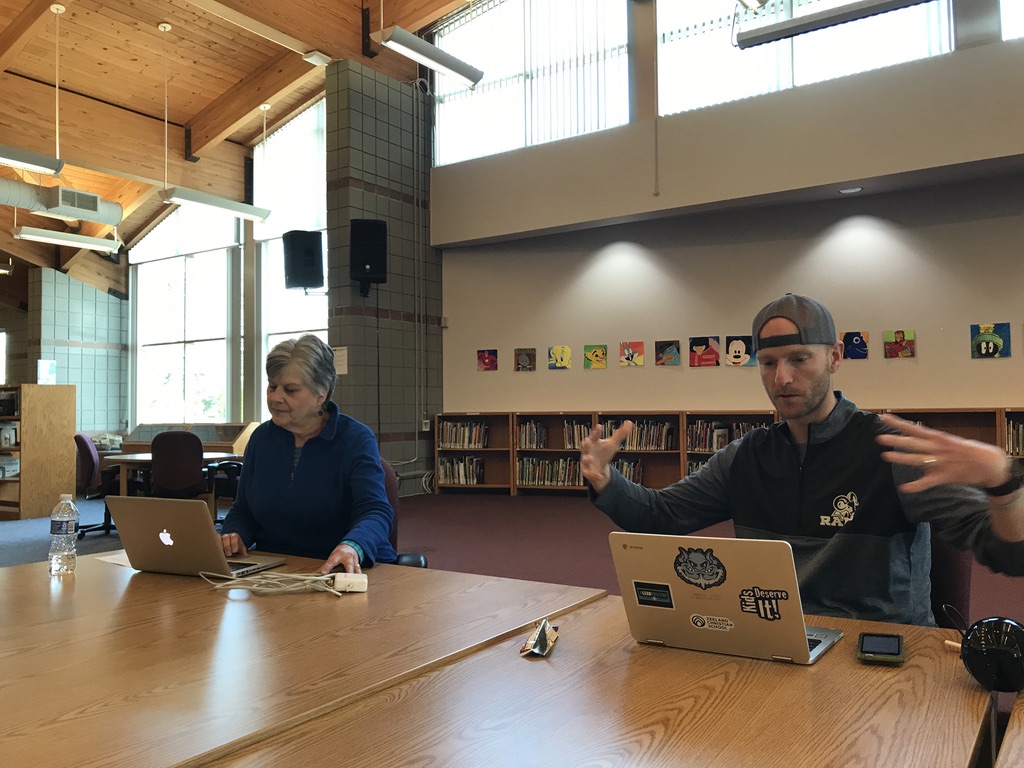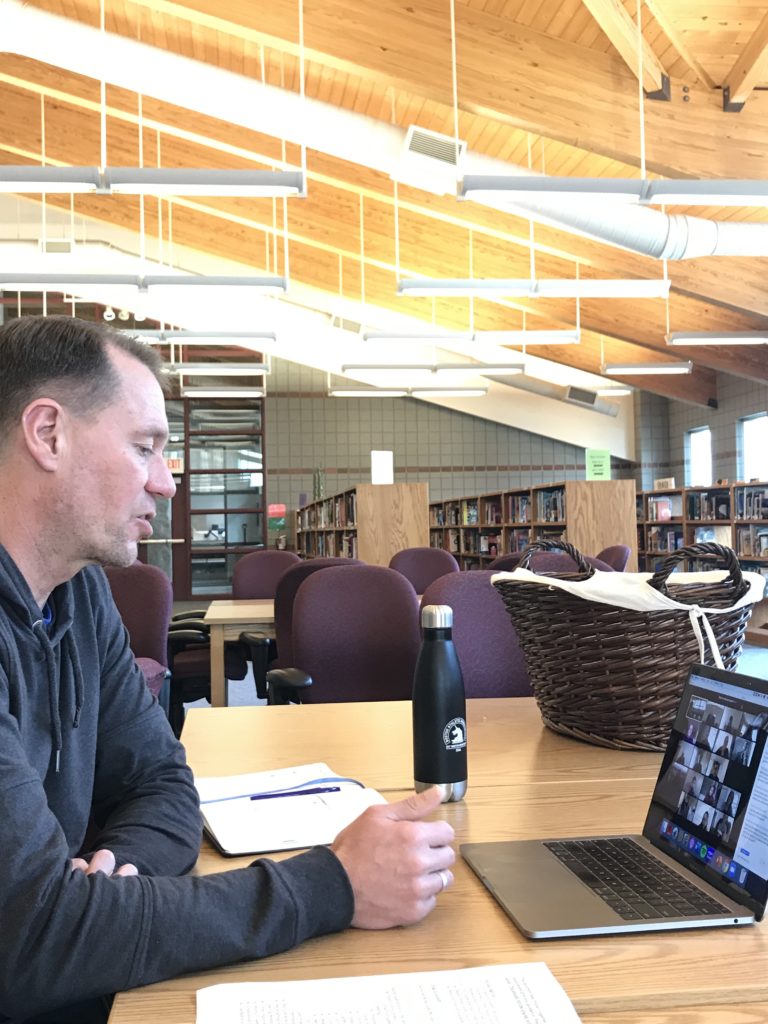 Parents, 

Today each grade level team (Young 5s-8th grade) is sending an email to students regarding work over the coming weeks. This is work that is expected to be completed, not simply suggestions on things to do to stay busy. Teachers will be flexible, so if you have any concerns, please reach out to your child's teacher.

Here is a recap of information along with new updates to share with you.

Recap

MI schools must remain closed until at least April 6, 2020 

Spring Break will remain the same April 3-10

If your child benefits from a daily routine, please read this article from Barb Newman and our Support Services Department.​
For Today

​"Flexible" is the word of the day. We are in uncharted waters and appreciate your partnership in this process. We are looking forward to new methods of discovery and learning.

Y5 - 8th teachers met virtually to discuss a distance learning plan. You will receive a grade-level email today 

with instruction beginning Wednesday. 

We do not expect your child to be completing a full day of school at home.

 

We are aiming for a few hours per day to help them further their learning.

Going Forward

As mentioned, distance learning plans will begin on Wednesday.

We seem to be living in 24hr periods, as situations and recommendations change, we will adjust as needed and communicate to parents primarily via EMAIL.

​

Preschool parents look for an email today or tomorrow regarding distance learning for your child(ren).

Other House Keeping

We are encouraging our teachers and staff to cancel any out-of-state travel.

 Parents, please consider doing the same.  

Building open Tuesday from 11-2 ONLY

 for parents whose child forgot something or whose child was absent last Friday.

 Enter through front doors, sign-in on the clipboard in the front entryway, and proceed to the classroom. Teachers will not be present, and we prefer only parents, not children, to be in the building. Please be in the building for as short of time as possible.  

Middle school teachers will end the 3rd quarter a week early and record grades in Infinite Campus. Elementary teachers will include the 3rd quarter into the 4th quarter and report student progress on the 4th quarter report card. 

We will be mailing 

One-Page Tuition Sheets (OPTS) this week.

 There will be a return envelope included. You can either mail your signed OPTS form back or upload it 

to this google form by April 2.
​
​Misc. Questions

Is there a chance these closures will be shorter or longer?

At this time, the Ottawa Area Department of Public Health has stated the length of the closures will be determined by "what is happening in the rest of our communities."

Will there be any childcare at school?

At this time, we are not able to provide any childcare options.

Will preschool be open?

As long as our Y5-8th grade classrooms are closed, so will our preschool.

We are praying for you and we are here to help. Please reach out to your child's teacher or any of us on leadership as we transition to these new routines.


Tim McAboy
Head of School
Parents, 
We are encouraged by your patience and support today. It has allowed us time to gather and think through decisions going forward without distractions. Thank you.
Here is a recap of information along with new updates to share with you.
Recap
To help mitigate the spread of COVID-19, Michigan Governor Gretchen Whitmer has ordered all K-12 buildings to close starting Monday, March 16 until April 6, 2020.

Along with our Y5-8th grade classes and services, preschool and extended care will also be closed during this time. 
For Today
Thank you for your help in limiting the number of people in the building. Your cooperation was noticed and greatly appreciated.

There is no PM busing, but please pick up your child as you normally would. We do ask though that you leave quickly as the goal of the Governor's mandate is to limit large gatherings. 
Going Forward
All events, in-person instruction, field trips, and rentals held at or associated with Zeeland Christian School are canceled until April 6.

ZCS teachers will be emailing their classrooms Monday afternoon with a distance learning plan that will begin on Wednesday of next week. We do not expect your child to be completing a full day of school at home. We are aiming for a few hours per day to help them further their learning. More information will be communicated by EMAIL on Monday, March 16.
If your child benefits from a daily routine, please

read this article

 from Barb Newman and our Support Services Department.

Chromebooks

Middle school students will be bringing home their Chromebooks. Elementary students will not be taking home any devices. Distance learning plans will account for these two realities.

Front Office

The front office will not be open during this closure, but essential staff will be on-site and teachers are allowed in the building. If you need to meet with someone, email them directly to set up a time.

Cleaning

Mr. Huffman will have his whole cleaning team in the building doing a deep clean next week.

Spring Break

We are not planning to move or cancel Spring Break at this time.
Misc. Questions
Is there a chance these closures will be shorter or longer?

At this time, the Ottawa Area Department of Public Health has stated the length of the closures will be determined by "what is happening in the rest of our communities."

Will there be any childcare at school?

At this time, we are not able to provide any childcare options.

Will preschool be open?

As long as our Y5-8th grade classrooms are closed so will our preschool.
Other House Keeping
We will be mailing One-Page Tuition Sheets (OPTS) early next week. There will be a return envelope included. You can either mail your signed OPTS form back or upload it to this google form by April 2.

TRIP Participants:

Due to school closing TRIP. is being moved to Deb Vanden Heuvel's house at 519 Huizenga Ave. in Zeeland.  

TRIP will be on Tuesday as usual. Pick up for TRIP orders will be on Tuesday from 10:00 am-7:00 pm. 

Instant TRIP will be available on Tuesday from 11:00 am-1:00 pm.
You are all encouraged to continue ordering Scrip Now! and Reload cards.
Sincerely,
Deb Vanden Heuvel
TRIP Coordinator  
We will work to keep you informed throughout this process. Thank you again for your encouragement and patience. We are thankful for such a supportive community.
Tim McAboy
Head of School
March 12, 2020
ZEELAND CHRISTIAN SCHOOL: COVID-19 UPDATE
This morning, I was on another conference call with local school superintendents and the Ottawa County Department of Public Health (OCDPH). Please read the update below as details regarding specific school events are included.
We are incredibly appreciative of our staff's hard work and commitment to students and families. Additionally, we are thankful for the support being provided as we endeavor to keep you safe and informed. We continue to partner with the OCDPH to make decisions based on the safety, health, and well-being of all our students and staff. Your continued patience and flexibility is appreciated.
Ottawa Area ISD has assembled a COVID-19 Response Team, which is frequently meeting with OCDPH officials, other ISDs across the state, and leaders from local public school districts and non-public schools to collaborate on processes and decision-making to limit the spread of the virus. We are discussing how to implement the recommendations put forth by the Michigan Department of Health and Human Services during last night's press conference with Governor Whitmer.
Our immediate plan for mitigating the spread of COVID-19 in our communities is based on three factors:
Avoiding unnecessary exposure of our staff and students to illness.

Working to the best of our ability to ensure the continuity of teaching and learning.

Protecting the health and well-being of our multigenerational community, especially those who are most vulnerable to illness.
The recommendations put forth by MDHHS for community groups and organizations include canceling or postponing large gatherings or athletic events with more than 100 people in attendance. Along with other schools in our region, Zeeland Christian School will be canceling, postponing, or modifying large gatherings through Friday, March 20. Specifically:
The

2nd - 5th-grade music program

on Tuesday, March 17, is postponed.

8th-grade

Persecution Project

- We are working on a modification to this event. Look for more information from the 8th-grade team.

1st-grade field trip to Grand Rapids Symphony: Lollipops is canceled.

School/Home Collaborative field trip on Wednesday, March 18, to the Holland Museum/SPARk Lab, is postponed.
Late next week, we will decide on events leading up to Spring Break.
Please understand we do not make these decisions lightly. We recognize extracurricular activities and events are a vibrant part of the school experience for most students. These decisions are being made in consultation with the Ottawa County Health Department, the Michigan Department of Education, and the recommendations of the Centers for Disease Control.
Recommendations Around Student Travel
We will continue to monitor the situation, but through Friday, March 20, all field trips will be decided on a case-by-case basis. Your child's teacher will communicate with you about any changes to the schedule.
Timing of Decisions
The spread of COVID-19 is a fast-evolving situation that changes hour by hour. The Ottawa County Department of Public Health recommends schools operate as usual until directed otherwise. Ottawa Area ISD remains in close and regular communication with the OCDPH and other partners to monitor the situation and will send updates as necessary.
Sporting Events
We will follow the recommendations of MHSAA. Any changes will be communicated by the school or your child's coach.
Parent/Guardians Decisions on Student Attendance
OCDPH encourages parents of students with high-risk conditions or fragile immune systems to have a conversation with their pediatrician and school staff regarding school attendance and preventative measures.
High-Risk Visitors
If you are in a category of people who are more vulnerable to COVID-19, please consider staying away from school during this time.
How ZCS Parents/Guardians Will Stay Informed
As we make decisions and modify those previously made, we will notify you by email.
Basic Needs
As we prepare for all possible scenarios, we are asking you to develop a plan for your family in the event schools were to close for an extended period of time. We are taking COVID-19 seriously and hope that with your help, we can mitigate the spread of this virus in our region. Please follow the recommendations to wash your hands, stay home when you are sick, and practice good hygiene.
Finally, for those of us who are Christians, we are standing at a crossroads. The actions, words, and attitudes we will express in the coming days remind me of a frequently quoted verse.
"For God gave us a spirit not of fear but of power and love and self-control."
The verse before this one also stirred up a spirit-filled response.
"For this reason, I remind you to fan into flame the gift of God, which is in you through the laying on of my hands."
We have been given the gift of the Holy Spirit from our Heavenly Father. We, us, you and me, have the power to fan that gift into something useful or quench it by trusting in ourselves and our perspectives. Whatever lies ahead for our community in regards to COVID-19, I hope our actions and words will be helpful, motivated by love, steered by self-control, and burning bright with the Holy Spirit.
Burn Bright,
Tim McAboy
Head of School