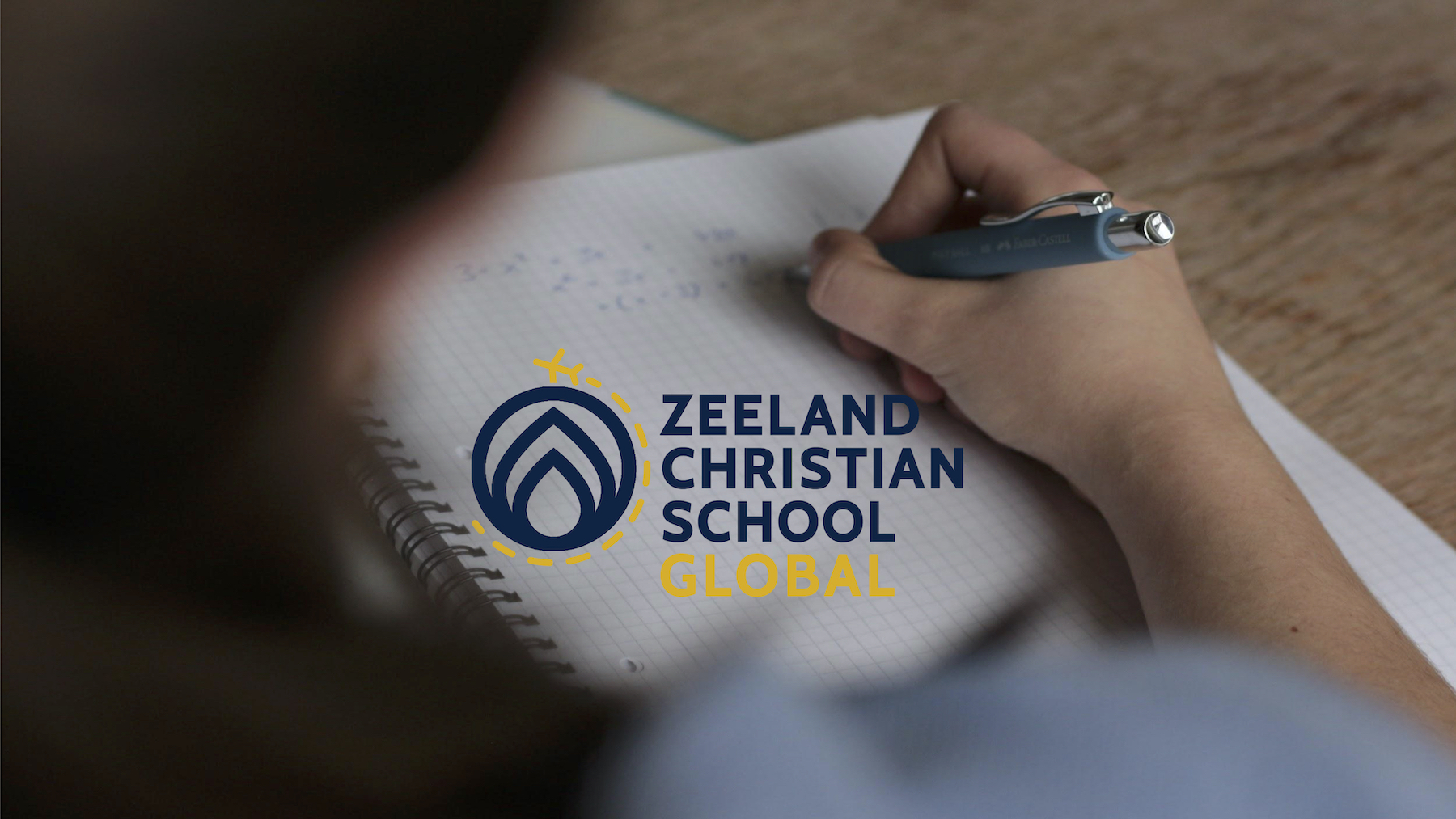 Zeeland Christian School Global is a Christ-centered online school infused with the vibrant culture of Zeeland Christian.
Looking for a virtual school that is distinctively Christian AND offers a Spanish Immersion option? Look no further. 
Questions? Reach out to the ZCS Global Director, Chuck Commeret at ccommeret@zcs.org.
What should I expect from ZCS Global?
Distinctively Christian
Intentionally Relational (not static content)
Teacher creativity and Christian perspective will be evident in all of the curriculum
NOT homeschool - School at home (or anywhere)
Will require parent support (the younger the more support)
Multi-grade classes taught by ZCS teachers

dedicated to this program and available to students during the school day.
Students will get a ZCS experience (chapels, meet-ups, etc.) with a full-time teacher

Daily devotions
Bible course (aligned with CSI)
Live lessons
Weekly mentor meetings
Teacher Available during the school days when not meeting "live"
What will the schedule look like?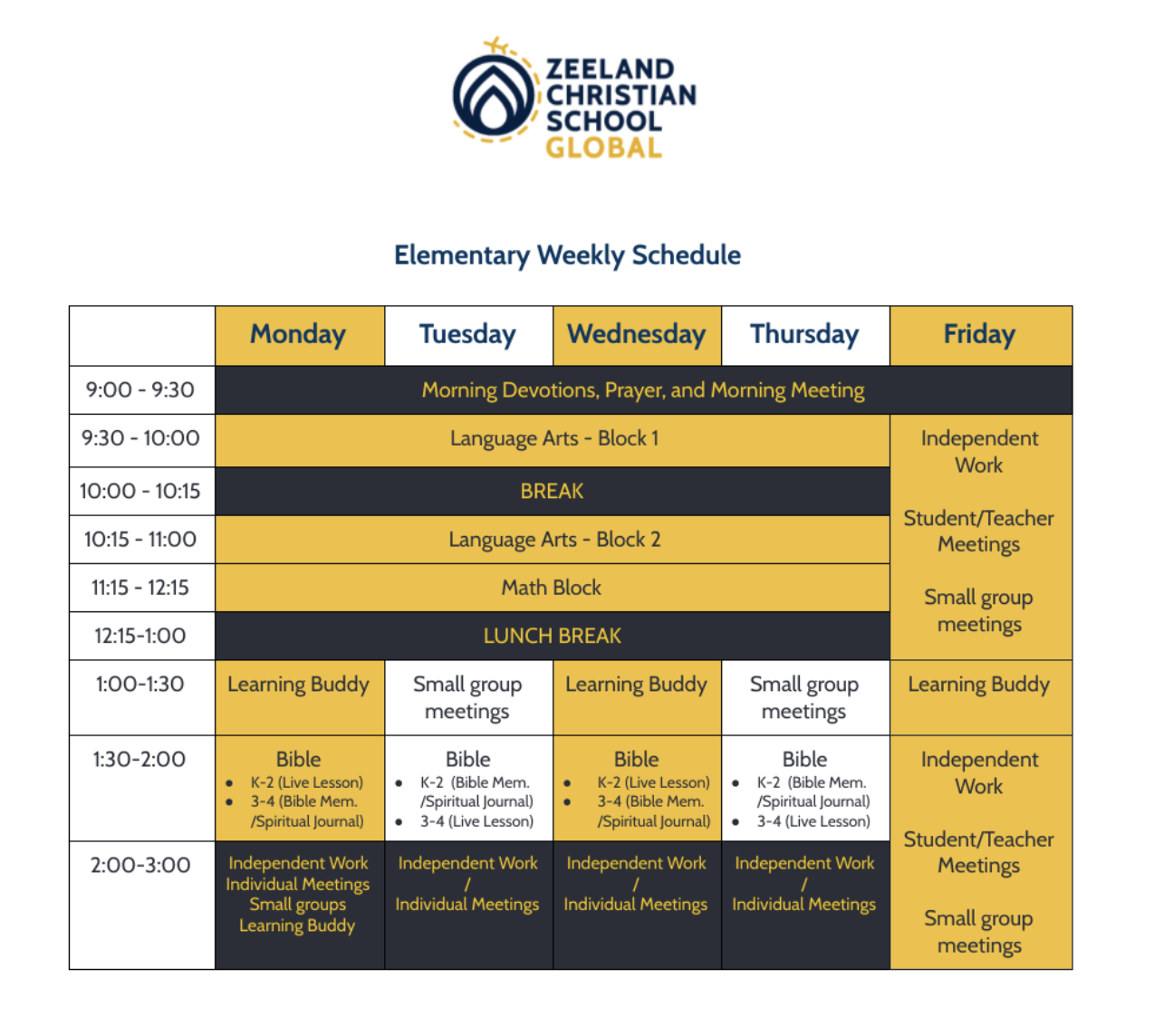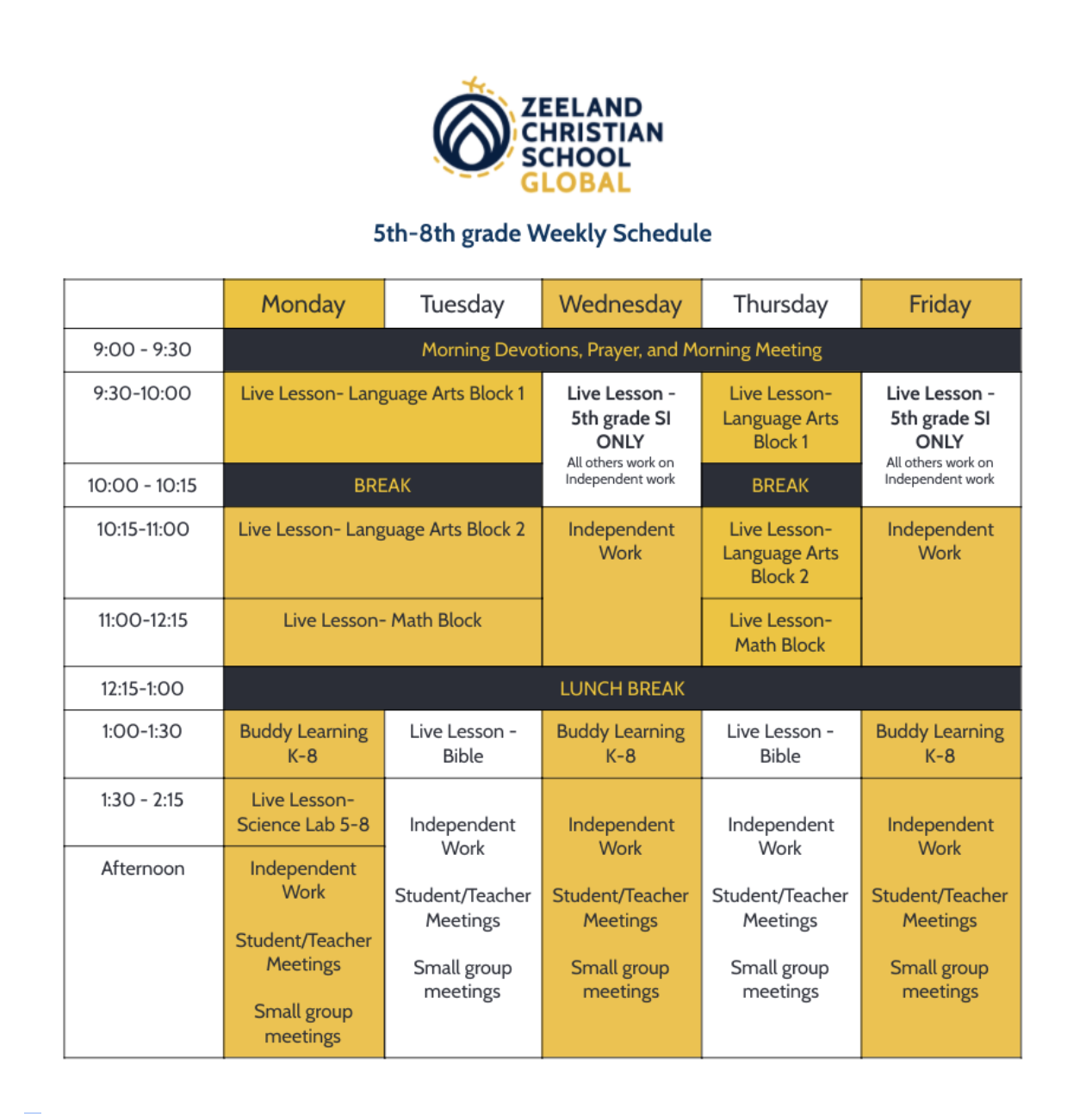 What is the commitment expectation and timeline for enrolling?
Commitment Level: 18-week(1/2 year) commitment minimum (1 year is ideal)
Start Date: September 8, 2020
Enrollment for the 2020-21 school year is still available. Contact Nakisha DeJong, Enrollment Coordinator, ndejong@zcs.org, to learn more.
How much screen time would a student have? Also, are students to be required to be at their computers (live sessions) at specific times of specific days? How long will the instructional day be? Is it flexible with days/times?
Screen time will vary depending on the age of a child and the speed at which they completed their work. Additionally, Elementary students will receive workbooks/printed materials to complete some of their lessons. Live sessions will be scheduled several days a week (see sample schedule at above) and participation will be expected at these times. Independent work time will be more flexible but still expected to be completed daily.
What would peer interaction look like from a distance learning model? 
Students would be engaged in full class live sessions as well as small group sessions throughout the year. Additional connections would be encouraged via online portals as well.
Are there optional opportunities to gather for clubs, sports, etc.?
Students in the Zeeland area are also allowed to participate in extracurricular activities through ZCS as well.
What kind of extracurricular support is there for students outside of the Zeeland area? Are their connections to other school districts?  
We do not have a plan in place currently for extracurricular activities outside of the Zeeland area. If a pocket of families from a distant area joined the program, we would encourage and lend support in finding extracurricular options.
What is the cost? How does the cost of this option compare to the cost of the in-person ZCS experience?
The cost for ZCS Global is the same as attendance at the ZCS on-campus classes. This allows families to have access to our robust Tuition Assistance program, if necessary, as well as take advantage of our sliding tuition scale, which allows families with multiple children to pay a lower percentage of tuition.
 If we choose to do our school district's virtual option or our own homeschool curriculum and it does not work out, is there the opportunity to join ZCS Global later in the school year?
At ZCS we do allow enrollments to happen once the school year has begun so would address this on a case-by-case basis. 
If we choose ZCS Global and things improve from a public health standpoint, are students able to transition into the classroom, and if so, what does that transition look like?
At this time we are asking for families to make a commitment to the ZCS Global program for at least a full semester to allow for continuity and staffing stability. If a family is interested in transitioning to on-campus attendance the option would be available at the semester break (mid-January).  
Is ZCS Global based off of or connected to Michigan Virtual? Did ZCS bring in online learning experts to help develop their online learning?
ZCS Global is not connected to Michigan Virtual.  We are partnering with IES (Innovative Educational Solutions) as an expert in virtual learning as well as the expertise of our Middle School Principal Chuck Commeret.