Elementary is an exciting and robust time, full of reading, creative writing, and math basics. Our teachers work with students to build a love for learning, blessing those around us, and belonging to God.
SCHEDULE:
Start: 8:40 AM
End: 3:25 PM
Elementary lunch:
Bring packed lunch or order hot lunch.
STUDENT LIFE
All-school chapel, grade level worship, family groups, running club, and 5th-grade band.
WEEKLY SPECIALS
Art, music, world language, technology, library, and gym.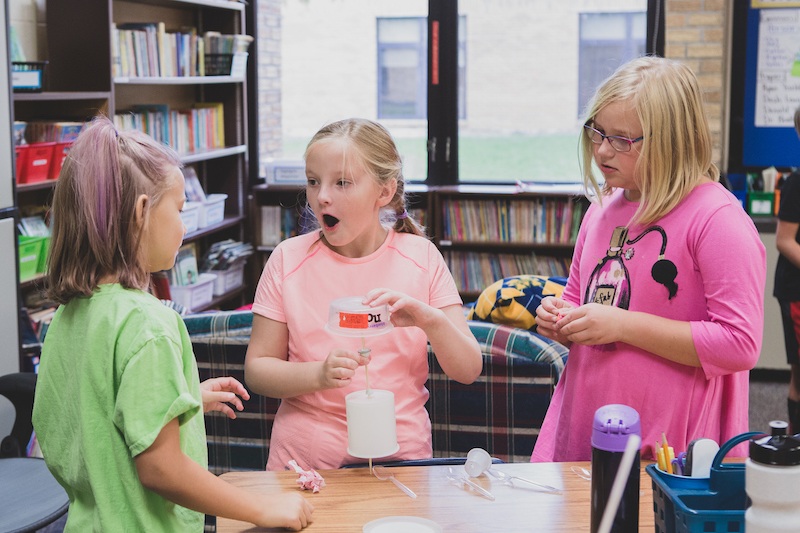 PBL (PROJECT BASED LEARNING)
Students at all grade levels work to developed deep content knowledge as well as critical thinking, collaboration, creativity, and communication skills through this approach of learning. A real-world problem or complex question is taken on by students over an extended period of time, culminating in a public product or presentation for a real audience.
FAMILY GROUPS
An integral part of building community at Zeeland Christian School is being part of a Family Group. Students are all assigned a Family Group in First Grade. They stay with their Family Group all the way through ZCS.  Each Family Group has 2-3 students from every grade level. The older students are responsible for the younger students.
Together, they study the Bible, they work on service projects and sometimes, they just hang out and have fun! The Zeeland Christian community is stronger because of these multi-age relationships and the mentoring that takes place within the Family Groups.
This program is a play-based preschool program led by experienced and educated teachers, who nurture students' social, emotional, physical, spiritual, and intellectual growth.
God fundamentally changed Zeeland Christian School in 1989 with the beginning of inclusive education. Education for all children of differing abilities wasn't a new idea, but including children of all abilities in the same classroom was, especially in Christian schools. ZCS has the oldest Inclusion model school in the US, and the second oldest in North America, making ZCS a global leader in Inclusive Education
Mandarin Immersion contains all the elements of our traditional program with one additional layer - classes are taught entirely in Mandarin Chinese! (Note: We do not currently offer a Mandarin Immersion Threeschool or Young Fives option.)
Spanish Immersion contains all the elements of our traditional program with one additional layer - classes are taught entirely in Spanish!
CONTACT
For more information, please contact the Elementary Principal, Mrs. Betsy Koop.
For enrollment information, please contact our Director of Admissions and Enrollment, Natalia McGowen. Natalia can be reached at 616.239.9812 or at nmcgowen@zcs.org.
For Extended Care contact Heather Mulder.