A Zeeland Christian Nature-Based Preschool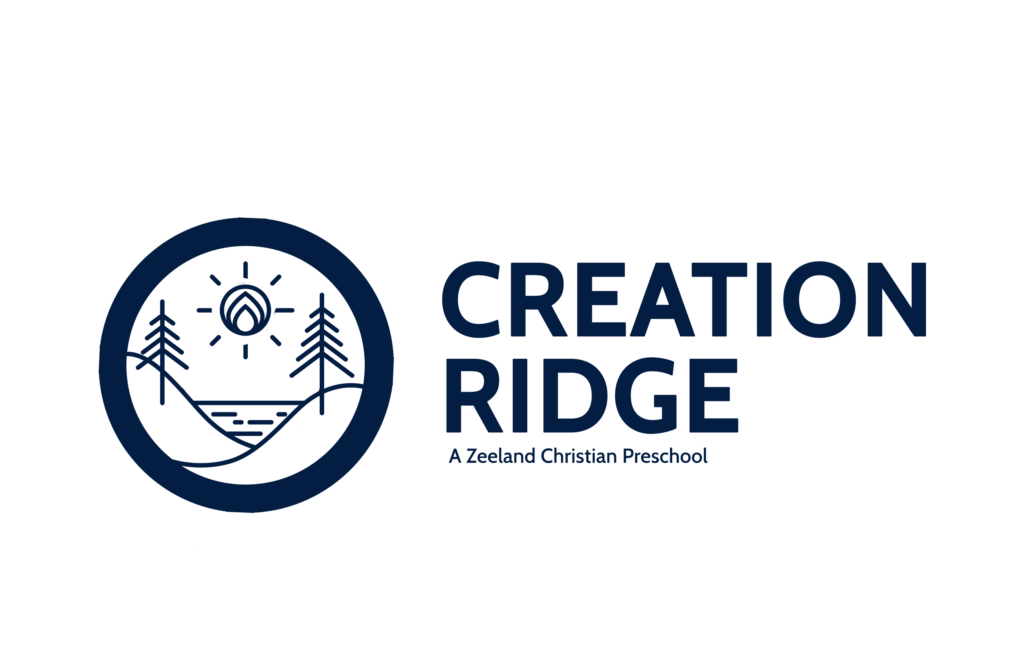 A Zeeland Christian School Nature-Based Preschool in Partnership with Ridge Point Community Church and Outdoor Discovery Center located on 155 acres at Ridge Point Community Church.
Creation Ridge preschool classes will provide 3 and 4-year-olds exploratory and sensory experiences in an outdoor classroom and nature-based environment.  These experiences bring many benefits to kids and at Creation Ridge, we have the added benefit of learning more about God in the midst of his beautiful creation. 
Classes will be available in English and Spanish Immersion.
How do Creation Ridge classes look different than other Zeeland Christian Preschool classes?
Classes are outside in all weather, except extreme weather conditions.
There are required outdoor clothing items families need to purchase.
The majority of class time is outdoors.
Classes engage in an outdoor classroom and take daily hikes around the property.
Ridge Point Community Church
Ridge Point Community Church approached Zeeland Christian in the Spring of 2019 about the idea of a nature-based preschool on their grounds. ZCS is in the midst of a nature-rich initiative on its own campus and with Ridge Point's emphasis on the Christian aspect of a nature-based preschool, it is a Spirit-led and natural partnership.
Outdoor Discovery Center
We are excited to partner with the Outdoor Discovery Center Education Network as we launch Creation Ridge in the fall of 2020. Their expertise in outdoor education and nature-based preschool experiences will guide us as we start our own nature-based preschool through Zeeland Christian School.
Class Schedules:
Session A: Threeschool T/Th AM 
Session B: Threeschool M/W/F AM 
Session C: Spanish Immersion Threeschool T/Th AM 
Session D: Spanish Immersion Threeschool M/W/F AM 
Session E: Preschool M/W/F AM 
Session F: Preschool M/W/F PM 
All AM classes will be 8:45-11:30. 
All PM classes will be 12:30-3:15.
Applications and Lottery followed by Online Registration
Overview Timeline
Friday, January 17, 9:00 AM - Tuesday, January 21, 9:00 AM - applications submitted online

Tuesday, January 21 - Lottery selection

Wednesday, January 22 - Families contacted

Wednesday, January 22 - Thursday, January 23 3:00 PM - Families register child online and pay $55 non-refundable deposit ($50 applies to tuition)
Detailed Timeline
Step 1: Enter the Lottery

An online form will be available at zcs.org/creationridge starting Fri., Jan. 17 at 9 AM.
Complete the form by Tues., Jan. 21 at 9 AM

Step 2: Lottery Selection

You will receive an email on Jan. 21 or 22 informing you of your child's class or waitlist placement.

Step 3: Register Online

Complete your child's online registration at www.zcspreschool.eventbrite.com with the password you receive in your class placement email.
Pay the $55 registration fee ($50 is applied to tuition)
Finish this registration before 3:00 PM on Thurs. Jan. 23 or your child's spot will be given to another child.
Age Requirements
Age 3 by September 1, 2020 for Threeschool classes
Age 4 by December 1, 2020 for Preschool classes
Zeeland Christian Preschool Director - Nancy Pyle
Creation Ridge Site Director - Kris DenBleyker 
Threeschool Teacher - Kris DenBleyker
Spanish Immersion Threeschool Teacher - Kristi Patrick
Preschool Teacher and Several Teacher Assistants will be new employees of Zeeland Christian
Contact Preschool Director, Nancy Pyle at npyle@zcs.org with any questions. You can also call Zeeland Christian School at 616.772.2609.