泽兰基督教学校
Zeeland Christian School
Did you know that learning Mandarin develops a bilateral network between the left and right hemispheres of the brain? Zeeland Christian School offers the only Christian Mandarin (Chinese) total immersion program in the Midwest.
Ready to learn more about our Mandarin (Chinese) Immersion Program?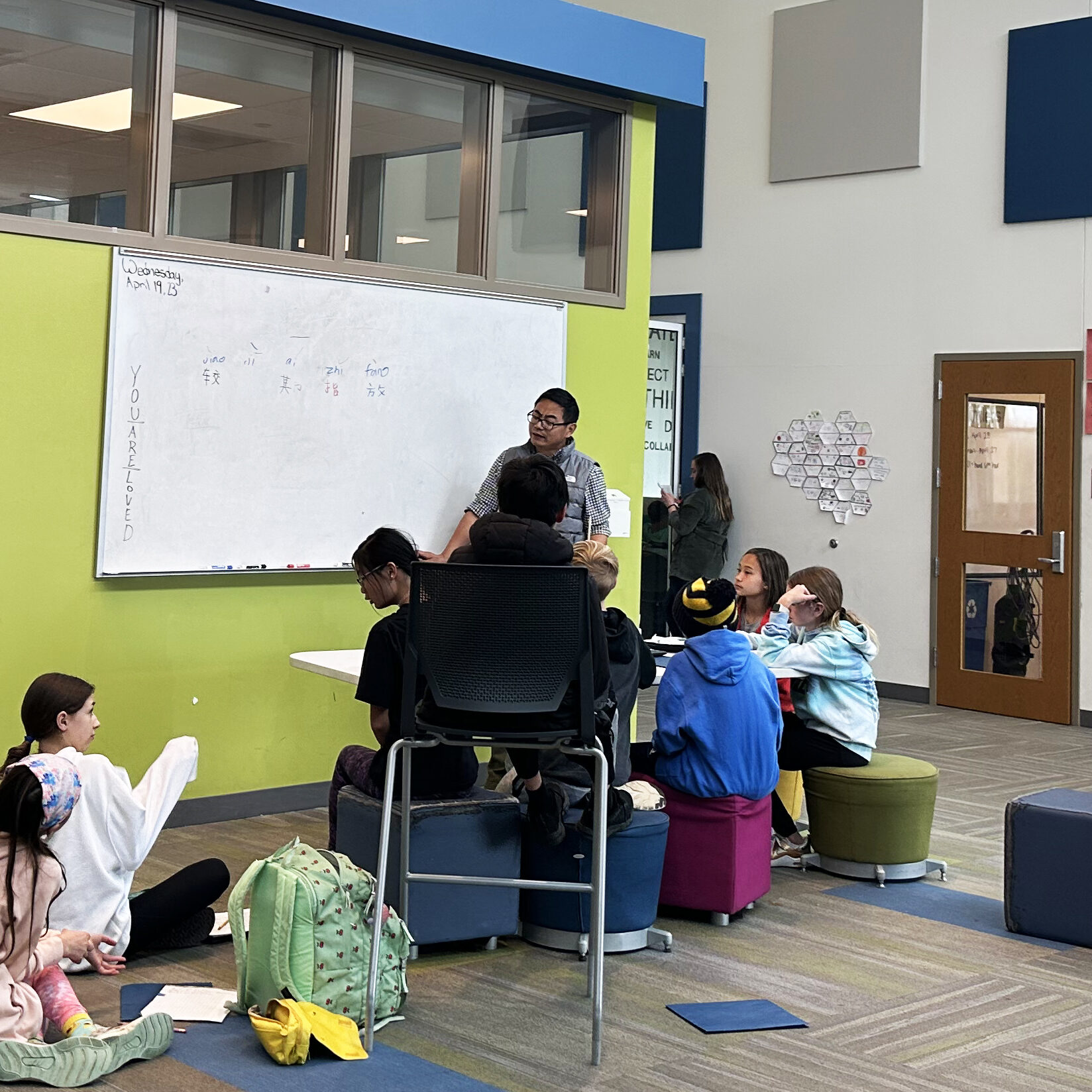 About Immersion

Immersion is a term used to describe a method of teaching languages. ZCS curriculum is based on a Total Immersion Model, in which the teacher speaks only in the target language, Mandarin, throughout the lessons. Our teachers know that for many parents and children this will be the first time for learning another language. For that reason, they sing, dance, use picture cards, objects, and anything necessary to help with comprehension.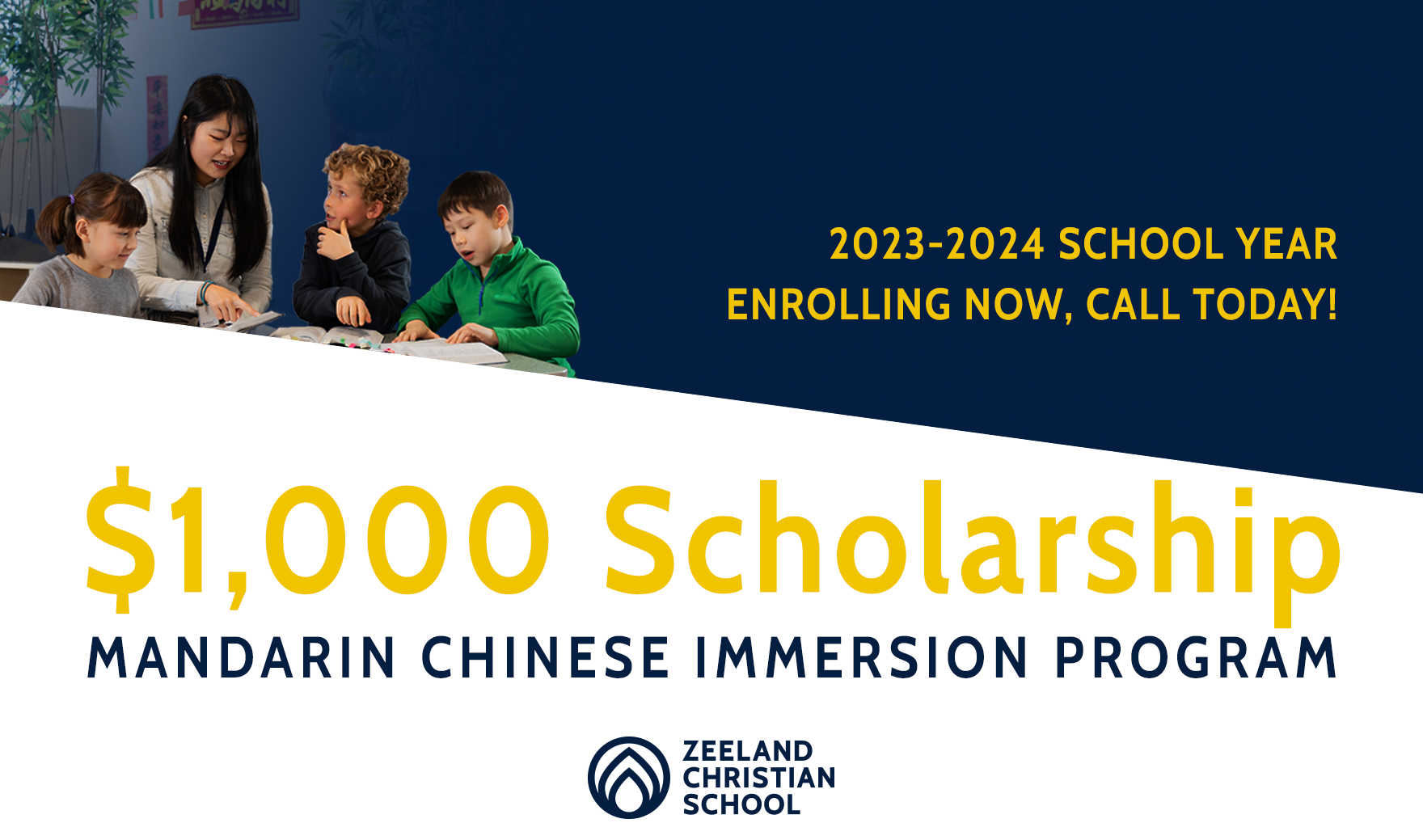 Reasons to Choose Mandarin Chinese Immersion Program
ZCS is committed to preparing students to go out into the world and show God's love to everyone they meet. Learning a second or third language expands a student's ability to connect with more people.
Mandarin is the most widely-spoken language in the world, so it makes sense to provide our students the opportunity to learn it.
Mandarin is a character-based, tonal language as opposed to an alphabet-based language. This encourages students' brains to process and problem solve in a different way than they normally would which helps create agile, flexible thinkers.
ZCS had six years of Spanish immersion experience before starting Mandarin immersion, and we are thrilled to offer families one of the most successful language programs in West Michigan. Because we already understood the intricacies of an immersion program, we were uniquely prepared to offer Mandarin immersion.
Frequently Asked Questions
WHO CAN JOIN THE MANDARIN IMMERSION PROGRAM?

Students may join the program in preschool or kindergarten. In an early start, total Mandarin immersion program, students are unable to enter the program after the mid-point of kindergarten because students currently in the program will have learned enough language, vocabulary, and reading skills in Mandarin that a new student in a higher grade with no Mandarin experience would quickly become discouraged and have a hard time "catching up" to his peers.
HOW HAS THE PROGRAM GROWN?

We now offer Mandarin Immersion from preschool - 8th grade. Through a partnership with Holland Christian High School and Western Michigan University, there is now a clear path from preschool - 12th grade and beyond for Mandarin Immersion students. 
WHEN IS ENGLISH LANGUAGE ARTS INTRODUCED IN A FULL IMMERSION PROGRAM?

English instruction is introduced during the final weeks of second grade. Initially, students receive about 3 hours a week of English instruction which then grows to 5 hours a week in fifth grade. At the end of second grade, students learn reading, writing, and spelling skills in English.  Starting in third grade, the students learn their Social Studies curriculum in English. The teachers focus on English specific skills that students need to know in English, integrated into their Social Studies instruction.
WHAT ABOUT THE BENEFITS OF KNOWING MANDARIN IN OUR LAKESHORE COMMUNITY?

Students in our Mandarin immersion program also participate in our Spanish FLES program. This means that they receive 75-120 minutes a week of Spanish instruction for kindergarten through eighth grade.
Some of our Mandarin immersion families have chosen this program because they understand it is easier to learn a character-based language when their children are younger. They know that their children will still learn Spanish to use readily in our community, through the FLES program. Then if their children desire to attain fluency in Spanish when they are older, they will be well on their way to master that alphabetic language, more similar to English.