Drop-Off and Pickup Protocols for 2022-23
For the 2022-23 school year, we will again use the pickup and drop-off process we began last year. With 1,000+ students at ZCS, we've found this to be a much safer way to get all students to and from class. Our teachers also noted a significant increase in instructional time with students arriving at school on time and parents not arriving at classrooms early for pickup. With only minimal exceptions, all students not riding the bus should be dropped off or picked up at their assigned door. If, occasionally, you need to enter the building at drop-off, please come through the main office to sign in.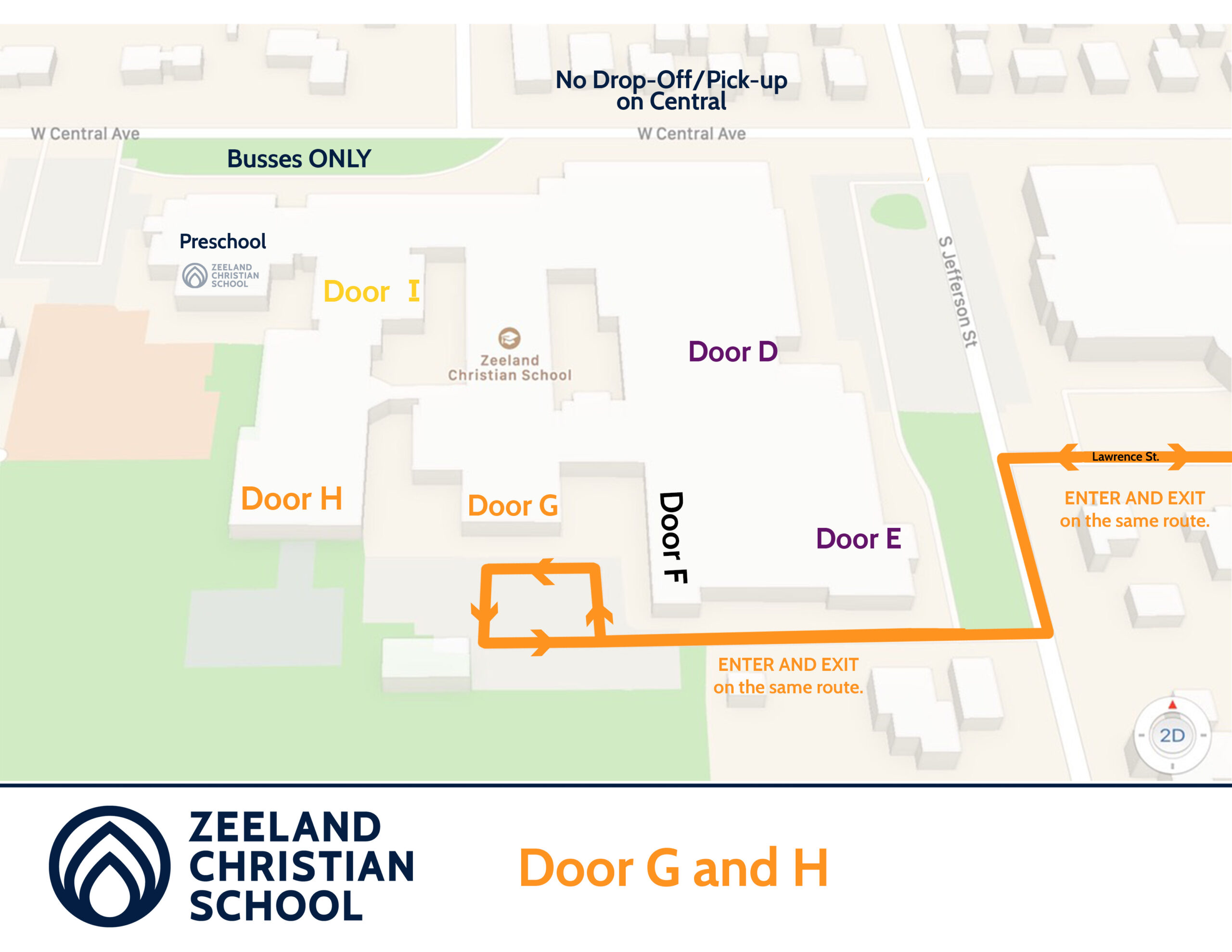 Elementary Drop-Off (Y5-5th)
Each family will be assigned a car line location for the year.

These assignments are made by balancing classroom locations, sibling groups, and the number of students assigned to each door. You may see your family's car line assignment

HERE

.

Yellow - Door I (The preschool parking lot (WEST LOT) through to the Y5/K/2 recess door). (See map below)

Orange - Doors G and H (The back parking lot (SOUTH LOT) by the 1st and 4th grade classrooms)

Blue - Door D (The middle school parking lot (EAST LOT) by the kitchen/gym entrance)

There is no drop-off allowed on Central Ave. (the front of the building) except for access to handicapped parking spaces and busses.

For the first week of school, parents may walk their Y5 and K students to their rooms. Parents should come in through their assigned door to help their child develop his/her morning routine.

We prefer parents/guardians drop off their children from 8:25-8:35a.

If you need to drop off your child(ren) before 8:10am, they need to be signed up for extended care.

The playground will be supervised from 8:20-8:40am each morning.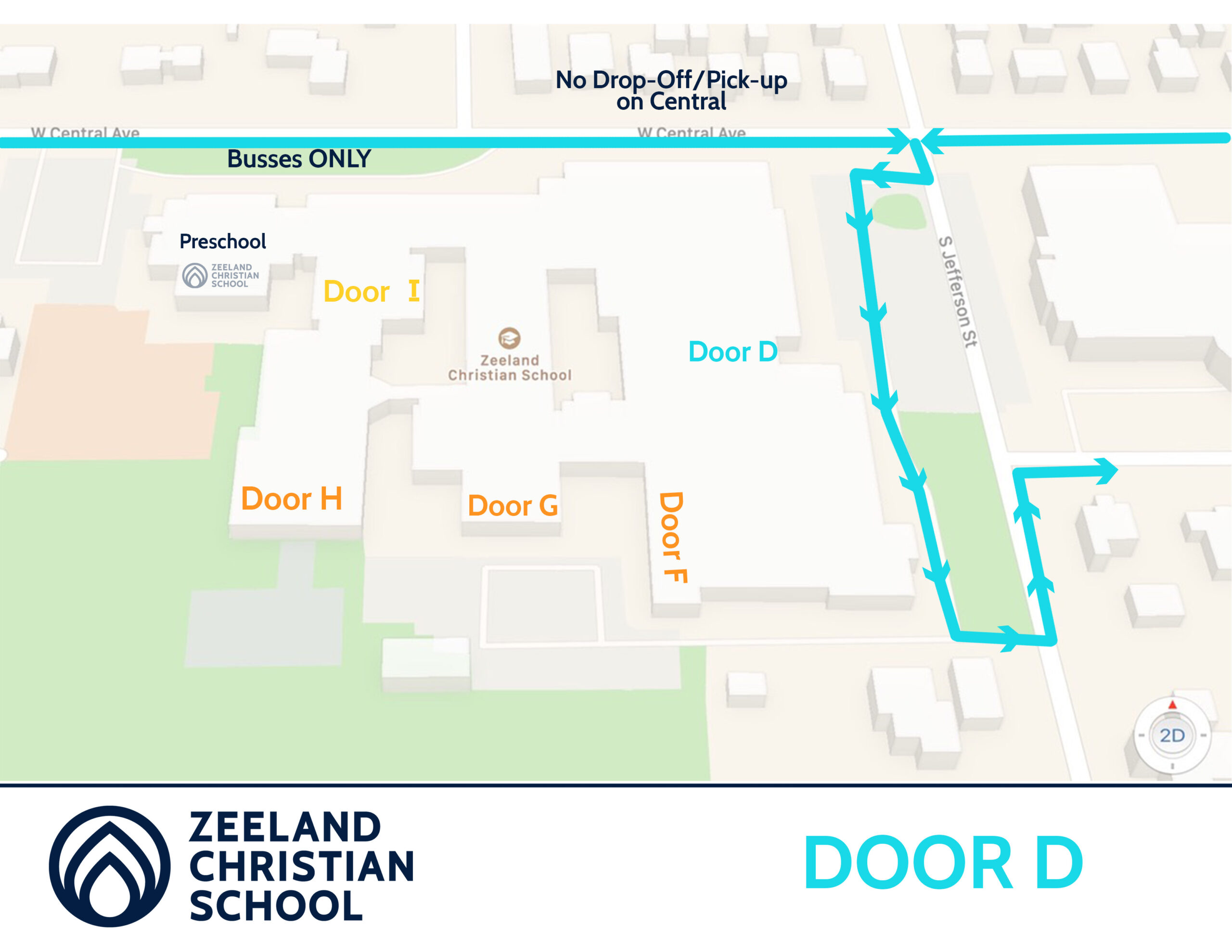 Elementary Pickup
All students going home by bus or car will be dismissed when the final bell rings (3:22pm). 

Students who are walking home will be dismissed after the busses leave. 

Parents/guardians will pick up their child(ren) at their assigned car line door--the same door used for drop-off in the morning. 

We encourage all parents to use the car line to pick up their child(ren). However, parents/guardians may choose to park and walk to their assigned door to meet their child(ren). If you walk to meet your child, please bring the pickup pass with your name to help teachers identify which child(ren) you are picking up. No pick up is allowed on Central Ave.

Students may not leave the pickup site to walk to a parked car alone. Teachers must dismiss each child directly to a parent/guardian.

Every family will receive two color-coded pickup passes with a blank space to write their family's last name. Parents/guardians will need to display their color-coded pickup passes on their dashboard. If you need more than two passes, you may pick up extras in the main office.

If two or more families carpool together, they may use one pickup door. Make sure each driver has pickup passes for each family. If the families in the carpool are not assigned to the same door, please connect with our office staff to get the appropriate color pickup pass for a newly assigned door.

Students in Y5/K will either be escorted to the pickup line where they will wait with a teacher for a parent/guardian to arrive OR they will be picked up in the classroom by an older sibling.

Students in Y5/K will not be dismissed on their own.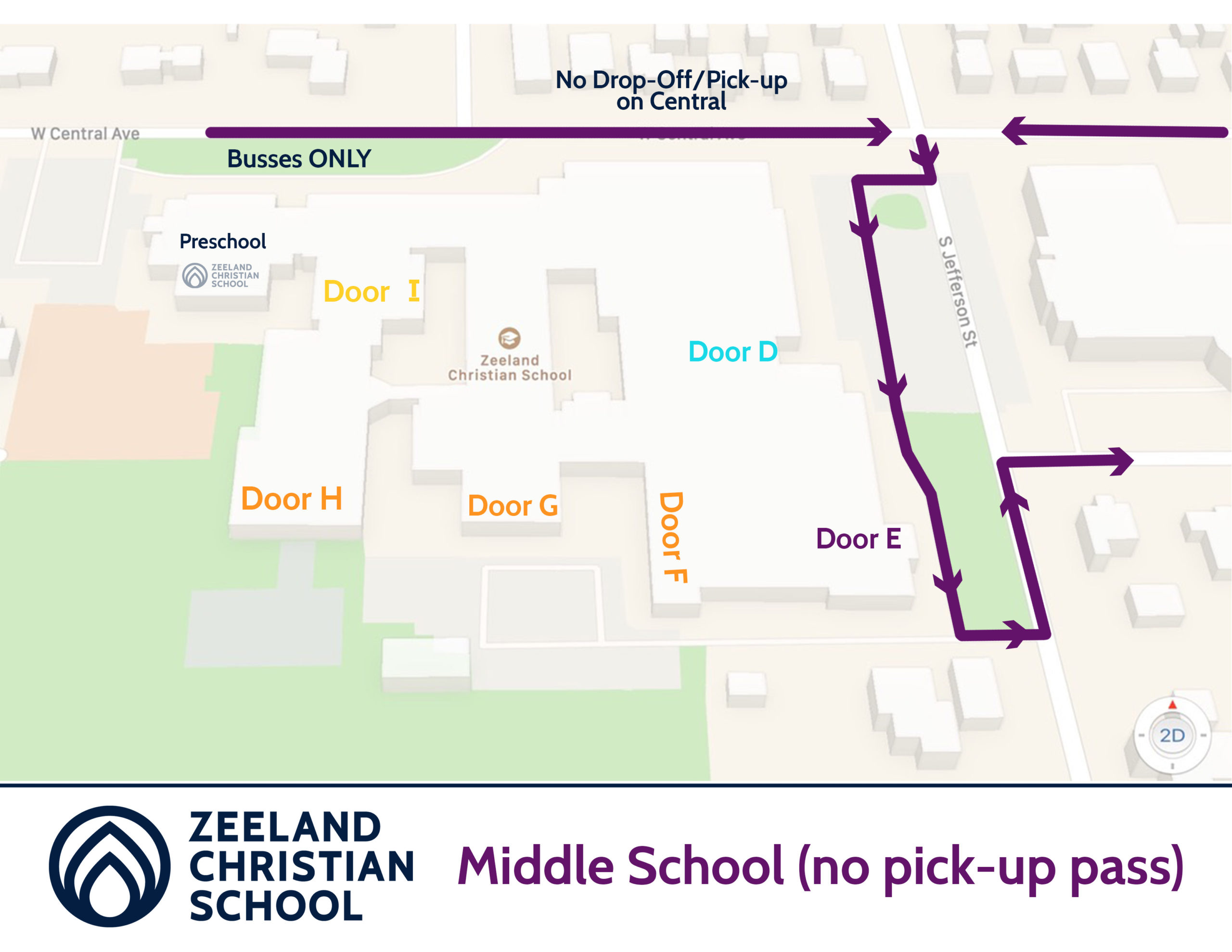 Middle School Drop-off (6th-8th)
Middle school drop-off is at Doors D and E. 

Drop-off on Central Ave. is only allowed for students arriving after the start of the school day who need to sign in at the office. 
Middle School Pickup
For middle school pickup, please line up or park in the middle school parking lot (EAST LOT) prior to dismissal and safely exit once you have picked up your child(ren).

Middle school students need to go home promptly at the end of the middle school day. Students should ride the bus or be picked up by 2:35pm.

Students who are not picked up by 2:40pm will go to Power Hour.

Power Hour

is available for students who have to stay after school (namely students who have siblings in the elementary school or students waiting for a ZCS athletic practice to begin). If your child is not in one of these categories but needs to stay for Power Hour, please contact the middle school principal. Students will stay in Power Hour until the end of the elementary day. Then they will be dismissed to be picked up at their family's assigned car line door with younger siblings. Athletes will be dismissed to practices/games as determined by their coaches.

In order to cover extra staffing costs, families will be charged $2/day for Power Hour. This cost will be added to your Smart Tuition account. Students playing sports will not be required to pay this fee as it is covered in the cost of "pay to play."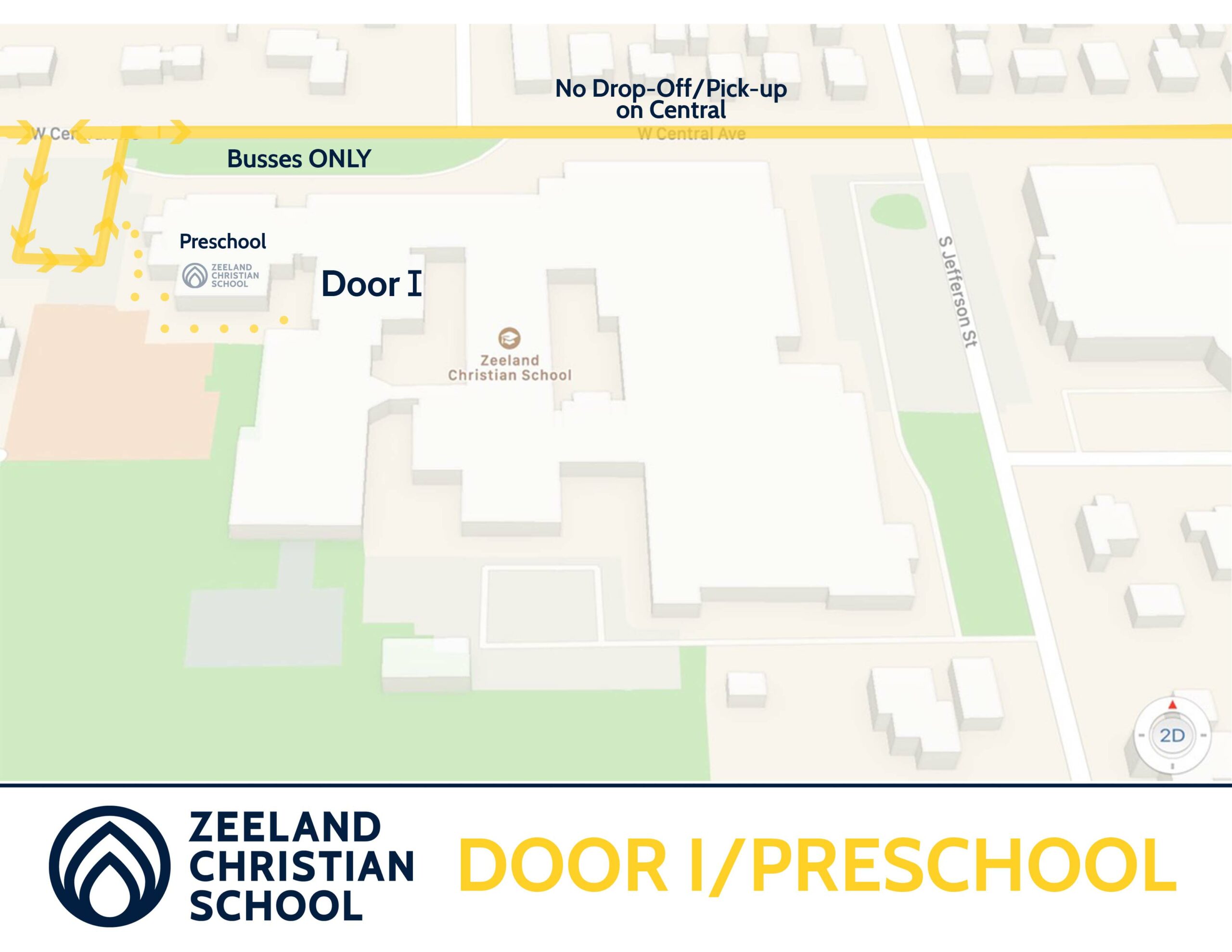 Preschool Drop-off (Central Ave site)
Parking is available in the preschool parking lot or along Central Ave.

Parents/Guardians will park and walk their child to the outside door of their child's classroom. This is also where pickup will occur at the end of class.
Preschool Pickup (Central Ave)
Parents/Guardians will park and pick up their child at the outside door of their child's classroom.