Drop-Off and Pick-up Protocols for 2023-24
We've made a significant change to our morning drop-off routine to improve the safety and security of our students. Beginning this year, exterior doors will not unlock during the arrival time.  Rather, each entrance will be staffed to allow each student to enter.
As you'll read below, elementary and middle school students arriving before the designated time may wait at the door (MS) or on the playground (Elementary).  Please note that the playground and entrance doors will not be supervised by ZCS staff before 8:25am.  Thank you for your cooperation and patience as we all work together to keep our students safe.  
Transportation Mode:
STUDENTS WHO RIDE THE BUS

: Middle School and Elementary students who ride the bus will have a staff member at Door C (the bus drop-off door) to let them in no matter what time their buses arrive. Nothing changes for students who ride the bus.

STUDENTS WHO ARE DROPPED-OFF AND PICKED-UP:

 Parents and students should use their assigned carline location and use the traffic flow as mapped below.

BIKES

: Elementary students should place their bikes in the bike rack at the front of the school. Middle school students may use the bike racks at the front of the school or behind the school.

STUDENTS WHO WALK TO/FROM SCHOOL:

 Students should arrive and leave out the front entrance, Door C.
Extra Notes:
SAFETY FIRST:  Slow down, stay off your phone unless your car is in park, allow other vehiclesto enter and exit, and watch for neighbors needing to enter or exit their driveways.  

Having students to school on time each morning gives your children valuable time to connect with friends and start the day with positive interactions with their teachers. Running late places unnecessary stress on parents, students, and teachers.

With only minimal exceptions, all students not riding the bus should be dropped off or picked up at their assigned door.

If, occasionally, a parent needs to enter the building at drop-off, please come through the main office to sign in.

School doors will remain locked all day.

Drop-Off doors will be staffed during drop-off and pick-up times only. 

Entry outside of designated drop-off times requires the student to sign in at the front office.

REMEMBER: Please be aware of our neighbors and be conscious not to block their driveways with your vehicle during drop-off and pickup times. Please also extend grace to other parents and drivers in the pickup line as you wait and pick up your child/ren. This drop-off and pickup process is key in ensuring the safety of all students at the beginning and end of each school day.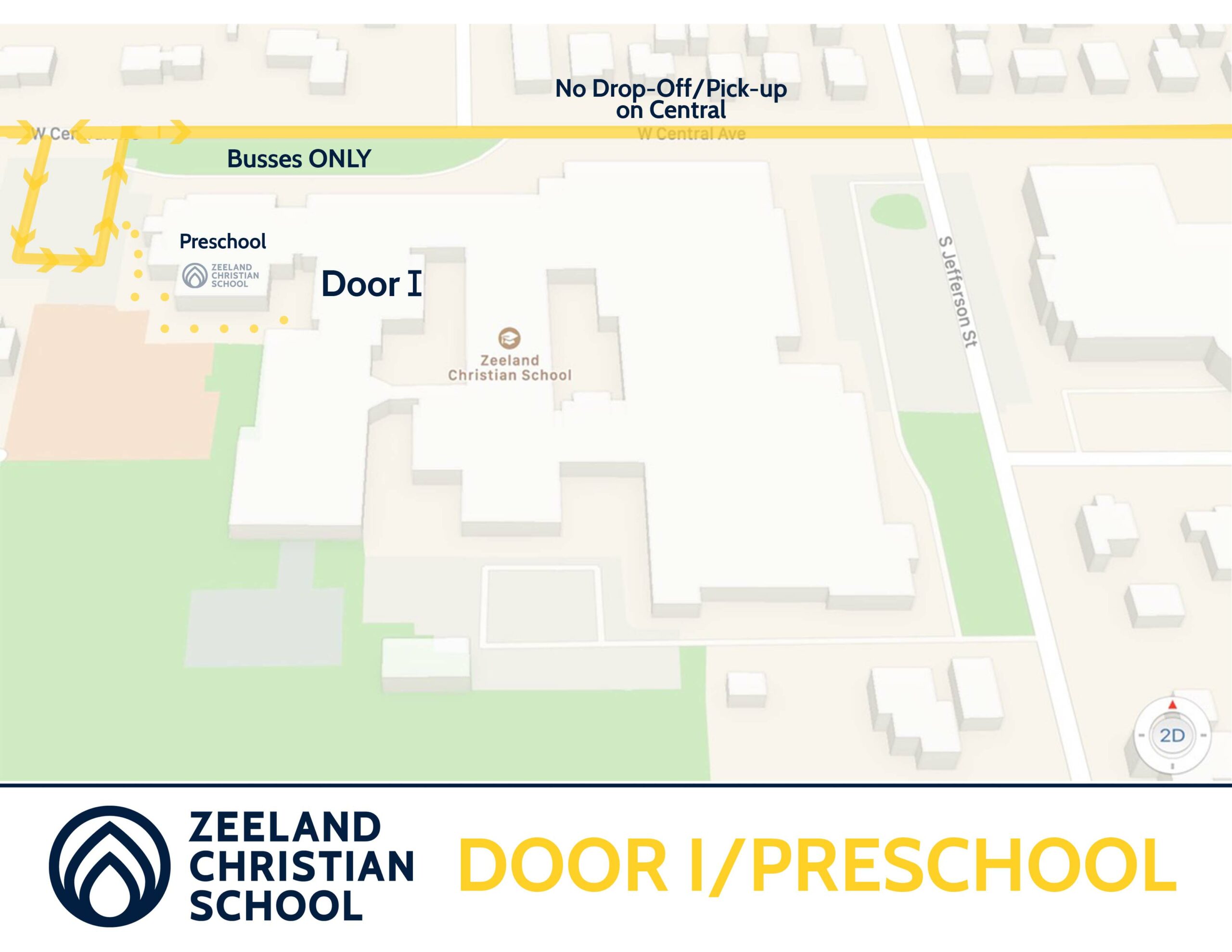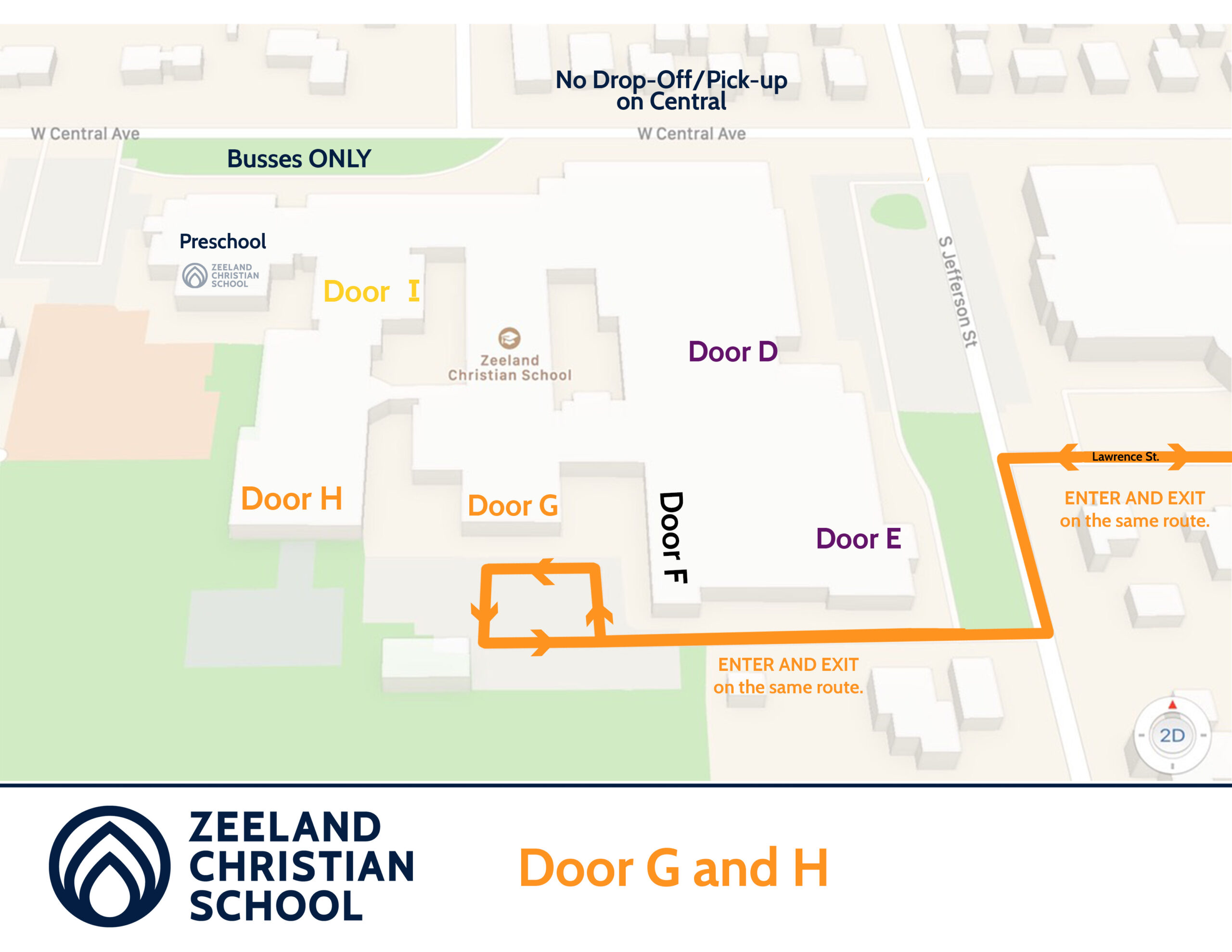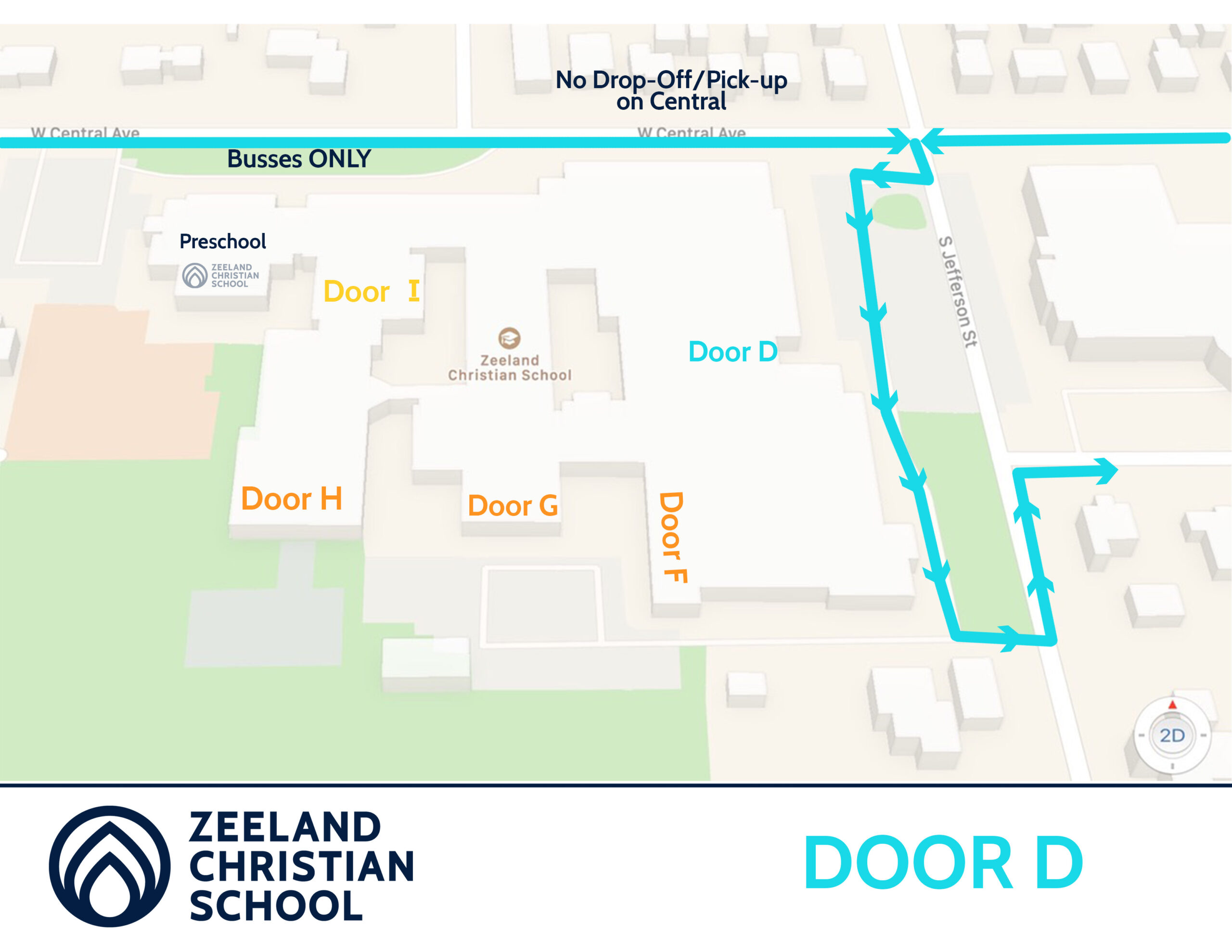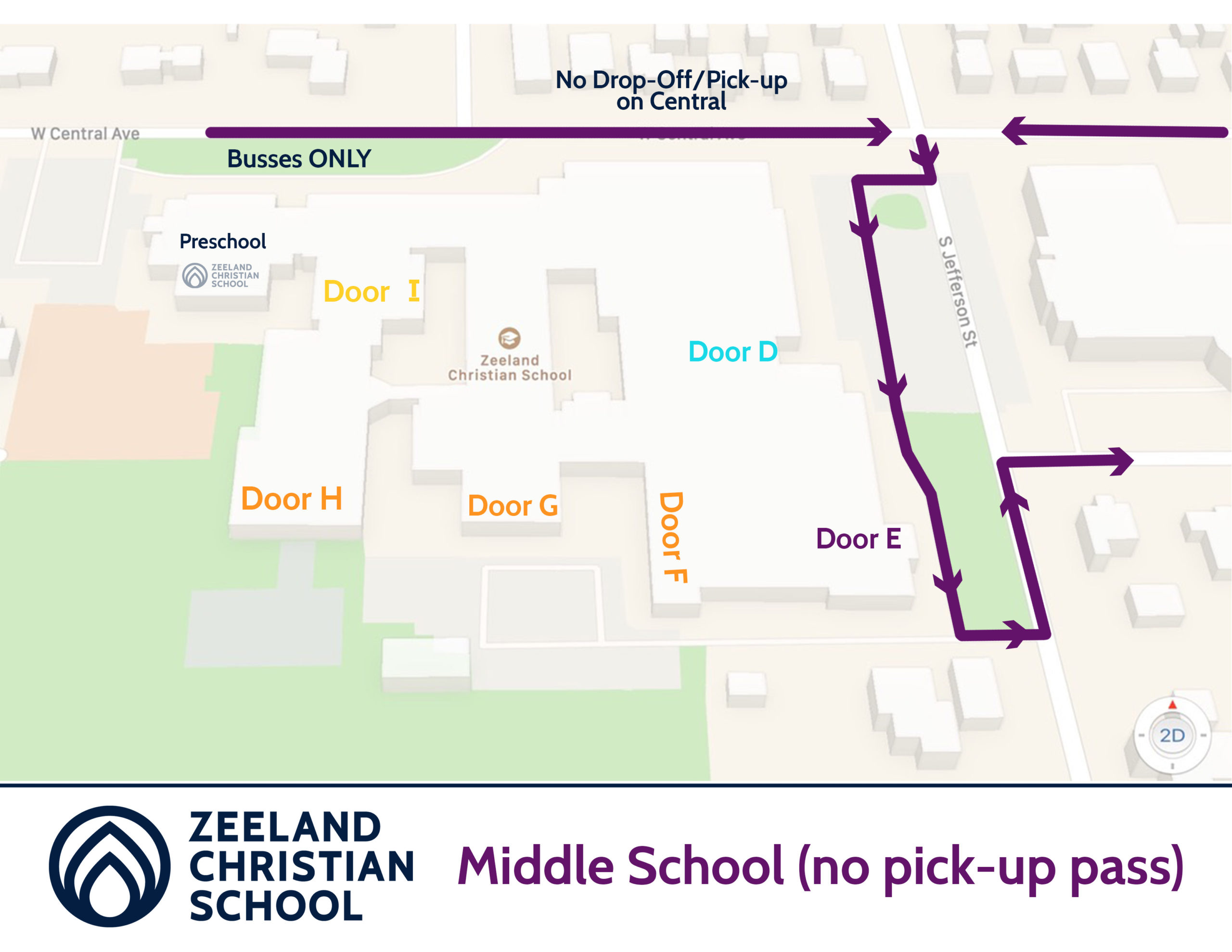 Preschool Drop-off (Central Ave)
Doors are staffed

8:40-8:50am

Parking is available in the preschool parking lot or along Central Ave.

Parents/Guardians will park and walk their child to the outside door of their child's classroom. This is also where pick up will occur at the end of class.
Preschool Pickup (Central Ave)
Parents/Guardians will park and pick up their child at the outside door of their child's classroom.
Elementary (Y5-5th)
Doors are staffed

8:25-8:40am

Drop-off times are between 8:25-8:35am. 

Students arriving before 8:10am must be registered for extended care.

Students arriving before to 8:25am will not be able to enter the building and will need to go straight to the playground, keeping in mind there is no adult supervision on the playground or at the doors until 8:25am.

Students arriving after 8:40am must enter at Door C e to sign in before heading to the classroom.

Family Car Line Assignments

Each family is assigned a car line location for the year. These assignments are made by balancing classroom locations, sibling groups, and the number of students assigned to each door. (Questions? Contact Tracy Nelesen / tnelesen@zcs.org)

Yellow

- Door I (The preschool parking lot [WEST LOT] through to the Y5/K/2 recess door)

Orange

- Doors G and H (The back parking lot [SOUTH LOT] by the 1st and 4th-grade classrooms)

Blue

- Door D (The middle school parking lot [EAST LOT] by the kitchen/gym entrance)

Drop-off is not permitted on Central Ave

, except for access to handicap accessible parking spaces and buses.

For the first week of school, parents may walk their Y5 and K students to their rooms. Parents should come in through their child's assigned door to help their child develop his/her morning routine.

5th Grade band students will enter through Door E at the Middle School on early band days. Students arriving late (after 7:35am) for band must enter through the school office. 
Elementary Pickup
Elementary students going home by bus or car are dismissed when the final bell rings at 3:22pm for full days, and 11:40am for half days.

Students who are walking home will be dismissed after the buses leave.

Parents/guardians will pick up their child(ren) at their assigned car line door--the same door used for drop-off in the morning.

We encourage all parents to use the car line to pick up their child(ren).

However, parents/guardians at Door D (Blue) may choose to park and walk to their assigned door to meet their child(ren). If you walk to meet your child, please bring the pick-up pass with your

name to help teachers identify which child(ren) you are picking up. 

Pick-up is not permitted on Central Ave.

Students may not leave the pickup site to walk to a parked car alone. Teachers must dismiss each child directly to a parent/guardian.

Every family will receive two color-coded pick-up passes with a blank space to write their family's last name. Parents/guardians must display their color-coded pick-up passes on their dashboard. If you need more than two passes, you may pick up extras in the main office.

If two or more families carpool together, they may use one pick-up door. Make sure each driver has pick-up passes for each family. If the families in the carpool are not assigned to the same door, please connect with our office staff to get the appropriate color pickup pass for a newly assigned door.

Students in Y5/K will either be escorted to the pick-up line, where they will wait with a teacher for a parent/guardian to arrive OR they will be picked up in the classroom by an older sibling. Students in Y5/K will not be dismissed on their own.
Middle School Drop-off (6th-8th)
Doors are staffed

7:20-7:35am

Middle school drop-off is at Door E. 

Students arriving before 7:20am will wait outside of Door E until staff allows entry.

Students arriving after 7:35am must enter through at Door C to sign in.
Middle School Pickup
Middle School students are dismissed at 2:25pm for full days, or 10:45 for half days.

For middle school pick-up, please line up at the middle school doors or park in the middle school parking lot (near the back end of EAST LOT) before dismissal and safely exit once you have picked up your child(ren).

Middle school students must go home

promptly

at the end of the middle school day.

Students should ride the bus or be picked up by 2:35pm.

Students not picked up by 2:40pm will be sent to Power Hour and charged for the session. Parents should aim to avoid this from being a repeat occurrence as we have limited supervision available after school.

Power Hour is a supervised space in the middle school that is

available specifically for middle school students who have younger sibling(s) in elementary

and need to wait until their dismissal to be picked up. There is a daily cost to attend Power Hour. Staffing is light due to after school meetings for teachers and other needs, so it is not meant for academic support or other closely monitored needs. After school, each student attending Power Hour must check into the Power Hour by 2:35pm by finding the staff member located by the project rooms who will use the Brightwheel attendance app for billing purposes. For more information on Power Hour and Brightwheel, please contact your child's teacher. Middle school students who are still on campus after 2:35pm will be signed into Power Hour and required to join the group and be billed for the day. ZCS' Behavior Expectations apply to the Power Hour as well.

In order to cover extra staffing costs, families will be charged a daily attendance fee for Power Hour. This cost will be added to your Tuition account. Students playing sports will not be required to pay for Power Hour.