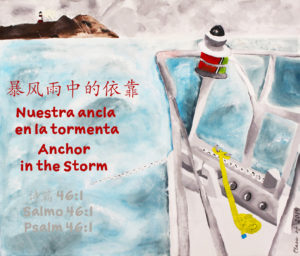 While driving my kids to ZCS on the first day of school, I found myself praying over them
"…and God, give them challenges that will strengthen them and help them to learn more about themselves
and you so that they can indeed trust that you are the anchor in the storm." What? Who prays for difficulty?
                          The ZCS theme for 2018-2019 is Anchor in the Storm. I've had several friends confess their uneasiness
with this theme wondering what terrible thing will happen to the ZCS community.
"Will there be a
tragedy?"
"Will it be my family?"
"No Lord, please not us."
                                           I've asked for and received God's protection and healing countless times, yet also know from
experience and God's Word that asking for no storms doesn't guarantee God's "yes".
Our theme verse from Psalm 46:1 acknowledges that there will indeed
be storms. "God is our refuge and strength, an ever-present help in trouble."
So instead of dwelling on what terrible event might happen to our school community this year, let's
focus on the anchor…Our Anchor. Isn't it comforting to know that despite what the evil one will hurl at
me, despite the strong waves that rock my boat, despite sometimes losing my direction; my Anchor holds?
"Neither death nor life, neither angels nor demons, neither the present nor the future, nor any
powers, neither height nor depth, nor anything else in all creation will be able to separate us from the
love of God that is in Christ Jesus our Lord." Romans 8:38-39
I'm filled with both joy and comfort knowing my children belong to a classroom where their teachers
know and trust the Anchor. There will be a natural disaster, school tragedy, or injustice reported this
year. There will be a ZCS student or family who walks through a medical trial. Our teachers will not only
pray with and testify to our students that our Anchor is firm, but they will also encourage opportunities
for our kids to be the help from God (Reread Psalm 46:1.) When our son went through an extended
hospital stay in kindergarten, we received cards and financial help from his classmates and their families.
It brought us to tears in thanks before God to accept their encouragement. ZCS students also extend
God's help through recycling, the buddy bench, letters to the newspaper asking for change, and
supporting our friends in the Philippines. (Oh there are so many more examples!)
I meant what I prayed on the first day of school. I want my kids to ride the waves, to feel unsteady at
times and to even feel scared. It is then that they learn to trust that their Anchor will hold them safe,
that God keeps His Word. I want them to feel the security that God offers and am so grateful that ZCS
will come along side us as a family in teaching and showing them the way.