Harvey and Jennie Jongekrijg's Legacy Story and Gift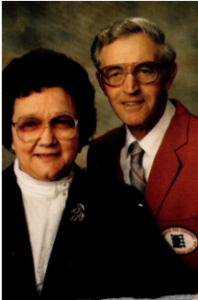 Jennie and Harvey Jongekrijg were champions of Christian education throughout West Michigan. They did this with their time, talents, and treasures.
They made their living working a farm in Borculo. Their dedication was primarily in using their resources to furthering God's kingdom. Harvey was a founding planner/originator and school board member of Borculo Christian School. After retirement from farming he, with Jennie assisting, became a volunteer chaplain for Forgotten Man Ministries in Ottawa County. Their mission was to evangelize and educate everyone about Jesus and the gift of His amazing grace.
Harvey passed away in 2009 and Jennie passed away in 2019.
Their son, former ZCS School Board President, Harley Jongekrijg, shared, "My mom lived a full life of 93 years. She was ready to go to her heavenly home and celebrate a reunion with my dad and two brothers. I'm very thankful and blessed with a Mom and Dad who had a strong teaching and modeling of Christian living, serving, giving, humility, and faithfulness. They left a legacy and impact on many people. Their legacy of passionate support for Christian education will continue as they provided for estate donations to several area Christian schools."
Harvey and Jennie left a FOREVER gift to the Zeeland Christian School Endowment Fund. We are honored to receive this gift from two people who were overflowing with Christ's love and lifelong examples of our theme for the 2019-20 school year, Send Me. (Isaiah 6:8)
Gratefully,
Zeeland Christian School Board of Trustees