Teacher Spotlight- Chuck Commeret
Finding the Lesson Within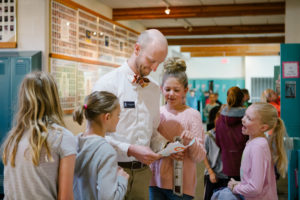 Don't take yourself too seriously. Laugh at yourself as much as possible. Mistakes can be the best teacher. These are just a few lessons that Chuck Commeret, fourth-grade teacher, has learned throughout his teaching career. These lessons are just a few amongst the many he says God has gifted him during his life and continues to give every day at ZCS.
In Grand Rapids, Michigan, Chuck grew up attending Christian schools. His dad was a Christian school teacher throughout his childhood and planted the first encouragements that would nudge Chuck to find a career in education. In a high school classroom during his time as a student, Chuck received another nudge towards his calling. While teaching a friend of his a concept they had learned in math, his very own teacher took notice and asked if he had ever thought of pursuing a teaching career. After studying at Calvin College and Trinity Christian College, Chuck stepped into his calling.
After teaching at ZCS then a variety of Christian schools, Chuck most recently found himself returning to ZCS. The Inclusion program, amongst other features of the school, is what draws him to school, he says. A fond memory and example of the heart the school was when a student of his was being adopted after years in foster care, and the entire class, including Chuck,  joined her at the courtroom in loving support for her. This is just one example of the ways he believes teaching can help students experience God in new ways. He enjoys having the privilege to play such an essential role in their most formative years of learning and faith. "Being a part of their journey is a huge privilege and honor," Chuck says, "and to be an instrument of God to speak into kid's lives is a responsibility I don't take lightly."
With great responsibility also comes great laughter, humility, and learning from your mistakes, and Chuck insists these moments are also the most powerful. He has been able to turn many of his mistakes into teaching moments for himself and his students. "We're not perfect either," he says, "and our kids need to see that and hear that from us when we make mistakes." Often times, his mistakes have greatly strengthened his relationships with his students, and the children are an inspiring example of forgiveness.
With the laughter, the lessons, and the heartwarming moments, Chuck believes teaching is the best job in the world. He enjoys the energy in the classroom and the curiosity his students bring every day, always excited to learn new things. As he continues to teach, he will pass on the gifts and lessons God has given him to his students as they continue their journey into faith.