Teacher Spotlight- Jackie Roskamp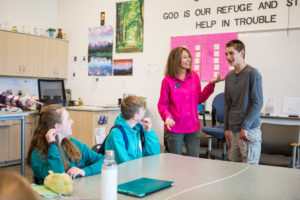 Leading the Way 
Eighth-grade teacher Jackie Roskamp knows what it means to witness faith working the lives of her students. After 11 years of teaching at Zeeland Christian School (ZCS), she has experienced her students profess their faith as a result of the lessons she passes on to them every day.
She grew up not too far from Zeeland in Hudsonville, MI and has been a part of the church ever since. Finding the way to becoming a teacher was easy for Jackie as she found a love for education so deep that she decided she wanted to continue beyond her own academic journey. It was an easy decision for her that she had made as just a young child. She took her first job as a teacher with Holland Christian then later on moving to Hudsonville Christian. When her children began attending ZCS, she knew that was where she belonged next.         
Although Jackie was sent many trials throughout her faith journey, they ultimately strengthened her faith in the Lord. These struggles inspired her to set her focus on eternal life rather than the life here on Earth and bring her strong faith to her students. She says she looks at every day as a privilege that allows her to make a difference in her students' lives for God's Kingdom. And they are a part of her life outside of the classroom as well; she prays every day during her commute for the Lord's wisdom and chooses three students each week to be included in her prayers.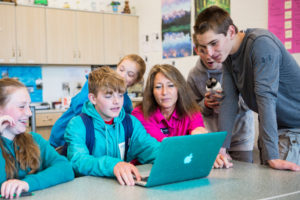 Her students have welcomed Jackie and her lessons with open arms. Over the years, many of her current and former 8th graders have asked her to come to their baptisms, open houses, and professions of faith. She cherishes these moments and says " This makes me realize I am part of their lives, and God can use me even if it is just for one year."
As eighth graders, many decisions are being made regarding their future, and she is grateful for the chance to guide them along the way. It is her belief that life is about God's plan for our lives and finding that real purpose. She takes great joy in helping her students uncover their purpose and open their eyes to God's plan for them.  And just as she assists her eighth graders in their faith, Jackie receives just as many blessings from them in return. "Students have as much potential to do Kingdom work as adults do," she says, "I pray every day that God uses me to influence them for the better, and I thank God for their work in my life also."