Teacher Spotlight: Tom Joustra
Written by Megan Smith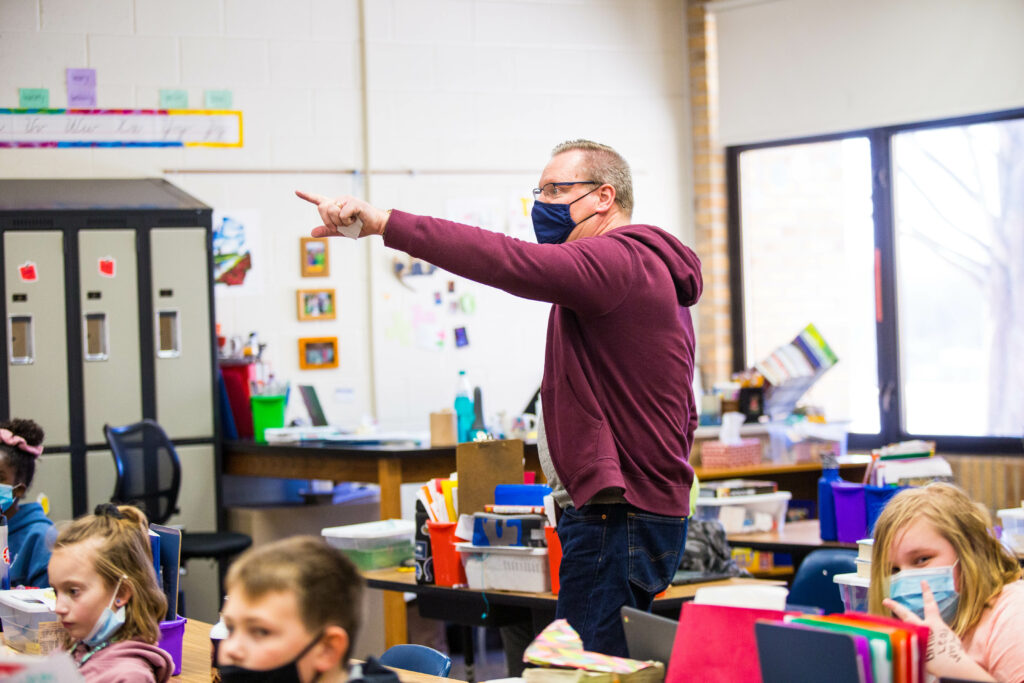 If you've ever walked the halls of Zeeland Christian School, then chances are you've run into the smiling face of Tom Joustra. But what might come as a surprise, is when he set off from his hometown in New Jersey to attend Calvin College, Tom didn't have teaching in mind at all. Starting out as a math major, he later switched to business. Not feeling like either of these avenues were quite right, a friend encouraged him to look into teaching. It only took those first few educational courses for him to fall in love, and Tom's passion for teaching began.
Upon graduation, Tom and his soon to be wife Laurie decided that they wanted to try to find teaching jobs in the same area. Their search bought them to the Chino/Ontario area of Southern California. After 5 years of teaching and becoming parents to their first two children, they felt it was time to put their trust in God for another move. Tom applied to several schools around the country and out of all of them, the Lord led him to ZCS. It didn't take long for Tom and his family to fall in love with the area and the Zeeland Christian community.
Tom has now been teaching at ZCS for 32 years. Many equally know and love his wonderful wife Laurie, who has been the librarian at ZCS for many years. Over the years, their family has grown and is now scattered all over the United States. Their daughter Laura is in Iowa, son Calvin and wife LeeAnn in Florida, daughter Anna and husband Logan in Colorado, and daughter Emily in Illinois. Needless to say, Tom and Laurie don't have a shortage of options when they feel like traveling.
Teaching is so much more than just a job for Tom Joustra. He makes an effort to use every situation as an opportunity to help his students see who God is, figure out who God wants them to be, and what God wants them to do. Tom takes great pride in seeing how students finally 'get it', whether it be a math concept/skill, incorporating a simile into their writing, or being able to find the deeper meaning in a writing passage. He is fully committed to each student as an individual, seeing different fruits of the spirit evidenced in each of their lives. Overall, Tom is grateful how Christian education allows him to incorporate the themes of creation, fall, redemption, restoration, and new creation into everything he does in the classroom. As a Christ follower he's proud to be a son of the Heavenly Father, not because of anything he's done, but because of what Jesus has done for him.
泽兰基督教学校 – Escuela Cristiana de Zeeland – Zeeland Christian School is a threeschool – 8th-grade Christian school in Zeeland, MI. ZCS offers a non-traditional English program, the only 100% Christian Mandarin Immersion program in the Midwest (4yr olds-8th grade), the largest and the most established Christian Spanish Immersion program in Michigan (3yr old-8th grade).
Along with a diversity of program offerings, we are blessed with a diverse staff with 12 different countries of origin represented amongst our faculty. The culture of Zeeland Christian may be most impacted though by the second oldest Inclusion program in North America. Every child is celebrated for their unique abilities and loved as a child of God.