ZCS Family Spotlight: The Hamilton Family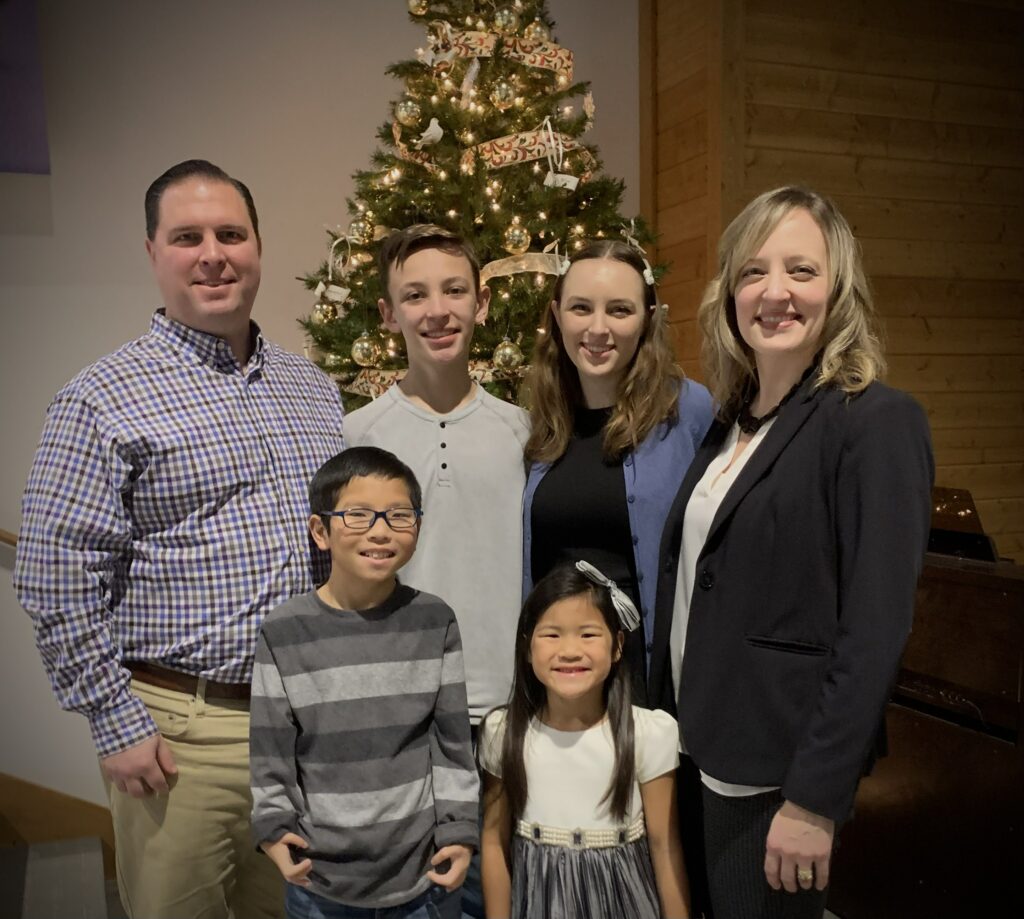 When Kevin and Kristen Hamilton relocated to West Michigan with their family in the fall of 2020, they did so with their hopes set high on Zeeland Christian. Previously, they'd called central New Jersey home for 14 years, but Michigan drew their attention as they searched for a better educational opportunity for their children. The Hamiltons are a family of six, with their two youngest children adopted from China. Three of their four children have medical or other special needs, and Kevin and Kristen were exhausted from the constant fight and advocacy necessary to meet their family's needs in the public school system. COVID made this dynamic increasingly challenging, and they felt that something needed to change. 
"When we first learned about ZCS, it honestly seemed too good to be true," Kristen shares. "We kept thinking, 'Okay, what's the catch here?'" Kristen continues, "Not only were inclusion and support services possible, and every child celebrated no matter their needs, but there was a Mandarin immersion program, a big community of adoptive families, a unique model of education that wasn't legalistic or punitive but focused on the whole child and loving them well– and we could actually afford to send all the kids because of the lower cost of living!" 
These factors led the Hamiltons to move three states away, and while they knew it was a risk, the hope of something better for their children seemed worth it. A year and a half later, life in West Michigan feels like God's answer after a long season of discernment and prayer. In Kristen's words:
"ZCS has changed our lives in such a wonderful way. When our daughter had major surgery out of state and had to miss two months of school, ZCS teachers, staff, and students surrounded her, and us, with tangible acts of love, care, concern, and prayer. We filled her hospital room with the signs and posters they'd made and got to share [what a special school she is part of when nurses noticed]. When [our daughter] was going through difficult pre-op procedures and later laying in the pediatric ICU hooked up to all kinds of machines with IV leads and tubes all over her body, she would quietly sing the songs she'd learned in Young Fives to bring herself comfort. I can hardly put into words what it meant to hear my little girl singing, "Jesus is my best friend; he's always there for me," amid such difficult circumstances."
Kristen adds, "With all three of our kids at ZCS, it has been a joy to see them grow in their confidence, understanding of God and His Word, and their friendships with classmates as they've come through this first year of transition. I have truly never seen a school that so wholeheartedly embraces inclusion. It's one thing to say it, but another thing to live it, and with three of our kids having needs–each one different–we truly tested that. But time and again, we've heard, "we're so glad you're here," and we're told positive things about our kids. We hear that we're being prayed for, and we are never made to feel like a burden. One of our kids has been very resistant to church participation or connecting with us on God's Word [at home]. But he is soaking up his Bible classes. He's retaining Scripture, and most important of all, he's surrounded by adults that affirm him and the unique way God has wired him."
Kristen and Kevin appreciate the growth that they see in their children as they attend Zeeland Christian. "Through their experiences at ZCS, God is connecting with the hearts of our children in unique ways…We see their understanding of Scripture growing and the Spirit using that to draw them closer to the Lord, affirming [God's] love for them," Kristen offers. 
While school can never be a substitute for the parent's responsibility to disciple their children, the Hamiltons acknowledge that their children will each spend over 15,000 hours apart from them in a school setting over their lifetime. "It is just an amazing opportunity for us to choose for [our children] to spend those hours with a team of people who are intentionally seeking to build them up in the Lord," Kristen adds.
Now that the Hamiltons have settled into school at ZCS and life in a new state, they are taking advantage of all that Michigan offers. They enjoy going on bike rides and heading out to Lake Michigan together as a family. This past summer, they ventured both north and south to appreciate Michigan's beaches, and they look forward to exploring the rest of the state, including the U.P., as life permits. Local parks, Holland's splash pad, and the Farmer's Market are frequent stops for the Hamiltons, who also love to spend time on their back patio and around the fire pit with friends and neighbors. They live in North Holland with their black lab, Flash.
泽兰基督教学校 – Escuela Cristiana de Zeeland – Zeeland Christian School is a threeschool – 8th-grade Christian school in Zeeland, MI. ZCS offers a non-traditional English program, the only 100% Christian Mandarin Immersion program in the Midwest (4yr olds-8th grade), the largest and the most established Christian Spanish Immersion program in Michigan (3yr old-8th grade). 
Along with a diversity of program offerings, we are blessed with a diverse staff with 12 different countries of origin represented amongst our faculty. The culture of Zeeland Christian may be most impacted though by the second oldest Inclusion program in North America. Every child is celebrated for their unique abilities and loved as a child of God.
Enrollment: If you would like information regarding enrollment or to schedule a tour, please contact Nakisha at ndejong@zcs.org. You can also visit www.zcs.org/explore to learn more.
Financial Support: We rely on donations to make up nearly 10% of operating expenses. If you would like to financially support the mission of ZCS, please contact Jennifer Schafer - jschafer@zcs.org, visit zcs.org/support to learn more, or zcs.org/give to make a donation. Thank you!