Teacher Spotlight: Cindy Arendsen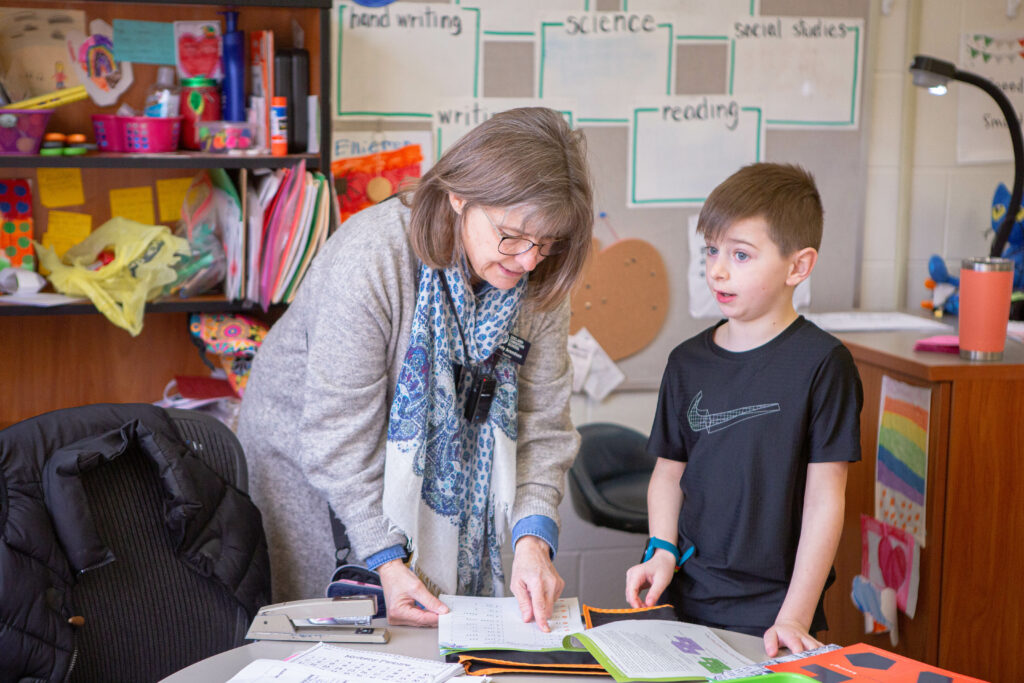 After 30 years of teaching, Cindy Arendsen continues to build a legacy of loving God, loving kids, and loving learning. In her time at Zeeland Christian, Cindy has taught preschool and kindergarten, and is currently teaching first grade. When asked what she looks forward to most about coming to work each day, she shares, "I love knowing that I have the opportunity each day to remind my students that they are a gift from God, that he loves them more than they can imagine, and that he can do anything through anyone." 
Cindy appreciates the opportunity to teach her classes Old Testament stories (especially Joseph, Moses, the exodus from Egypt, and Gideon) because they illustrate God's power, his love and forgiveness for his people, and how he chooses to use "regular" people to fulfil his plan. With this in mind, Cindy also hopes to convey a simple but significant message to her students: that he created them for a purpose.
When Cindy is in the classroom, stand-out moments are those instances when a student "gets it." Helping students to make connections and process ideas is a joy. "The smile on their face and the light in their eyes makes teaching worth it!" she says. Cindy also enjoys hearing her students sing in worship together, and she looks forward to all-school chapels when the whole student body celebrates God through songs like, "10,000 Reasons" and "Your Love Defends Me." It's powerful to hear children praising him and proclaiming his truths over each other together. 
Outside of school, Cindy loves to garden, read, be outside, and spend time with family. Her husband Dave has also been very involved at ZCS over the years. Together, Cindy and Dave have four adult children who are all graduates of Zeeland Christian, along with two young granddaughters.
泽兰基督教学校 – Escuela Cristiana de Zeeland – Zeeland Christian School is a threeschool – 8th-grade Christian school in Zeeland, MI. ZCS offers a non-traditional English program, the only 100% Christian Mandarin Immersion program in the Midwest (4yr olds-8th grade), the largest and the most established Christian Spanish Immersion program in Michigan (3yr old-8th grade). 
Along with a diversity of program offerings, we are blessed with a diverse staff with 12 different countries of origin represented amongst our faculty. The culture of Zeeland Christian may be most impacted though by the second oldest Inclusion program in North America. Every child is celebrated for their unique abilities and loved as a child of God.
Enrollment: If you would like information regarding enrollment or to schedule a tour, please contact Nakisha at ndejong@zcs.org. You can also visit www.zcs.org/explore to learn more.
Financial Support: We rely on donations to make up nearly 10% of operating expenses. If you would like to financially support the mission of ZCS, please contact Jennifer Schafer - jschafer@zcs.org, visit zcs.org/support to learn more, or zcs.org/give to make a donation. Thank you!