An International Mandarin Connection
Distance Learning brings challenges and new opportunities. One of those opportunities is a connection between our Mandarin Immersion Kindergarten class and an international class whose target language is English.
ZCS Kindergarten teacher, Hou Laoshi, shares about the experience.
"The idea came up when I was talking with my friend, Belle, about some cheers and struggles from this type of learning and teaching, which most of the teachers around the world are experiencing the same way. Both Belle and I want to engage our kids to keep them passionate about learning, especially for them who are learning a second language. They are learning English and we are learning Mandarin. We both are thankful to God that we have each other as a good resource since we are teaching the same age of kids. We were hoping some connections would bring our students encouragement in their language learning. It also brings in some cultural integration at an early age so they will start to have a global perspective on life and sharing the gospel.
It was fun to see kids feeling a little bit shy at first but later turned more active and spoke up. All these kids are divided into two groups after the first whole group meeting so everyone has time to share. It seemed animals would be everyone's favorite topic so we just started with "Animal." In the meeting, they shared their animal, the kids acted like the animal, they drew a picture of the animal, and they even used the other's language to help others understand."
Many of these sentiments are shared amongst ZCS Mandarin Immersion students and parents as well.
"Joshua finds his experience with the children in China especially meaningful. He values his teacher because "she looks like me." And he loves talking to more and more children on the call "who look like me too!" He is not normally a morning person (and we have to really fight to get him out of bed). BUT on mornings when he has to be on Zoom at 8 am to "call his China" we don't have a problem waking him up. He participates thoroughly and wholeheartedly. Even when it's not his turn to say something, he will wait patiently and listen to others."
"Everett has been really excited to Zoom with new friends at a school in China. In his words it is 'super cool'! He loves the chance to use his Mandarin and see how it is giving him an opportunity to connect with people he might not have been able to communicate with otherwise. Even though he knows that there are big differences in location, time zone, native language, etc., it is so fun to see him seeing similarities as well. Yesterday they talked about animals and he was so excited that Timothy in China also loved Cheetahs, just like him. I am thankful that Hou Laoshi is providing authentic opportunities for her students to use their Mandarin and for the ways that students learn more about God through this connection."
"This has been a very fun and exciting opportunity for the kindergarteners. As a "seasoned" mandarin immersion parent with kids in 4th and 2nd grades, I've been very excited and thankful for this experience since we're constantly looking for ways to connect the target language in a real-life setting. What a blessing that our kids can talk with friends their same age in China! It feels very natural for the kids on the zoom call with friends in China, almost like they're part of the same class. It's been encouraging to see how well they can communicate with peers from across the globe. I've also been impressed at how well the teachers work together and engage with kids from both ZCS and China. Overall, it's a very unique opportunity and we're very thankful for the teachers who have organized such a fun time of cross-cultural connection."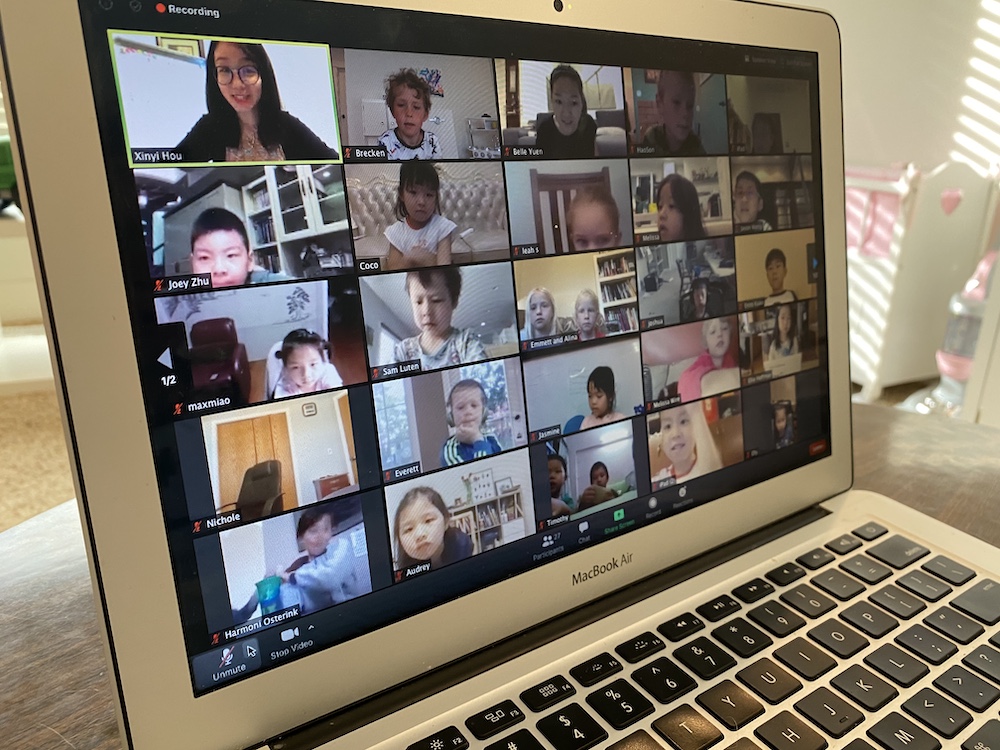 "Meeting his "new friends in China" has been a highlight of distance learning for Brecken. He was chomping at the bit to log into the Zoom call and was so curious about each friend he met. Brecken thought it was fascinating that almost all of the students loved pizza, and he thought they all seemed so relatable as he watched them wiggle in their seats, just like him and his classmates. After they met a second time in small groups, Brecken debriefed the entire conversation with me and reviewed exactly who was on the call, what their favorite animals were (interesting, every student on the call chose a different animal!), and what their expressions were like when they spoke. He absolutely loves calling them his "friends" and has already told me he hopes they get to keep talking in first grade.
He rolled into the meeting in his PJs (8 AM) and thought it was just fabulous that they were probably in their PJs getting ready for bed. The ZCS friends said "Good night!" to their Chinese friends as they got off the call."
Laoshi Hou is thankful for how her young students have embraced this experience. "As teachers, we are feeling proud of these kids not because they shared how much they know or how great the sentences were that they used, instead, we are proud of how they stepped out to get to know new friends out of the country and even talked with them. We see the language and cultural interaction occurring in these kids' connection, and we are hoping to have more opportunities in the future–not only in this unusual time."
Zeeland Christian School is a threeschool – 8th-grade Christian school in Zeeland, MI. ZCS offers a non-traditional English program, the only 100% Christian Mandarin Immersion program in the Midwest(4yr olds-8th grade), the largest and most established Christian Spanish Immersion program in Michigan (3yr old-8th grade) and a School/Home Collaborative.
Along with a diversity of program offerings, we are blessed with a diverse staff with 12 different countries of origin represented amongst our faculty.
The culture of Zeeland Christian may be most impacted though by the second oldest Inclusion program in North America. Every child is celebrated for their unique abilities and loved as a child of God.
For more information or if you are curious about enrolling your child at ZCS, please email Nakisha at ndejong@zcs.org or visit www.zcs.org.