COVID Shut Down: One Year Later
One year ago, on March 13, 2020, schools were closed because of the COVID-19 pandemic. In the weeks leading up to this point, ZCS leadership had been discussing what school would look like if we had to go remote for a few weeks. As I look back on the last twelve months, I am so proud of what our teachers, students, families, board, and leadership team have accomplished.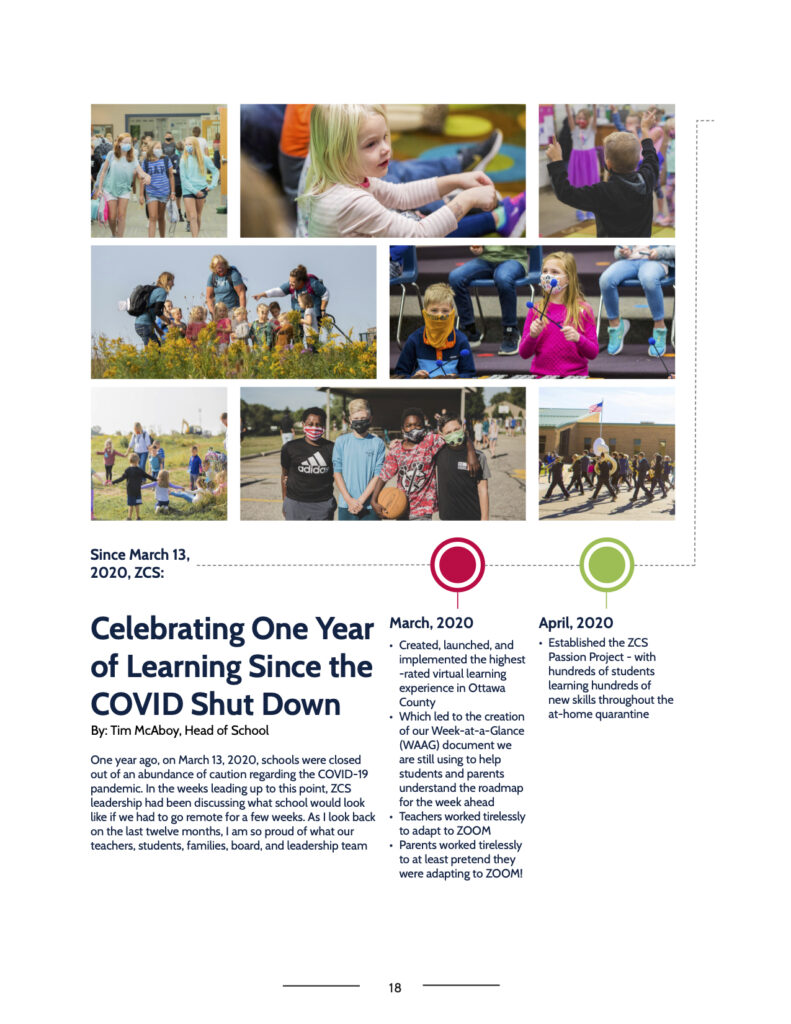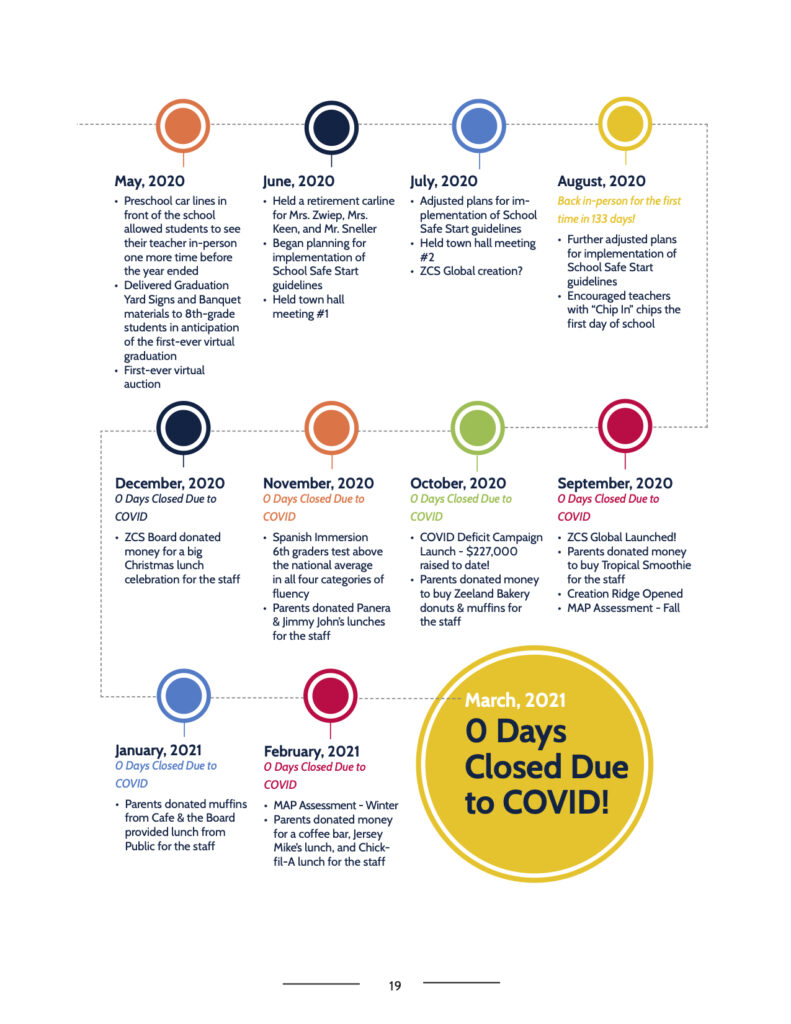 The other reality is that this year has been extremely difficult for many. Our School Mental Health Therapist, Julie Postmus, LPC has written a wonderful article for us all as we and our children reflect on the last 12 months.
Making Space for Hope, Grief, and Reflection on this Covid-19 Anniversary by Julie Postmus, LPC
As we approach the one-year anniversary of schools closing and stay-at-home orders being implemented, it is important to acknowledge the wide range of emotions that this might trigger in both adults and children. For some, there may be feelings of gratitude and celebration. For others, there may be strong feelings of grief, loss, and sadness. Many will feel a confusing mix of both.
The anniversary of a difficult event can trigger a mental and physical response. We might not even be aware of it, but often our bodies and minds remember a situation that did not feel safe and go into "fight, flight, or freeze" mode in anticipation of danger, even if the "danger" no longer exists. For many, March of last year was a sudden change of all routines and loss of connection with friends or loved ones. There was so much unknown and for some, this felt very unsafe and unsettling. A year later, we are being reminded of the "last normal things" we experienced in March of 2020. As "on this day last year…" pictures pop up on our feeds and devices, we are reminded of the last normal family get together, last normal sporting event, last normal day of school before we knew about things like zoom, social distancing, masks, and quarantine. We are also experiencing the beginning of spring weather, similar to this time last year. We are scheduling the types of things we often do in March and April that were ultimately canceled last year. All of these things can trigger a physical or mental response.
What might this feel like?
Mental – Foggy, sad, irritable, anxious, poor focus
Physical – extra tired, poor sleep, headaches, upset stomach, restlessness
So what can we do about it?
It is important to acknowledge and make space for the wide range of emotions being experienced. There is no wrong or right way to feel. Some may be feeling extra amounts of gratitude and celebration – and that's okay! Others may be experiencing grief, anxiety, and just not feel like themself – and that is okay too! Many of us will have a complex mix of these feelings and while it's tempting to focus on just one side of the spectrum, it is incredibly important to lean into the wide range of feelings. Here are a few other ideas to use over the next few weeks:
Give permission for rest if needed
Find ways to move your body

Get outside for a walk or bike ride, have a family dance party, do some good stretching

Make time for extra connection within your family

Maybe this means a family movie night, more snuggles for little ones, or whatever connection looks like in your family

Have realistic expectations and grace, recognizing that energy and focus might not be great right now.
Make space to remember

Allow yourself and your children to talk about what they experienced last spring and over this last year

Lean into gratitude without discounting the hard feelings and experiences
Name what you still miss after a year of life looking different
Name what is giving you hope as we enter this next season
Thank you, parents, for choosing ZCS for your family these last 12 months. You have been a constant source of encouragement and strength. I would love to go back and change a lot about the last year, but I believe ZCS will keep the stronger sense of community and support which has come as a result of it.
Tim McAboy, Head of School
泽兰基督教学校 – Escuela Cristiana de Zeeland – Zeeland Christian School is the only threeschool – 8th-grade school in the Midwest where your child can learn in a Christ-centered and tri-lingual environment where all abilities are welcome and celebrated. It's what's best for kids – and that's what we're all about.
If you would like information regarding enrollment or to schedule a tour, please contact Nakisha at ndejong@zcs.org. You can also visit www.zcs.org/explore to learn more.