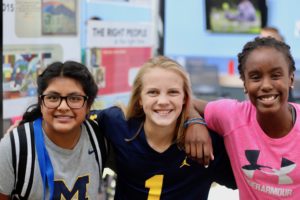 I recently listened to a TED talk about the danger of a single story. The speaker was raised in Africa, but she grew up reading American and British literature. This not only shaped the way that she thought about those countries, but it also shaped how she thought about literature.  She attended college in America and was surprised by people's preconceived notions about Africa and Africans because they had a single story view of the country and its people. In her view, a single story causes racism, narrow-mindedness and a very limited knowledge of what reality is.
God loves stories. He created the Bible for us to connect with him. And while I believe that the Bible is historically accurate I also believe that it is weaved together as a group of small stories that create one big story. All of the smaller stories give us glimpses of a God who is awe-inspiring and incredibly loving. The stories help us to relate to him on a deeper level.
How does that apply to us at ZCS? We are God's witnesses. That is to say, his storytellers. The Spirit is at work here. It works in us and through us and we cannot keep it to ourselves. In everything we do, we need to share what the Spirit has done and point it right back to God.  Each story a glimpse, a small picture of who he is. Of how he works. Of how he loves us. Of how he loves kids. Of how he loves to teach us about his purpose for us.
There are so many ways that God works in our community. We feel called to continue to share these stories so that others can grasp how wide and long and high and deep is the love of Christ. Do you have a story to share that will give others a glimpse of God and how he works at ZCS?  We would love to hear from you!