Teacher Spotlight: Baolian Xie
Zeeland Christian School Mandarin Immersion 2nd and 3rd-grade teacher Baolian (Bow-lee-en) Xie (see-ay) was recognized as one of Holland Sentinel's 2019-2020 Amazing Teachers. "This is my dream job," said Baolian or Xie Laoshi (la-ow-shur – Mandarin Chinese for teacher) as known by her students. Teaching is more than just a job; it's a daily blessing from God.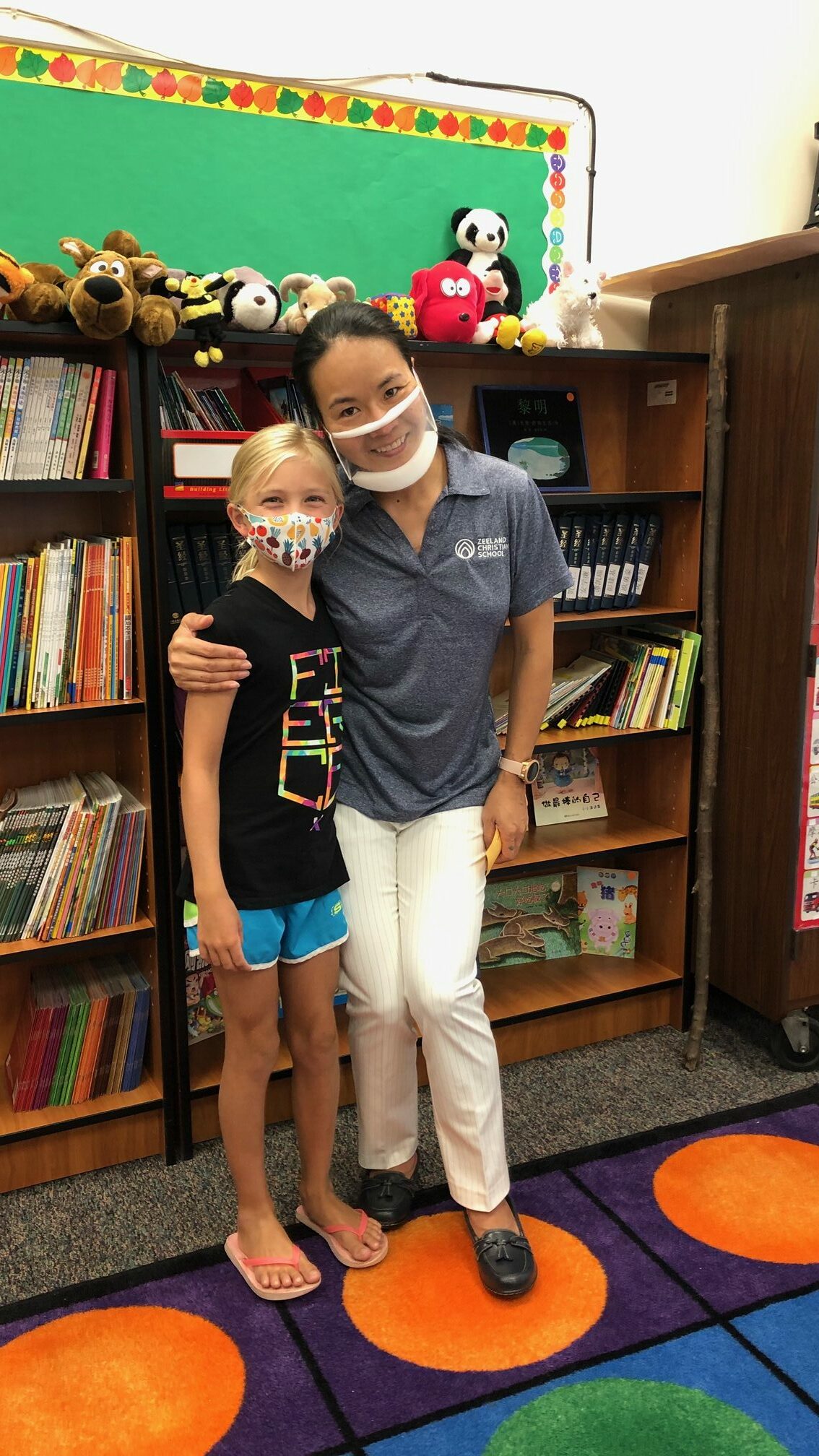 Baolian grew up along the coast of southern China in Quanzhou. She attended church with her mother, but it wasn't until she moved to the Holland area as an adult that her faith became meaningful. God opened a door, and she began attending a Chinese church in Holland. During this time, she began a genuine relationship with Jesus and learned about the Mandarin program at ZCS. God placed Baolian in the same church as another teacher at ZCS, and when she learned about the opportunity, she applied right away. At the time, she worked as a part-time mandarin teacher and interpreter in the Grand Haven area.
She was overwhelmed by the love of God she experienced during her first year at Zeeland Christian. The parents provided her meals, prayers, and encouragement that still bring joy to her heart. Throughout her life, God has graciously taught her that He is enough and He will always be there for her. He is the God who sees us, and we are never alone when we are with Christ. And sometimes, He opens doors for us we never expected.
Her students mean the world to her, and she engages their hearts, minds, and souls in the classroom. She celebrates their successes, and she challenges them in their failures. She sets the expectation for kindness and cooperation among classmates, and when there are problems, the students have the opportunity to reconcile. This results in a classroom that feels safe because the students know that Xie Laoshi will encourage them to solve problems, not give up. She will defend their hearts by resolving conflict between her "kids" and anyone – classmates or playground friends down the hall. A student shares, "I know that my teacher loves me because when we get hurt, she takes it very seriously. She helps us all feel part of our community. Everyone matters."
ZCS is unique in its Christian focus with Mandarin immersion. Since the Chinese culture is mostly Buddhist, the opportunity to learn about the Chinese language through a Christian lens is truly remarkable. Baolian has joy in her heart, knowing that these kids can communicate with people in a country that does not know Him yet. She reminds us that it is our duty and joy to tell the world about God's love as Christians. It feels like she is still in China when she walks into the classroom and engages with the students. It brings her such joy to integrate the beautiful pieces of the Chinese culture and her faith into her lessons.
Baolian wants to encourage parents who are considering Mandarin immersion to look at the life-long benefits. When children learn a difficult language like Mandarin at a young age, it engages their brain in a new way. They can pick up other languages more quickly, and many doors are opened for future opportunities. Likewise, learning Mandarin is a unique journey for kids to help develop their perseverance. She sees Mandarin immersion as a key to open many doors and opportunities. She can't wait to see how these kids will impact the world for the Kingdom.  
泽兰基督教学校 / Escuela Cristiana de Zeeland / Zeeland Christian School is the only threeschool – 8th-grade school in the Midwest where your child can learn in a Christ-centered and tri-lingual environment where all abilities are welcome and celebrated. It's what's best for kids – and that's what we're all about.
Interested in exploring Mandarin Immersion for your students? You will be shocked by all the benefits to your child. Visit www.zcs.org/mandarin or email Nakisha at ndejong@zcs.org.