Teacher Spotlight: Ran Tao Schlosser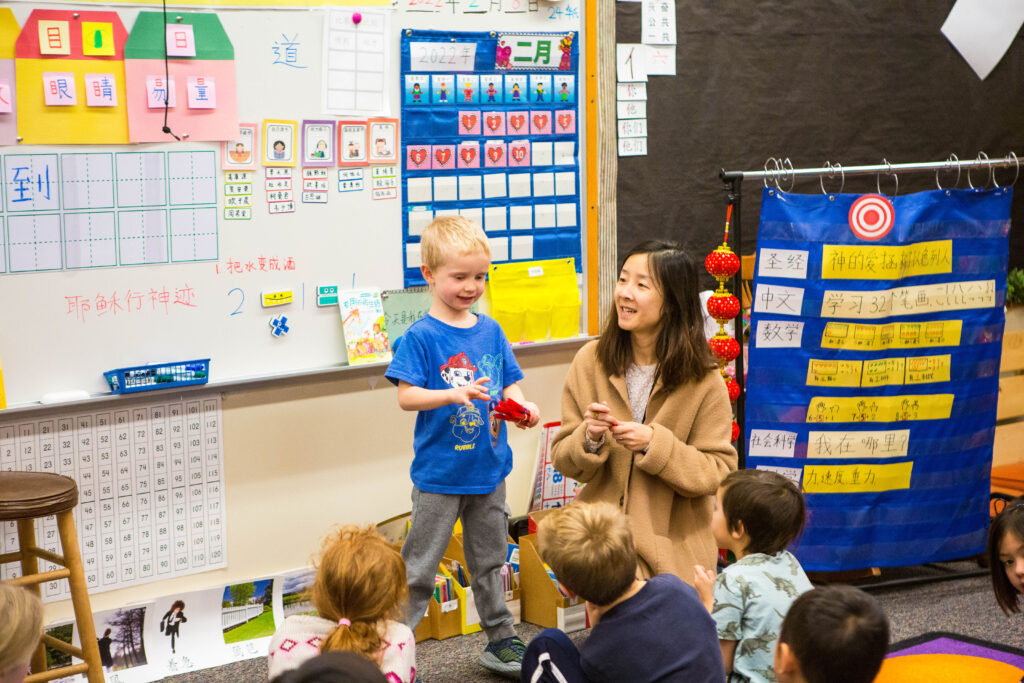 Ran (pronounced "ren"), or Tao Laoshi (Tah-ow) (La-ow-shur[which means teacher]) as known by students, had a very unique start to her teaching career at Zeeland Christian. She was able to experience nearly all of the mandarin elementary classrooms in just two short years. When she learned about the immersion program at Zeeland Christian from a relative, she inquired about an opening and was able to serve right away. Her first year, she began as an aide in both the mandarin preschool and 4th/5th-grade classrooms and then finished the year by covering maternity leave for the 2nd/3rd-grade room. The following year she taught the 1st-grade class and assisted kindergarteners in the afternoon. It was a fun introduction to the program as she got to know many of the mandarin students and families.
As the mom of three young children, she is a very kind and compassionate teacher. She has always wanted to be a teacher and sees it as a very rewarding experience. To her, it is an honor to be a part of a child's life in such a big way as she gets to know them and discovers their unique learning styles. She loves to open their minds and eyes to different cultures and share how much God loves each one of us. She enjoys the ability to use her specialty of the mandarin language as she teaches. When she is not in the classroom she treasures her time traveling with her family and looks forward to exploring new places together.
Ran grew up in China in a small Hydro-power station village, a very unique experience. When she went to college, she had a foreign teacher from America who showed a movie about Jesus and that was her first introduction to Christianity. After that, she went to school in England and then moved to Shanghai. Despite the massive amount of people living in Shanghai, the Lord orchestrated her housing and she found an apartment only one block away from her cousin! As they reconnected, Ran learned that her cousin had become a Christian and gave her a Bible. After Shanghai, she came to the United States and stayed with a host family who were also Christians. As Ran was deciding what to do for her future, she met a very caring, Christian woman who prayed for her and eventually led her to Christ. It is amazing to see how the Lord pursued Ran over the course of many years and prepared her heart to receive Him.
Just as the Lord prepared Ran's heart, He also prepares us. She sees that this program is training the hearts and minds of the students for their future. Ran sees many benefits of learning mandarin at such a young age. She shares a story that one day a student flipped the order of characters and thought it would be good enough. She smiled as she explained that it's not a word unless it's written correctly. In her classroom, she is able to teach the students that they need to be precise in their writing. Learning to pay attention to details at such a young age is just one of the many life-long benefits of this immersion program. She also shares that it's important to recognize China as a significant player in the global market so learning the culture and language can only benefit these children down the road. Whether they live in China for business or ministry, they will have a significant advantage for their future careers.