Barb J. Newman Legacy Award Recipient – Jim Heeres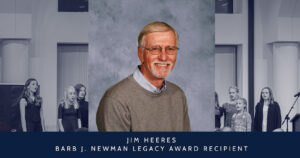 The Barb J. Newman Legacy Award celebrates a lifelong commitment to fulfilling the mission of Zeeland Christian School. Last year, the award's inaugural year, the recipient was Mrs. Newman, "Barb," posthumously.

It is with great honor and excitement we announce today the second recipient of the Barb J. Newman Legacy Award, Jim Heeres.
Mr. Heeres worked at Zeeland Christian for 37 years and in Christian education for 46. His first nine years at ZCS, he taught Language Arts and did some school counseling. In 1987, Mr. Heeres became middle school principal and was in that role for 22 years. Following his retirement, Jim served on the ZCS Board of Trustees for six years. His four children all attended ZCS, and so did 10 of his grandchildren.
"To be mentioned in the same breath as Barb Newman is quite an honor."
Upon being notified of his selection for this year's award, Mr. Heeres said, "To be mentioned in the same breath as Barb Newman is quite an honor."
In the late 80s, a shift to more relationship-based teaching, focusing on the whole child, took place at ZCS. Mr. Heeres is the first to tell you there were many Godly, loving, and influential people involved in that process. But when you talk with students and staff from that time, Mr. Heeres' name is always mentioned.

In chatting about that period of ZCS history, Mr. Heeres commented, "Just as Barb always said, we each were a puzzle piece and had a role to play, and every piece was important."

Join us at the 3rd Annual ZCS Legacy Event as we honor and celebrate the multi-generational impact of Mr. Heeres at ZCS. This will be a great opportunity to thank Mr. Heeres in person for the way he ignited the God-given potential of you or your child.
If you're thinking, 

"We don't have money to give, so we won't be attending the Legacy Event." - 

you need to read this FAQ.

Yes, this is a fundraising event, but simply buying a ticket to attend can be your gift. And if you need help purchasing a ticket, please let us know.
If you have other questions, please email Jennifer Schafer.


See you on November 3 at the Haworth Conference Center!