Tim's Note
ZCS Friends,
We have some exciting news as a school community to share with you. Our registration numbers for the 2018-19 school year are some of the best we've ever had. We are quickly approaching 100 kindergarteners and our waiting list for preschool is long enough that we are re-evaluating our session offerings.  
We are blessed to see God working every day at ZCS and we are celebrating seeing Him in all these wonderful kids who will be in threeschool, preschool, young fives and kindergarten next year.
If you know someone who is still making their decision on young fives or kindergarten, please encourage them to be in touch with us so we can best plan for next year.
Always together,
Tim McAboy
Head of School
tmcaboy@zcs.org
The Week Ahead
Attention All Parents: ZCS is currently in the process of upgrading our billing and payment processing software. For the 2018-19 school year, you will see changes in how you manage your tuition account. SMART Tuition is web-based tuition management software that is integrated with ZCS's accounting software. SMART offers tuition & fees invoicing and payment processing for the school. Parents/families will have online account access to their tuition account including checking balances and making payments. All parents are required to enroll and set up their account with SMART Tuition. More information will be sent to parents including an email invitation/instructions from SMART Tuition to set up your account (early March). This will replace the current FACTS tuition payment processing starting the 2018-19 school year (no impact on current school year).
Monday, February 19: No School
Friday, February 23: Middle School Unified Basketball Game 12:30 PM
Unified Basketball T-shirts: Shirt pick up for those who ordered shirts will be Wednesday and Thursday February 21 and 22 in the school office. Please pay for your shirts ($10 each) at pick up.
Wednesday, February 28: 9AM All School Chapel
Spring Parent/Teacher Spring Parent/Teacher conferences on March 5 & 6 will be optional and by request of either parents or teachers. More information will be provided by classroom teachers and communicated in the Blue Note.
3 on 3 Basket Breakers Registration is now open! Register your team HERE. Open to teams 3rd grade-adult.
Spanish Summer Camp – Signup is open! Children will be immersed in games, stories, songs, and crafts taught COMPLETELY in Spanish. Please contact Maria at mklompmaker@zcs.org with questions.
The ART department is looking for 20oz pop bottles for a sculpture project for 5th graders.  Please drop off donations in the art room.  
HCHS News: This is the time of year when students are signing up for classes (already) for the 2018-19 school year. We encourage parents to be involved in this important process. So, for any 8th grade parents and other ZSC parent who have a high schooler(s) at Holland Christian please be aware of this valuable information from the Registrar section of our web page. As always, please be sure to contact us with any questions at any time. Thank you for the opportunity to partner with you and ZCS in so many ways. - Darryl De Ruiter, HCHS Principal
The Month Ahead
March 5: Parent/Teacher Conferences *No School*
March 6: Parent/Teacher Conferences K-8 in session, No Preschool
March 8-9: 8th Grade Play
March 13: 2nd-4th Grade Musical at Community Reformed Church
March 15: ZCS Society Meeting
Looking Forward
March 20: TRIP Registration Meeting
March 23: End of Marking Period
March 24: 3 on 3 Basket Breakers Tournament
March 27: Middle School Solo/Ensemble Night
March 28: All School Chapel 9AM
April 13: Auction
April 17: Middle School Information Night
SPORTS PHYSICALS: The Athletic Department of Holland Christian Schools is offering students entering grades 7-12 the opportunity to complete a state-required athletic physical. This required physical will allow your student to participate in athletic events throughout the 2018-2019 school year. Note: this exam must be dated after April 15 to be valid. Physicals will be given Tuesday, April 17 from 6:30-9:00 PM at South Washington Family Medicine (Lakeshore Health Partners, 904 Washington Ave., #210, for the nominal fee of $15. For a simple and quick appointment, we will again be using SignupGenius for scheduling appointments online. Please look for the link to be sent in an upcoming email. 2018-2019 physical forms will be available on our website and in school offices.
On Going
Families paying tuition through FACTS: If you receive a gift towards your tuition account, you need to contact Linda Keen at 616-879-0302 to instruct her on how you would like your gift applied to your FACTS payments.
2017-2018 ZCS Parent Handbook: The ZCS Parent Handbook contains information such as school start times, cancellations and delays, calendar, dress code, hot lunch information, etc. It can be found on the ZCS Parents page.
Kindergarten and Young 5s Registration is now open. Register at https://zcskindergarten.eventbrite.com
Open Preschool Registration: is now open  Register at: https://zcspreschool.eventbrite.com
School Delays/Cancellations: When Zeeland Public is delayed or canceled due to weather or other circumstances, Zeeland Christian is cancelled as well. Delay/Cancellation information is available on most local tv and radio stations. You may also choose to receive text alerts via stations such as wzzm or woodtv. Sign up for alerts from ZPS at http://www.zps.org/z-for-me/
Infinite Campus: To access your students grades parents must have a login to the Infinite Campus Parent Portal. If you do not have a login please complete the acceptable use policy, and return it to the ZCS office to receive your login credentials.
Hot Lunch: Click Here to access menus and pay hot lunch balances
Attendance: Please report your child absent or tardy at attendance@zcs.org or 616-741-0051. Please list your students name, teacher and the reason for absence.
CHAMPS Books are available in the ZCS Office for $25. Proceeds benefit ZCS Athletics.
ZCS Employment Opportunities may be found at https://www.zcs.org/employment/
TRIP News
All orders must be placed online!  www.shopwithscrip.com . Tuesday TRIP runs as usual on a snow day. If you pay by check and think there may be a snow day, drop off your check early.  Instant TRIP is on Friday from 11-1PM in the Main Office. Instant TRIP is cancelled if is there is a snow day. TRIP Registration Meeting:  March 20 at 7PM in the Media Center.
ZCS $hopper
Ski at Caberfae!

Friends and Family of Zeeland Christian are invited to a day of skiing on February 19.  Tickets  are $18. Tickets include ski rental, lesson and lift ticket. Arrive between 8:30-11:00 (We will be in the Skyview lodge, left of the rental building. Lifts open at 10:00 and run until 5PM. Deadline for sign up: February 16

(No Cancellations after February 16)

for February 19 ski date, hand in your check (made payable to Rebecca Grant) and form to the Zeeland Christian Office. Forms are available in the school office. You are responsible for your own transportation. Call Rebecca Grant at 616-994-3368 with questions or rebgrant@charter.net.  

Baseball Concepts "Skills Camp" March 2-3 in Zeeland  

This 2-day camp is designed to prepare kids ages 6-9 and 10-13 for the youth baseball season!  Fantastic instructors, including college coaches and former college players, teaching cutting-edge skills and drills covering all aspects of baseball will be taught in a fun and creative way. Register online @

www.baseball-concepts.com

 Friday night is 7-9pm and Saturday is 2-4:30pm at SportsQuest in Zeeland. Cost is $75 (includes t-shirt)  Questions:

baseballconcepts@gmail.com

or

949.357.6293

Faith Church Mom2Mom Sale:

Vendors and Sellers invited to join us on April 21 to sell gently used kids clothing, toys, accessories and large items as well as vendor or craft items. Sellers/Vendors:12x6 Booths (some with electricity) are available. Please check out this link

https://goo.gl/forms/GztZny2qG9nWe0TB3

to register. All booths are $35 (Members of Faith Church get a $5 discount on booth rental). Sellers pay only the $35 fee and keep all profits made that day. This fundraiser will benefit the High School Youth Ministry & Mission Trip to Houston.

Hope Summer Repertory Theatre Workshops

for many ages: visit www.hope.edu/hsrt
Featured Business of the Week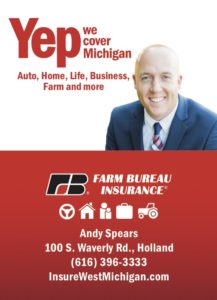 Andy Spears - Farm Bureau Insurance 
Providing the best Life, Auto, Home, Business and Farm Insurance available in West Michigan. We tailor policies to fit each family's specific needs.