Tim's Note
Parents,
As I wind down my first year at Zeeland Christian, I want to thank all of you and your children for making this a great year for our family. ZCS has quickly become home. I love working with the incredible staff, kids, and families of ZCS. There are wonderful schools all over the world, but I truly believe Zeeland Christian is one of a kind. Thanks for entrusting your children to us.
I have a few other things to share with you as well:
Today (Wednesday) my wife April and I have the privilege to be leaving with a group to Israel. We're so excited to learn all that God has for us in Israel and to share it with our community in the coming years.
We are celebrating some great news! Last fall, we came to you with a need to increase our tuition assistance giving. For the last few years, we've only been able to cover 60% (about $110,000) of the needs for which families have qualified. We presented this challenge to you, confident this community would meet this need. Well, you indeed stepped up! A few weeks ago, the tuition assistance committee met and awarded 100% of the qualifying needs of our families (about $190,000). Many of you in our community responded to this call for help. There are many families who will be able to be at ZCS because of your decision to give. Thank you!
Please be praying as a team of our middle school students heads to our sister school, Grace Community Christian School, in the Philippines next week. Pray also for our leaders, John and Barb Buteyn and Ashley Hernandez.
We've been working through the preliminary stages of dreaming and planning a change to our playground space. The wonderful people at GMB Architecture are working with us, just as they've worked with other schools on nature-based programs. One way we expect this process to be unique to ZCS is that we plan to have some of our students lead the design process. We're excited to see where our dreaming leads!
This summer, thanks to generous donors, we're making significant upgrades to our sound and visual systems in the gym and media center.
Thanks to the generosity of Zeeland Recreation and CHAMPS (ZCS's and Holland Christian's booster club), we're getting four new backboards and adjustable hoops in our gym this summer.
Our 8th-grade class gift is a new game for us. If you've never played Nine Square, you and your children will love it. Thanks, 8th grade, for caring for your younger classmates!
Thank you, parents, for allowing us to partner with you as you seek to raise your children to be men and women of God. Have a blessed summer!
Together,
Tim McAboy
Head of School
News
THANK YOU! We are grateful to the ZCS Society for rising the challenge of fully funding tuition assistance for the 2018-19 school year. 100% (normally only 60% was available) of what families qualified for was awarded.
Thank you and praise be to God!
Bus Tags: All students must turn in their bus tags by Thursday, June 7th. Zeeland Public Transportation will charge you a fee for not returning your child's tag and lanyard.
If your child does not ride the bus, please

turn into the school office

beginning Tuesday, May 29.

If your child does ride the bus, he/she may turn in the bus tag directly

to the bus driver

on the last day he/she rides the bus. You may also drop the tags off in the office.
ZCS Welcome Families Needed: We are excited to have new families joining our ZCS community are looking for people to help them feel welcome! If you are interested in being a welcome family please email Lisa Fredricks (lfredricks@zcs.org) for more details.
Summer Skills Sharpener WorkBooks: Requiring only 20 minutes per day, 3-4 times per week, for ten weeks. Single subject focus reinforces important subject matter while pinpointing areas of weakness. The mixed-skills concept ensures that a variety of concepts is reviewed in each lesson. All answers are included for immediate feedback. Purchase workbooks online.
Summer Reading Challenge: Summer Reading Challenge! Hey Kids! Remember to take the summer reading challenge this summer! Read 20 books, mark off the number on your Summer Reading Bookmark, bring the bookmark back to school in August, and win an Ice Cream Party with the ZCS Reading Teachers!
Supply Lists 2018-2019  You may choose to purchase your own items from THIS LIST or you may choose to purchase online at ClassBundl.  
School Office Hours *Summer*:  Monday-Thursday   9AM-1PM
Expand(ED): Theater camp will be full of hilarious improvisational acting games, team building activities, and script reading and writing. We will finish the week with mini performances that YOU not only will perform in, but also will have written and choreographed! Theater camp is a safe place to get over some stage fright, develop your ability to speak in front of a few people, and grow in your own self confidence. This great opportunity will need to be canceled if we don't get additional students signed up by this Friday. Please sign up for this or other summer Expand(ED) programs here.
ditto: With grateful thanks to God and our generous donors and wonderful volunteers, ditto continues to outpace its monthly sales totals for each of the first five months of 2018! We are thankful we can be a blessing in support of tuition assistance to Holland Christian and Zeeland Christian families.
If you have ever thought of volunteering your time and talents, we have a place for you at ditto. We are currently in need of cashiers who are willing to take a 3 hour shift (10 am-1 pm or or 1-4 pm) once a week or once a month. Please take the opportunity to look at our new website. We are launching it in June at www.dittoupscaleresale.com. You can find great information about how we "encourage stewardship, serve our community, and support Christian Education".
HCHS News: Happy Summer ZCS!   want to wish you all a safe and relaxing summer. It has been my privilege to communicate with you over the past three years and I believe strongly that the relationship and partnership between ZCS and HCS is improving and growing. Thanks for your role in that and I know that you will appreciate hearing from Dr. Kristy Taylor who will be serving as the interim principal at HCHS starting July 1. She can be contacted at ktaylor@hollandchristian.org with your summer questions about HCHS. I will be available to assist you until June 22 and then I depart to begin my new kingdom work in Haiti.  - Darryl DeRuiter, HCHS Principal
The Week Ahead
June 7: 6th and 7th Grade Class Trips
June 7: Last Day of School  NO AM Middle School Busing.  NO PM Elementary Busing
Looking Forward
August 27: Young 5's-8th First Day of 2018-2019 School Year
September 5: First Day of Preschool
September 8: ZCS Golf Outing  *Save the Date!*
ZCS Google Calendar: Stay up to date by subscribing to the ZCS Google Calendar!
On Going
New! 2018-2019 ZCS School Calendar
2017-2018 ZCS Parent Handbook: The ZCS Parent Handbook contains information such as school start times, cancellations and delays, calendar, dress code, hot lunch information, etc. It can be found on the ZCS Parents page.
Infinite Campus: To access your student's grades parents must have a login to the Infinite Campus Parent Portal. If you do not have a login please complete the acceptable use policy, and return it to the ZCS office to receive your login credentials.
Attendance: Please report your child absent or tardy at attendance@zcs.org or 616-741-0051. Please list your student's name, teacher and the reason for absence.
TRIP News
All orders must be placed online!  www.shopwithscrip.com. Instant TRIP is on Friday from 11-1PM in the Main Office. Summer TRIP dates: June 12, June 26, July 10, July 24, August 7 & 21. Online orders are due by 11:00 AM on TRIP dates. Order will be available for pick up on the next TRIP Tuesday.  
Summer Instant TRIP Dates: June 12, June 26, July 10, July 24, August 7 & 21 9:00-10:30 AM.
We are excited to announce that Walcott Automotive has joined TRIP! They are offering a 5% rebate for any dollar amount you need. Walcott Automotive is a repair and maintenance facility conveniently located between Holland and Zeeland.  With over twenty years experience, they provide personal and professional service for all makes and models. Find them on Facebook. Call/text: 616.795.0612.  Email: walcottauto@gmail.com.
ZCS $hopper
Career Camp for Current 6th-9th Students:

Check out the amazing summer

Career Camp

opportunities offered by the OAISD for our students! The registration link will open May 1st.

4th Annual Good Sam's Wild Run. For Kids ages 4-13.  Saturday, June 9. Macatawa Greenway at Ridge Point Church.  Register: www.goodsamministries.com

Blood Drive

at Zeeland Christian! See

This Link

for information on the blood drive being hosted at Zeeland Christian School on June 16, 2018. Registration information and times are noted in the flyer.

Camp Infinity Holland

, a four day summer technology camp for girls entering 5th to 8th grade that introduces technology as fun and fulfilling and inspires the pursuit of technology education. Founded in 2004, Camp Infinity helps spark girls' interest in math and science, which tends to decrease during middle-school years. At camp, the fifth and sixth grade girls focus on website, app and video game design while the seventh and eighth graders focus on robotics and web and mobile app design. Date: Holland - July 16th thru July 19th (Monday - Thursday) Time:  8:30 am-3:30 pm. Cost: $75 per camper. Limited scholarships are available to reduce the cost to $25 per camper. Registration Information:

Camp Infinity Holland

Sportsquest (Zeeland), Christian Athletic Complex (GR), and Art Van (Rockford) Camps run from June 18-Aug1! Spots are limited!

These camps are designed to prepare kids ages 6-9 and 10-13 for the youth baseball season!  Fantastic instructors, including college coaches and former college players, teaching cutting-edge skills and drills covering all aspects of baseball will be taught in a fun and creative way. Register online @

www.baseball-concepts.com
Featured Business of the Week
Andy Spears - Farm Bureau Insurance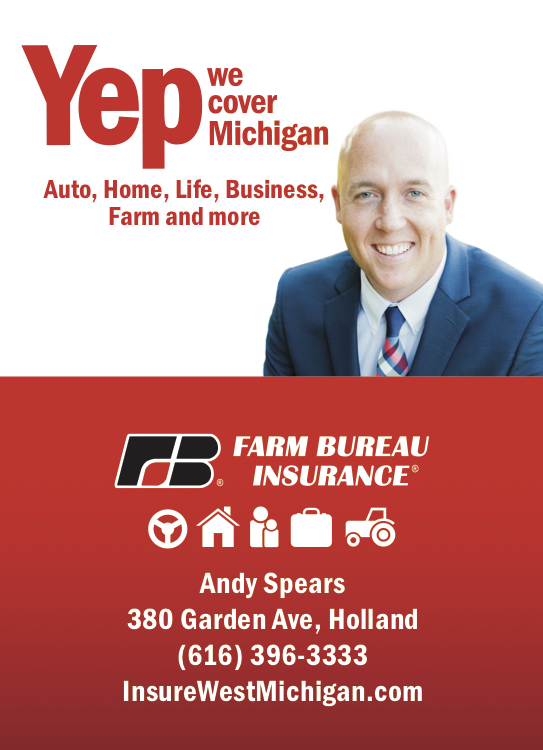 If your business or organization is interested in being featured in ZCS's weekly Blue Note, please email Peter Jenkins.
Teacher Spotlight
John Buteyn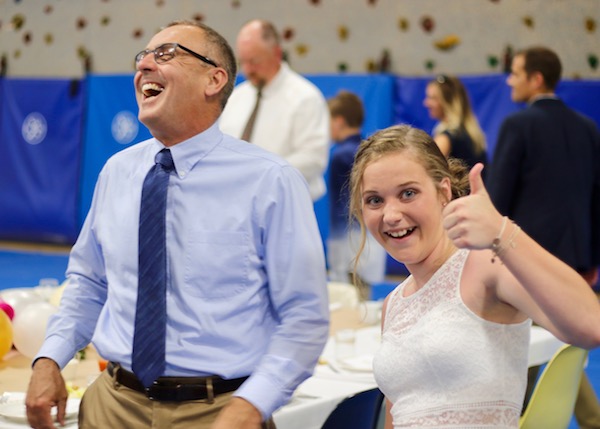 Assistant Principal
"I have found that Christian Education plays an important role in the faith development of kids. I can provide an environment where the tough questions can be asked and discussed, but not necessarily answered in simplistic ways. Christian education allows kids to have faith fill every area of their life, including their education. I love the challenge that we have been given to try new methods and to think creatively. The fact that we put kids first in our plans and decisions is important to me. The sense of common purpose in partnering with our students' parents has been a blessing in teaching and working at ZCS."