Parents,
I'm out of town at a conference this week, learning how to better tell the story of the work God is doing at Zeeland Christian.
In the opening session, the speaker asked us to think about our personal "why" within our organization. What fundamental belief about the work ZCS is doing gets me motivated each day? Here's what I wrote:
"I believe if we educate children to advocate for those in the margins and develop their God-given gifts and abilities to take His love and peace to the chaos of their world, they will become adults who do the same. If we don't, they won't."
I would love to hear your answer. Why do you send your children to ZCS? How do you want others to describe your child when they leave this special place?
Together,
Tim McAboy
Head of School
News
Parent Teacher Conferences:  Teacher Conference Reservation System for the October 22-23, 2018 conferences. The system will accept reservations for conferences from October 10, 2018, at 9:00 am. (EST) until October 17 (TONIGHT), 2018 at 10:00 p.m. Your classroom teacher should have sent a letter home with the master password and instructions for signing up for conferences.
Prospective Family Open House - Thursday, Oct. 18 at 7 pm: Do you have a friend or family member who you would love to see at ZCS? If so, we want YOU to bring them and either give them a tour or join them on their tour with a ZCS staff member. Thursday, Oct. 18 at 7 pm. If you do, you will both be entered to win $100 off your tuition! Four $100 vouchers will be awarded! (2 for current families and 2 for newly enrolled families.)
Grandparents' and Grandfriends' Day Friday, November 2 (Y5-8th Grade)
9:10 am: Welcome
9:15 am: Chapel for Y5-8th Grade
10:00 am : Coffee
10:20-11:30 am: Visit Classrooms
11:30-12:00 pm : Lunch with Grandchildren
*Sack lunch available for purchase. No pre-ordering necessary.
Invitation & School Map --Feel free print and share with Grandparents and Grandfriends!
Attention 4th, 5th, and 6th-grade families: As we look forward to hosting our Grandparents and Grandfriends on November 2, we would love to provide them with a homemade cookie treat to enjoy during their coffee break. Please provide 1 dozen homemade cookies to make our event a delicious success. Cookies may be dropped off in disposable containers to the ZCS kitchen the afternoon of November 1. Thank you! ZCS Hospitality Team
Gift & Magazine Sale: Our annual gift and magazine sale has started!  All orders must be turned in by Monday, October 22. Email jschafer@zcs.org if you have any questions.  Paper forms for ordering magazines are available in the school office.
Preschool Little Caesars Fundraiser: Pizza Kits, Crazy Bread, and Cookies! See a preschool family to order. Orders are due on Tuesday, October 30 and must be picked up at school on Wednesday, November 14. Additional order forms available in the office.
Philippine Student Sponsorship - You can be an answer to prayer by sponsoring one of these 13 remaining students. You are a character in that child's eternal story. You can even give online. You can also do one-third and two-thirds scholarships. What a blessing you will be to that student. Thank you to the families who are currently sponsoring the 70+ other students.
Looking Forward
October 22 & 23: Parent Teacher Conferences (Evening)
October 24-26: NO School
October 31-November 1: Preschool Grandparents Day
November 2: Y5-8th Grade Grandparents Day     NO Preschool
November 2: 1st-8th Grade end of 1st Marking Period
November 8: Picture Retake Day
November 8: NO PM Busing
November 9: NO AM or PM Busing
ZCS Google Calendar: Stay up to date by subscribing to the ZCS Google Calendar!
On Going
Yearbooks: There is still time to order a yearbook! Order online today: https://www.geskusphoto.com/orderform.asp
Drop Off/Parking: Please be aware of the marked drop off spots in the front of the school during drop off and pick up. These spots are for drop off only. These are NO Parking zones.  LINK to parking/drop off
Infinite Campus Parent Portal: Infinite Campus Parent Portal allows parents to view their own child's school records (Grades/Attendance, Transportation Schedule, School Schedule) anywhere, any time through a secure web browser. If you do not have an Infinite Campus login please complete the acceptable use policy, and return it to the ZCS office to receive your login credentials.
Pig in a Blanket: A sure sign of Fall is Pigs in a Blanket! Traditional and flaky options are available for $10 per dozen. Purchase your pigs in the office and pick up in the hallway freezer.  
*Closeout Sale* 2018 Champs books are available in the school office for $10! There are still a few months to get savings from a 2018 Champs book!
TRIP News
As of November 2018, Macatawa Bank will no longer be distributing TRIP orders. TRIP may be sent home with a K-8th student (6th-8th grade pick up orders in the main office) or picked up in the main office on Tuesday from 10:30-4:00.
Start earning money towards tuition! We are SO EXCITED to have made the transition to online TRIP registration! We have decided that for a limited time if you encourage someone to register for TRIP you AND the person you encouraged will receive a $5 gift card to City on a Hill Cafe! Sign up soon, gift cards are limited! No meeting necessary! Visit the TRIP page on our website for details!" (https://www.zcs.org/trip/) email Lisa Fredricks (lfredricks@zcs.org)
Instant TRIP Fridays 11:00-1:00 in the main office. If school is not in session on Friday, there is no Instant TRIP.
If you are having TRIP sent home with an elementary student, please update your profile to show the classroom teacher of your child. https://shop.shopwithscrip.com/Account/Profile
ZCS Shopper
FREE Hope Volleyball Clinic for Boys and Girls (Grades 3-6):

Saturday, October 27, 2018, 9:00 a.m. - 10:00 a.m. DeVos Fieldhouse. Come learn about basic volleyball skills and play with current team members! Participants will receive a family pass for free admission to the volleyball match vs. Olivet on October 27 and a team poster. Match starts at 1:00 p.m. REGISTER ONLINE

HERE

: hope.edu/volleyballclinic   Questions? Email hopeathletics@hope.edu or call 616.395.7070.

Kinderdance (Grades 3,4 & 5)

and Middel Dutch Dance (Grades 6,7 & 8)

Join the FUN of being a Dutch Dancer! Individual children or groups of children (i.e. theater troupe, sports team, schools, churches, family, neighborhood, etc.) are invited to participate in this parent-sponsored, parent-supported activity. More info and register your student at

https://www.tuliptime.com/getinvolved/dutch-dance/kinder-dutch-dance

November is Big Read month along the Lakeshore! Join thousands of residents of all ages in reading one of the 2018 Big Read books and participating in our many events and book discussions. The Little Read book this year is John Rocco's award-winning picture book, Blackout. For a full list of program events, please go to

hope.edu/bigread
Featured Business of the Week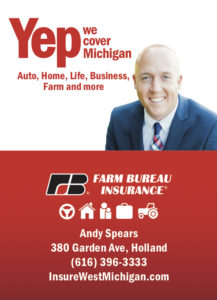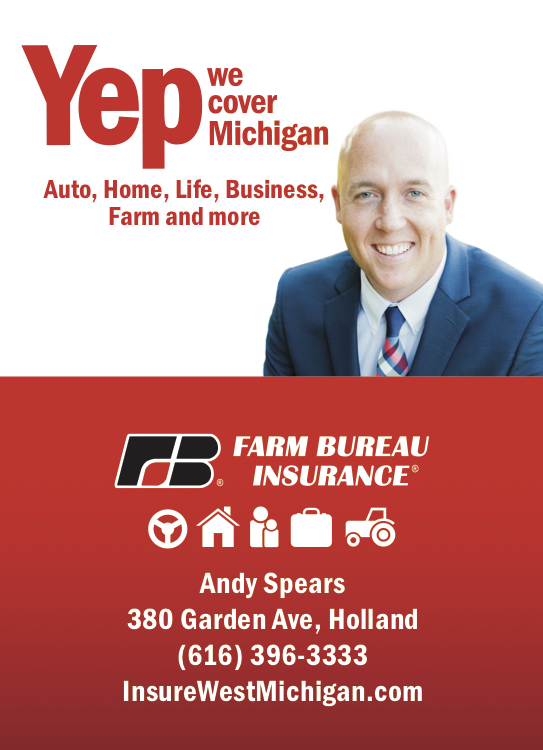 If your business or organization is interested in being featured in ZCS's weekly Blue Note, please email Peter Jenkins.
Teacher Spotlight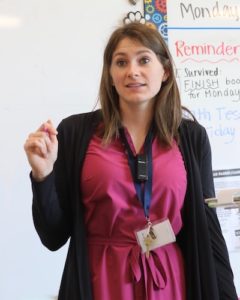 " God called me to be a teacher at a young age, and I am excited to start a new journey at ZCS where my passion for Jesus and teaching can be lived out together!"