Parents,
Last week, I fell down. Literally. Not a little slip and fall, but a running-downhill-in-the-woods-and-tripping on-a-root type of fall that sent me tumbling head over heels. Our kids make it look fun or like it's no big deal to fall down, but as my sore body can attest, it's a big deal to fall down when you're a middle-aged adult.  
Also last week, an extended family member fell down, this time figuratively.  It was and continues to be a devastating fall. My advice to her was the same as the direction to myself in the moments after my fall:  Get up. Don't stay down. Start moving forward, but this time let us help you.
It's devastating when sin is exposed.  There are real consequences. But if the fall, no matter how devastating, causes us to examine our life - habits, routines, relationships - then the fall is a good thing. The exposure is another way God shows his mercy and grace.
God can restore what the locusts have destroyed.  I can give testimony to the many times I've seen it right here in our community, and seeing it gives me hope that it's possible again and again.  
Together,
Tim McAboy
Head of School
News
Spring Parent/Teacher Conferences on March 5th are optional and by request of either parents or teachers. You should have received information from your children's classroom teachers including sign-up date, time, and password.
Electronic Guest/Parent sign in and out is now up and running in the front office. All parents and guests need to go through a one-time registration process to be recognized in the sign in system. Please allow a few extra minutes to register when you come to school next.  We are excited for all our parents and guest to use this new system!
Middle School Ski Club plans on going to Bittersweet this FRIDAY (February 22 ). Please have your student sign the bus list outside Mr. Fischer's office. Round trip bus cost is $3.  Bus leaves at 3pm outside the middle school doors. The bus arrives back home at approximately 9:15pm.
Peter Pan: Come soar with us on a journey to Neverland! The ZCMS 8th grade class is nearly ready with their production of Peter Pan and they'd love for you to join them on this timeless adventure! Get your reserved tickets TODAY at zcs.ludus.com. Tickets will also be sold during lunch and after school in front of the main office from February 25 - March 7. Show times are as follows: March 7 @ 7 pm, March 8 @ 7 pm, March 9 @ 2 pm
Teacher Requests for 2019-2020: the Education Committee would like to remind parents that written requests for specific teachers must go directly to Tim McAboy, Head of School and not to individual teachers. Based on school policy, the Head of School will bring all requests to the Education Committee. All requests must be in written form and received by March 22.   Requests go beyond preferences and offer input that should be considered in special circumstances.  
Middle School Unified Basketball Game: Wednesday, February 27 at 12:30pm in the ZCS Gym. Come cheer both teams on! Students that purchased BLUE OUT T-shirts for the game may pick them up in the office on the 26th.
Looking Forward
February 27: Middle School Unified Basketball Game 12:30pm
February 28: NO PM Busing for Elementary
March 1: NO PM Busing Elementary and MS
March 7-9: 8th Grade Play
March 14: ZCS Society Meeting 7pm
March 19: Spring Elementary Program
March 20: 1-2 PM 8th Grade Project Based Learning presentations on the Christian persecution.  
March 23: Basket Breakers 3 on 3 Tournament. Registration is OPEN!
March 29-April 5: Spring Break
April 12: ZCS Auction
May 3: Fun Night
ZCS Google Calendar: Stay up to date by subscribing to the ZCS Google Calendar!
On Going
Pig in a Blanket: FRESHLY MADE! Traditional and flaky Pig options are available for $10 per dozen. Purchase your pigs in the office and pick up in the hallway freezer.  
Yearbooks: There is still time to order a yearbook! Order online today!
Drop Off/Parking: Please be aware of the marked drop off spots in the front of the school during drop off and pick up. These spots are for drop off only. These are NO Parking zones. LINK to parking/drop off
School Delays/Cancellations: When Zeeland Public is delayed or canceled due to weather or other circumstances, Zeeland Christian is canceled as well. Delay/Cancellation information is available on most local tv and radio stations. You may also choose to receive text alerts via stations such as wzzm or woodtv. Sign up for alerts from ZPS at http://www.zps.org/z-for-me/
Interactive Lunch Menu: Use the interactive lunch menu site to keep up to date on hot lunch changes.  http://cdn.myschoolmenus.com/instance/2039289/district/21.html?school_id=45&menu_id=8819
TRIP News
Macatawa Bank is no longer be distributing TRIP orders. TRIP may be sent home with a K-8th student (6th-8th grade pick up orders in the main office) or picked up in the main office on Tuesday from 10:30-4:00. If there is a snow day on Tuesday TRIP orders continue as usual, with pickup available the following day.
If you have a TRIP order to pick up you may come in on Friday between 11:00am - 1:00pm as well as on Tuesday from 10:30-4:00.
Quality car wash certificates have are now $7
Instant TRIP Fridays 11:00-1:00 in the main office. If the school is not in session/snow day on Friday, there is no Instant TRIP.
If you are having TRIP sent home with an elementary student, please update your profile to show the classroom teacher of your child. https://shop.shopwithscrip.com/Account/Profile
ZCS Shopper
Take a global stroll through the historic Colonial Clock building and feast your eyes upon uniquely decorated tablescapes from a variety of countries including Sweden, Ukraine, China, Poland, Chile, Ecuador, The Netherlands, Senegal, and more! Enjoy tea, coffee, and sweet treats from each country exhibited!  

Sunday, March 3, from 1:00 - 5:00 P.M

. at the Colonial Clock Building, 201 W. Washington Ave. in Zeeland. Funds raised support Redeemer Christian Foundation which provides a free, Christian education to poor and orphaned children in the Pakistan. Skype/Facetime sessions with the director of the school in Pakistan will be held at 2:00, 3:00, and 4:00 PM, just before the raffles!  A decorated Ukrainian Easter table display will be auctioned off as well!! Purchase tickets in advance for $25.00 online at

www.redeemerchristianfoundation.org

or at the Wooden Shoe Shop at Dutch Village. Tickets purchased at the door are $30.00. Many of the tables will have very delicate and precious items, so please consider that this may not be an appropriate event for young children.
Featured Business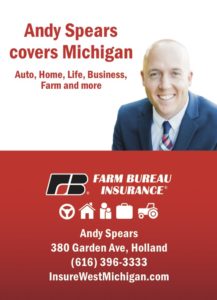 If your business or organization is interested in being featured in ZCS's weekly Blue Note, please email Peter Jenkins, Dir. of Advancement.